What is the best heavy duty sewing machine? I've been looking at these machines for a while now, and I have formed some strong opinions on this subject.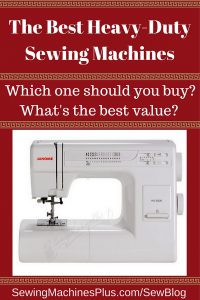 I sure need one. Twice now, I broke and caused expensive repairs to regular sewing machines by using them to sew projects that were too thick. Once it was a heavily pocketed and quilted bag (and piping! I should have known better). And the other was when I was experimenting on a new dog collar design and tried to sew too many layers of thick webbing and embroidered trim.
I have several project ideas that I have not been able to make yet because I don't dare to without a heavy duty machine. After carefully shopping these, I have decided there are a couple of clear choices for which heavy duty sewing machine is best to buy. One is simply the best heavy duty sewing machine period, and the other is the best value economy option.
The best heavy duty sewing machine
In my opinion, the Janome HD3000 is the best heavy duty home sewing machine on the market.
It is no secret that I love and trust Janome. I have never had any problem with a Janome machine other than the ones I caused myself, as mentioned above. And Janome has been making and improving on this model for more than 20 years now, so I know they have got it exactly right. Plenty of people are still sewing on those decades old machines today; they are high-quality machines that are built to last.
The HD3000 has so many features, functions, and stitches that it is a perfect choice for a primary machine. I am sure I would use it regularly for all kinds of sewing, rather than keeping it covered until I have a heavy duty type project.
Here is just a partial listing of the Janome HD3000 features and included accessories:
Built-in needle threader
Horizontal, drop-in bobbin
Snap-on presser feet
18 stitches
One-step buttonholer
7 piece feed dogs
Drop feed
Free arm
Extra-high presser foot lift
5mm maximum stitch width, 4mm maximum stitch length
Blind hem foot
Overedge foot
Hemmer foot
Quilting bar
Hard cover
If you want the best heavy duty sewing machine, then you want to buy this one.
The best value economy choice
I also want a coverstitch machine, an embroidery machine, and I need a new serger. So, like with most of my buying, I need to make an economy choice and spend less money on my heavy duty sewing machine. I think the best value choice is a Toyota Super Jeans machine.
While these machines are not labeled as heavy duty sewing machines, they actually are. They are built to sew through up to twelve layers of denim. Denim is about as tough as fabric gets, so I know these machines will handle whatever I need them to sew.
The gliding foot that comes with these is really neat; it automatically adjusts when sewing layers of different thicknesses and makes for easy sewing on bulky projects.
I might have said that I wouldn't buy any sewing machine except one made by Janome, but that was before I knew that Toyota makes sewing machines. Just as I have been loyal to Janome for buying sewing machines, I have been loyal to Toyota for buying cars. I know well from experience that Toyota offers superior quality and reliability at a good value.
The Toyota Production System
My trust in Toyota goes beyond my experience with their vehicles; I trust their production system and even use parts of it myself. When I wrote about productivity here, I mentioned the kanban system and that it comes from the system of kaizen. I did not mention this then, but kaizen is just one part of a larger system known as the Toyota Production System, or TPS.
Toyota pays careful attention to all steps in their manufacturing and other systems to ensure quality, efficiency, and value. It is a system that works so well that the system itself has become famous. This is why I know I can trust anything made by Toyota.
Any of the Super Jeans machines make an excellent choice for a heavy duty sewing machine. They each include utility and decorative stitches; a generous accessory package; and a 2-year warranty on the motor, wiring, light assembly, switches, and speed controls (and 5 years on the sewing machine head). You can also get an extension table for these to help with sewing large projects.
The J15 is the most economy model. It has 15 programs with 11 utility and 4 decorative stitches. It does not have a stretch stitch.
The J17 has 17 programs: 13 utility, 2 stretch, and 2 deco stitches.
The J34 is the luxury model in this Toyota line, and performs 34 programs, including 15 standard and 19 stretch and decorative stitches.
While the Janome HD3000 is the best heavy duty sewing machine to buy, I'll be saving some money and going with what I think is the best value option, the Toyota J34. I can't wait to use it! Which one are you getting?