I need a vacation…
In the past week, I think I've said "I need a vacation" about a zillion times (yes, that's a real number – not just a sewing measurement ʕ•ᴥ•ʔ). Ideally, I want the type of vacation where I'm not tied to technology. I want to check out from the world. Reading and sewing are high on the list of things I'd do during this much needed vacation. I've seen knitting cruises in the past and though I'm looking to get away from people right now, if a sewing cruise existed, I might be tempted.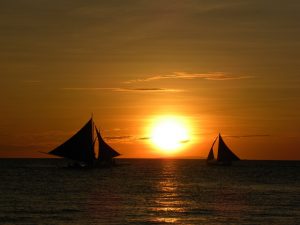 Fellow sewers and crafty people tend to be more fun and easier to get along with than the people I interact with regularly as a freelancer. Don't get me wrong, I love my clients, I just need a break. As an introvert, extensive downtime is key to my survival.
Sewing is one of many ways I escape the stress and daily pressures of life, so you can understand why I'd be tempted with a sewing cruise. If any travel planners are among my faithful readers, here's what I think it would look like. If you set one up through your travel agency, please reach out!
My ideal sewing vacation
My old singer is heavy, so if machines were provided, I'd be happy to use another machine for the duration of my trip. Also, I do like the cruise concept, even if it's just around the coast line for a long weekend. In New England, Maine and Massachusetts both have boats that offer these type of trips. On the cruise ship, there'd be an area set up with sewing machines and the option to either choose a project offered by the trip organizers or bring one of our own.
As with any vacation, fabulous food to meet everyone's dietary requirements and plenty of both alcoholic and non-alcoholic beverages are necessary. For living arrangements, standard rates for double rooms, of course, but I'd be willing to lay out some extra cash to have a single room and the break from people I'm looking for.
While it's not necessarily something I'd be interested in, to keep the cruise exciting and fun for everyone, activities like speakers and classes would be excellent. By the time the ship arrivals back to port, we'd all have finished a fun project, enjoyed some serious relaxation, and maybe learned a little something and made some new friends.
What do you think? Would you go on a sewing vacation cruise?