I've been doing a good job this summer of satiating (at least a bit!) my ever-present wanderlust. I've been to the Dead Sea and the Red Sea and stood in the middle of the desert in Jordan. I've wandered down into the depths of a pyramid in Giza and hiked to the top of Mount Sinai.
Today, I'm preparing for a cycling trip to the Karakoram Mountains in Pakistan – during which we're going to visit the local school and women's sewing centre in Chirah (a vocational training project supported by the Red Spokes LVCF charity). You can read more about the center here. Red Spokes is also the company that's organizing the cycling tour I'm about to embark on. If you happen to be interested in that, you can read about it here.
I'm super excited about both the cycling part and getting to visit the sewing center and will definitely try and spend some time communicating with the women there and learning about their lives and what sewing means to them.
Right now though, I'm exhausted after finally managing to (I think) get my bike packed up so it'll survive both the TSA and the baggage handlers. (Wish me, or rather, my bike, luck).
Wrestling with my bicycle and bike bag this morning got me thinking about flying with sewing machines.
When sewing machines fly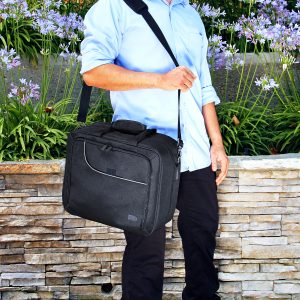 It's been quite a few years since I've flown with a machine in tow. I think the last time I did was almost 8 years ago – and security measures weren't as strict as they are now. I had the machine packed in a rolling suitcase and I recall that I gate checked it with JetBlue. You can also buy great sewing machine specific bags to transport your machine: https://www.sewingmachinesplus.com/trolley-category.php
The important thing to remember though is to remove the needle and any other sharp tools if you're going to bring as carry-on luggage.
A quick search on the TSA website does indeed confirm that you can bring a sewing machine in your carry on or checked bags.
The Sharp Objects List states that you can also bring knitting, crochet, and sewing needles and safety pins in your carry on but, scissors must be less than 4″ from the pivot point (like these):
TSA and contraband
Speaking of the TSA, they actually have a rather amusing Instagram account where they post pictures of confiscated items that people tried to bring on board airplanes as well as answer questions about whether or not specific items are allowed.
Travel tips
If you do happen to need to travel by air with your machine, here are a few tips:
Take the lightest machine you own (only because it'll be easier for you to carry through the airport. Most airlines don't weight carry on bags). I know I talk about these Brother machines all the time but they really are incredibly lightweight and durable. And they sew well!
Put your presser foot down on a piece of fabric and remove the needle. Make sure all your thread holders are folded or detracted if they're foldable or retractable.
Pack some foam or something else cushy around it in case it falls over on its side. I also like to put the machine inside some sort of plastic bag to protect it from water (just in case there's a freak rain storm, or you drag it through a puddle or something is leaking somewhere).I'm a backpacker/hiker and bike commuter though so I pack everything into clear plastic drawstring bags. Because you just never know.If there's extra or empty space in the bag or box with your machine, fill it up with something. Fabric, clothes, those air filled plastic pillows – whatever. The more secure a machine is in its case(or box) the less it'll shift and bang around.
If you happen to still have your machine's original box and packing material, use that. You can tape the box up and either check it or carry it into the cabin with you. Be advised though, that if you're taking it as a carry on, you'll probably have to take it out of its box or case for security. So, bring a roll of packing tape with you so you can seal the box back up.
Remember that the TSA officers are just doing their jobs and sometimes they have different interpretations of what that is or what items are allowed. I travel very often (mostly international) and if there is one thing I've learned it's to always, always be kind and respectful (even if you think the person you're dealing with doesn't know what they're talking about or are not understanding you). I spent almost twenty minutes at the Cairo airport explaining to an officer that I had metal bike pedals, metal clips in my bike shoes and a bicycle seat in my bag. By the end of it, we were both laughing and we both said thank you (I like to think that later, over dinner, he told his buddies or family about the crazy white girl who just biked across Jordan that went through his security line).
Fly, my pretties, fly!
I know that airport security measures can be annoying and I truly wish that there wasn't the need for them (either real or imagined) but I've found time and time again that a pleasant thank you and a smile makes things go a lot more smoothly (and faster!) 😉
And with that, I'm off to JFK Airport. Safe and happy travels to all.