Last week, I told you about my dream sewing room furniture. This week, I want to share with you my must have sewing supplies. And no, I don't actually own all of them since I don't yet have that dream sewing room. Call this my dream sewing supplies list, I guess.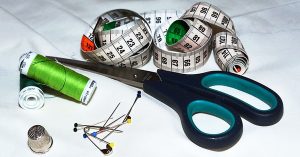 Dress Form
I adore making cute summer sundresses. Right now, I measure myself, cut along what I hope are the right lines in the pattern and hem it by hanging the dress on closet hanger. Not ideal, but so far at least, they've all come out fine. I'd love a dress form though so I could check the fit and make minor tweaks and modifications as I go. I'm kind of between dress form sizes right now, so I'd have to make a call on which size to get – or if money was really no object, just get both!
Amazing Sewing Scissors
Alright, so I do have a pair of fabric scissors. I couldn't consider myself a sewer if I didn't. But I don't love them. The handles are hard plastic and someone (not naming any names) used them to cut paper at some point, which kind of screwed up the cutting surface. I'd really love a pair of fabric scissors with a softer handle, especially since breaking my right hand last year. Even better, the ones I linked to have a purple handle! That's my favorite color. Definitely on my sewing supplies wish list.
How about you?
Long Ruler
I don't necessarily need to cut long, straight lines making sundresses, but I do need to measure long stretches of fabric to line up pattern pieces. Right now, I use a soft measuring tape. I pin it down on one side and pull it taut to measure. It's not ideal, but it gets the job done. A yard stick or long ruler would go a long way towards making measuring easier.
What's on your sewing supplies wish list? Sewing Machines Plus probably has it! Check out the website and let yourself dream.