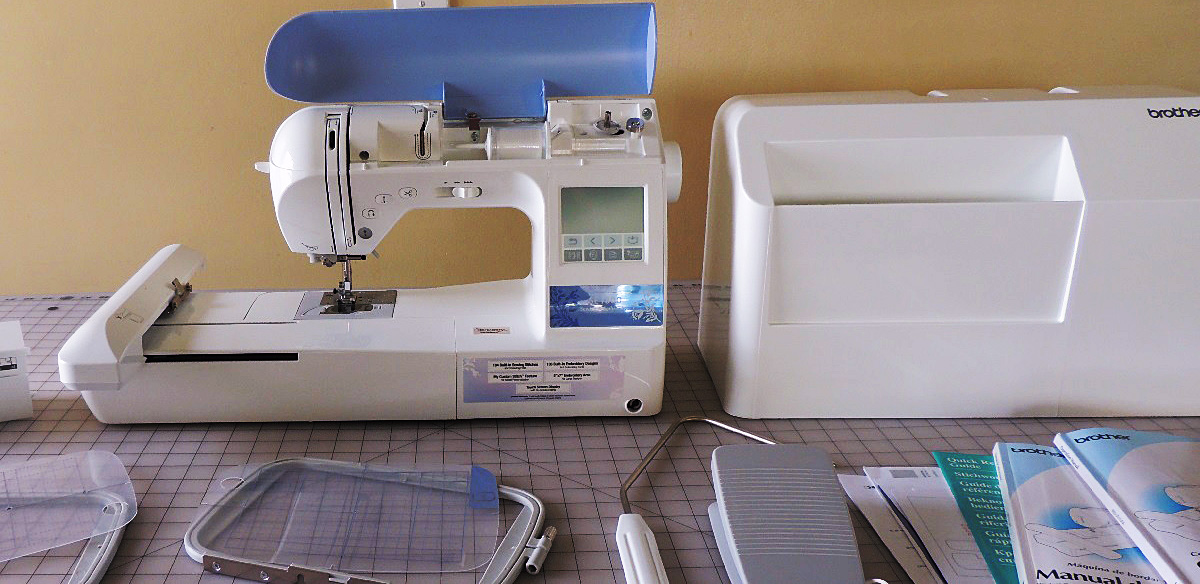 If you looked at my sewing room right now, you would think I was my own little sewing shop. Seriously. There are seven machines strewn out right now. Some of them have their own little stack of projects just waiting for attention, and some are lined up against a wall waiting for projects.
This year, I added the Brother SE1800 Embroidery And Sewing Machine to my collection. I received this machine from Sewing Machines Plus in exchange for my honest review. All opinions are my own.
First impressions
I was very pregnant when this box arrived at my doorstep — about three days after completing my "order." So, needless to say, I thought this 39 pound box was quite heavy. Lest you think the machine itself is super heavy, you should know that there are a lot of extras included with this 22 pound machine.
I was very impressed with how quickly this machine was delivered to my front porch, and how carefully packaged it was.
After I got my machine out of the box and set up, my first impression of the Brother SE1800 was how quiet it was. In both the embroidery and the sewing modes, this is a very quiet machine.
Putting the Brother SE1800 through the tests
I wanted to put this machine through as many tests as I could, so I began by reading the owner's manual from front to back (which I highly suggest any new owner do). I then made a list of projects I could make. My goal was to try out as many of my new machines features as I could — which was a lot.
I initially set up my favorite sewing machine next to this one and planned to use the two machines together to make projects faster and smoother. However, I found myself using this combination machine for both the sewing and the embroidery parts of my sewing stack.
Switching back and forth between tasks was as easy as turning the machine off and switching the flat bed with the embroidery unit. After turning the machine back on, the display automatically switches to the proper mode.
I used this machine for basic sewing, heirloom sewing, basic smocking, embroidery and appliqué. It also has darning features I have yet to use.
The pro's
I could go on and on telling you all the features this machine offers, but that would be boring and you can see all those details here for yourself. I will get straight to the exciting part — my favorite features.
My favorite type of machine sewing is heirloom sewing. This machine made pulling strings and sewing lace together smooth and quiet — it has been a very peaceful experience.
Secondly, I also enjoy smocking. Until receiving this machine I had previously only done this with a smocking machine and hand stitching. Although there is definitely a learning curve with this machine, I have thoroughly enjoyed learning a new trick to a timeless technique.
The appliqué process/instructions are different from how I normally do appliqué, but once again I enjoy learning a different technique.
I have, since receiving this machine, had a new baby. The Brother SE1800 has become one of the main machines I use now because of how quiet it is. Although this machine doesn't replace a heavy duty machine or serger, because it's a combination machine, it's done every other project I've needed to do.
If you have never had an embroidery machine before, then I highly suggest getting one with a USB port, as this one has, so that data transfer cords are not needed when embroidering — unless you like to be attached to a computer for that part.
The con's
If there is one thing I would change about this machine, it would be that the owner's manual would have pictures of the included embroidery programs. The screen showed a picture of the embroidery and appliqué designs, but I wasn't sure what the exact picture would look like until I did a test run for each one. Although it's not that big of a deal, I did have to use extra thread and material to do a test run of each one to see it before I placed it on my desired garment.
Is is worth the price?
Would I have purchased this particular machine myself? Yes, I would have. Although I probably would not have paid the full amount of this machine, Sewing Machines Plus very often has sales going on, and that's when I would have made a purchase.
Another thing that sweetens the deal is all the extras that they put in with this machine. I was able to get started trying out different features right away with all the tools and extras that came as part of this package (which you can check out here).
Overall impression
This machine is one of the three machines I have out on my sewing table right now, along with a heavy duty machine and a serger.  I'm sure that is where it will stay for quite awhile.  Though I will use the other four here and there, this combination machine really replaced them all in so many ways.
To read more details and see what I was able to do with my machine while I was running through its features, read this. If you have more questions after you have read this, please feel free to ask.
---
Deborah Olsen writes for gracegardenandhomestead.com from her farm & homestead deep in the heart of the Rocky Mountains.