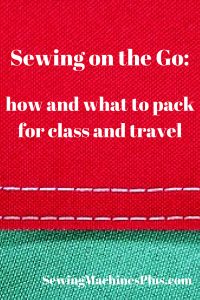 Whether you are attending a sewing class or planning a leisurely vacation, sewing on the go is something you will want to do sooner or later.
We've talked a lot about sewing rooms here on the blog, but we haven't addressed the issue of sewing on the go here before now.
Sewing on the go won't work if you aren't properly prepared, so I've made this short video to cover all the areas you need to address to ensure you have what you need when you take your sewing on the road.
Here's everything you'll need:
Sewing on the go: portable machine
Janome Jem Gold
I already discussed this machine in my beginner sewing machine buying guide. It is definitely my choice for best lightweight portable machine.
Sewing on the go: machine carriers, luggage and totes
You definitely want to think about this before you get ready to take your sewing to go. I hadn't ever considered this myself until the day before I taught my first sewing class at the community center. I suddenly realized I was going to have a lot of equipment and gear to lug and I had no idea how I was going to carry it all!
So I grabbed a thick piece of table linen and whipped up a humongous bag to carry everything.
While this bag has proven itself to be quite useful in other ways, I don't recommend this solution for sewing supplies and gear. I only used it that one time for this purpose and then I found a more suitable option. I have appreciated the ample sack for carrying beach supplies for myself and my kids, and it carries three of our ukuleles in boxes safely in the trunk when we travel with them these days.
For toting your sewing machine and supplies, save time and trouble by ordering one of these great choices from Sewing Machines Plus:
Here is a link to SMP's full selection of trolleys, totes, and cases.
Sewing on the go: sewing supplies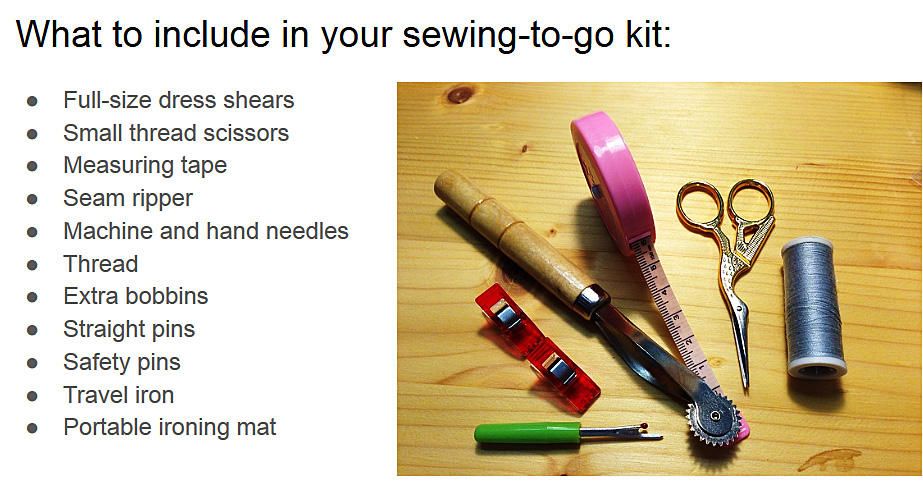 Here is the list of supplies to be sure to include in your travel sewing kit:
Be sure to get an extra pair of dress shears to keep in your go bag at all times.
You'll also like to have a portable rotary cutter.
Here is the combo cutting mat/ pressing board mentioned in the video.
And here is that Rowenta travel iron.
The clover mini-iron is available in a couple of different options:
Here are the cooling sleeves for the mini-iron.
And that's what you need to be well equipped for sewing on the go. Happy travels to you!