Celebrate St. Patrick's Day or your heritage with an Irish flag quilt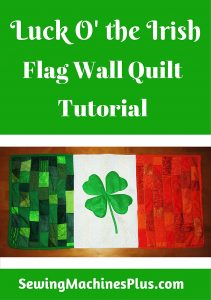 We always celebrate St. Patrick's Day around my house because my dear is a bit obsessed with Ireland. He claims to be Irish, although his parents say his heritage is mostly English and Scottish. I guess he's just Irish at heart.
So one year I decided to surprise him with a St Patrick's Day present and I designed this Irish flag quilt for him. He loved it so much that he rearranged all the other décor in his man cave to give it a place of honor on the wall.
Of course the flag of Ireland does not feature a four-leaf clover, but I thought it would be a nice addition to the design.
Here's how you can make an Irish flag quilt featuring a four-leaf clover for your wall or table, too.
Luck O' the Irish flag quilt how-to
You will need:
Assorted green and orange quilter's cotton scraps
White quilter's cotton
Muslin
Green, white and orange bias binding, grosgrain or fabric to make binding
Green felt
White, green, and orange thread
Please note that this Irish flag quilt is designed to be the same ratio as the official flag of Ireland. So for an authentic look, use these exact dimensions when making this project.
Sew the patchwork sections
For the green and orange sections of this Irish flag quilt, you will need seven strips of muslin 2.5" x 20.5" per section. For the white section, you can do as I did and cut seven strips of white and off white quilter's cotton, or you can do as I wish I'd done and simply cut one large rectangle 14.5" x 20.5".
To make the patchwork strips, take one of the long muslin strips and lay a colored scrap right side up at the top of the strip. Then, take another scrap and place it right side down directly on top of the first scrap. Sew a quarter inch seam at the bottom, flip the second fabric down to face right side up, and press. Then repeat, placing the next scrap right side down atop the second, sewing across the bottom, turning, and pressing. Repeat until you reach the end of the strip. Place them right sides down and trim, then set aside.
Here's a video of me showing how to do this step:
Complete seven green patchwork strips and join these together using quarter inch seams.
Then complete seven orange patchwork strips and join these in the same way.
For the middle section, I went with a patchwork of alternating white and off-white print strips. But I wish I had instead used a single piece of a plain white fabric or a white-on-white print. I think this would show off the echo quilting better. You could choose to do either.
Applique the four-leaf clover
I experimented with constructing the four-leaf clover from a patchwork of fabrics, but I decided it looked better done in a single color of green.
Make the clover from two pieces of green felt. Cut two leaves connected in the middle from each piece. You can freehand your design or you can print mine if you'd rather.
Download: Clover PDF pattern
For the stem, cut a long rectangle 9" x ½"
Layer the top end of the stem at the bottom with the two clover pieces crossed over each other on top of the stem in the middle of your white section. Pin in place and then stitch down. If you use felt, as I did, then you can use a straight stitch. If you use a green quilter's cotton, you will want to appliqué this with a satin stitch.
Quilting
Because we are going to be using three colors of binding for this Irish flag quilt, we are going to quilt each section separately. Construct three "quilt sandwiches" by layering each section's top over a piece of batting and then a piece of backing muslin. Make the batting and backing slightly larger all around than the top pieces.  Then pin.
For the orange and green sections, I quilted along the seams using a satin stitch. Satin stitch is just a zig zag with a wide width and a short length. I set my machine to a 3.0 width and a .5 length. This gives extra interest to this small quilt. Use green thread for the green section and orange thread for quilting the orange patchwork.
For the white section, we'll do the quilting differently. Use white thread and echo the shape of the clover all around. Start close to the design and then make larger outlines. After you have gone around the shape a few times, you will start to run out of fabric on the edges of the design. Just pretend that you didn't and pick back up on the fabric as the design continues around.
Triangles for hanging
Here is an easy method to prepare small quilts like this for hanging on a wall.
Cut two 4" squares from muslin and press them in half diagonally to make triangles.
Place one triangle on the back outer top corner of the green patchwork section with the raw edges aligned. Sew with a scant eighth inch seam along the top and side edges to attach.
Then do the same with the other triangle on the back upper outside corner of the orange patchwork section.
Once the quilt is assembled, you can insert a dowel into these triangles to hang the quilt flat on the wall.
Binding
We are going to bind each section separately so that we can use different colors of binding for each section. You will bind three sides of the green and orange sections and just the top and bottom of the white section.
When I made mine, I discovered at the last minute that I didn't have any green binding. I'm all about using what I have, and I had plenty of green grosgrain ribbon, so I used this for the first time as quilt binding and it worked fine. If you have neither bias or grosgrain ribbon, make your own binding strips from fabric.
Sew the green binding continuously along the bottom, left side, and top of the green patchwork section. Sew the orange binding along the top, right side, and bottom of the orange patchwork section. Then sew two pieces of white binding on the white section, one along the top and another along the bottom.
Put it all together
Now sew the green section to the left side of the white section and the orange section to the right side of the white.
I used my serger to finish these seams neatly on the back.
If you don't have a serger, you could use an overcast foot to neaten the back seams, or you could encase them in a bit of narrow binding.
Or you could decide that since it is the back of the quilt no one is looking and leave the seams raw if you want to.
The serger really makes them look nicely finished though, and if you don't have a serger, I suggest you think about getting one. A serger can quickly boost your sewing to pro level.
Cut a dowel to 41" and pop it in the triangles on the back of your Irish flag quilt. Now hang it on your wall.
I hope you have fun making this project and that your Irish flag quilt blesses you with good luck!