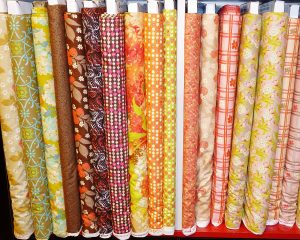 With so many beautiful colors and textures, it can be really hard to resist buying up ALL the fabric in the store. Things like budget, project specifics, and potential use fly away in the midst of gorgeous bolts. If you're like most people, though, buying every bolt of fabric isn't actually feasible. Following these tips will help you stay in control of your bolt buying and your bank account.
Bring Your Pattern
Bring your pattern with you, even if you know how much fabric you need. Having it physically in your hands – in the way of grabbing endless bolts – helps you remember why you're in the fabric shop and actually prevents you from grabbing every bolt you see. It's a way to ground yourself in the heaven of the fabric store.
Don't Drop In
It may be tempting when out running other errands to simply drop in to the fabric shop for a break. Don't do this. Without a specific project in mind, it's far too easy to buy reams and reams of fabric that will only wind up in your stash supply and may falter there for years without being used. Instead, schedule your fabric shop trips to coincide with specific projects.
Make Fabric Shopping an Event
Instead of making fabric shopping a stop on the tour de errands, make it a special event. Allow yourself lots of time to luxuriate in the bolts of fabric before you have to make a purchase. The more time you spend, the fewer "must have" fabrics will leap off the shelves and tables at you. When you've narrowed the selection down, it'll be much easier to choose just the right one for your project without bringing home a bunch of other options too.
Bring Your Budget
Although it's not possible to bring your bank or an ATM, you can bring other physical reminders of your budget. Even a piece of paper with a number on it would be sufficient. The goal is the same as with bringing your pattern – having something to hold on to helps you remember you can't buy every bolt in the store and also keeps your hands busy so they can't grab every bit of fabric in sight.
What else do you do to control yourself in the fabric shop?