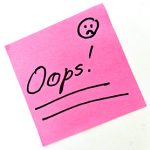 We've all been there. You spend hours, days even, working on a sewing project. In your mind, you've got this image in your head of the gorgeous completed project, but when it's finally done it doesn't look anything like you thought it would. You thought it would be a simple one, so you didn't bother with a muslin mock up, but it's not at all what you expected or wanted. So now what?
Grumble
If you're like me, you spend a fair amount of time grumbling and cursing about the "messed up" project or worrying about what you're going to wear to the event instead. This is helpful short-term. It lets off the stress and and can be cathartic, but it doesn't really solve anything.
Alter
Once you've finished grumbling and worrying, try the piece on again. Take a careful look at the seams. Can you alter them to change the fit so it'll more closely match your vision? Maybe adding some darts or a tuck at the waist would help?
Accessorize
Often the picture on the front of the pattern package shows people wearing shoes or jewelry. Can you add your own accessories or shoes to make the item more closely match your imagined outcome? Maybe a shawl or scarf would help?
Change it Up
Sometimes, when choosing a fabric, you might choose one that turns out not to flow the expected when it's all sewn up. In these cases, rather than remaking the entire project, add sections of another fabric in areas that will help the flow. It's nerve wracking to cut apart a completed project, but since you're not going to wear it the way it is anyway you don't have much to lose.
Embellish It
Try adding a little pizazz to change the look of your sewing project. Patches, lace work, embroidery, beading, or other fancy details can completely alter the look of your project and provide it with a touch of class or color that may help it more closely match the vision in your head.
Combine It
Depending on how different your vision is from the completed project, combining two or more of these techniques may be necessary. In most cases, though, it's possible to save the project and make it work for you – sometimes in ways you didn't expect.
What other techniques have you tried to make your project work?