If you're like me you've got a giant bin (or two) of left over fabric from projects dating back to the stone age. It takes up valuable closet space, but you refuse to let it go. Maybe it's even a point of contention with your spouse/partner. With these fun ideas you can free up your closet space, make some fun projects, and maybe make a little money on the side too.
Fabric Stash Cash Wallet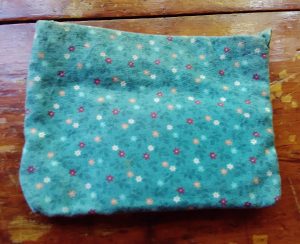 With just a small bit of fabric scraps, some ribbon, and a quick row of stitches you can make a unique cash or coin wallet. Measure out your scrap so that it is the dimensions of a credit card (2x height), plus seam allowances and room for a ½ inch ribbon. Fold it in half with right sides together and stitch up the sides. Make a pocket for the ½ inch ribbon and sew that up. Feed the ribbon through and turn the cash purse right side out.
The ribbon can be tightened to close the wallet and prevent spillage in a large purse or bag. It's cute, unique and keeps all credit cards, cash and coins neatly organized. Even better, you can make a bunch and give them as gifts or sell them at craft fairs or on Etsy.
Fabric Stash Rag Clowns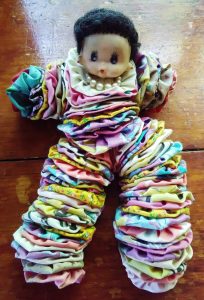 To give credit where it's due, this is an idea I'm stealing from my great-grandmother. Right up until the day she died, just shy of 100, she made these adorable clowns. They were all over her apartment and each of the grandkids and great-grandkids had at least one. I'm not completely sure how she did it, but the basic idea is this.
Cut a circle of scrap fabric, fold it in on itself so that the edges meet in the center and sew it into the now smaller circle. Make a bunch of these and then string them on wire to create clown legs, arms and body. Add a pre-purchased head and voila! So cute! For extra fun you can add bells on the ends of the arms and legs and/or an accessory like a necklace. Sure to be a hit with any children in your life, at craft fairs, and likely a best seller on Etsy.
What other ideas do you have?