The best selling TinLizzie18 Empress is back! BUT ONLY FOR A LIMITED TIME. We are DOWN TO OUR LAST SIX MACHINES so as soon as they sell out, this model will be no longer available!
The TinLizzie18 Empress 18-inch Long Arm Quilting Machine
The TinLizzie18 Empress 18 offers quilters of all levels a feature-rich machine at an affordable price. Experts and professionals will appreciate the precision, speed, and power of this 18 inch longarm, as well as its sturdy and quality construction.
Machine Features
Beginners will love the ease-of-use features - we've incorporated a range of popular features from the home sewing machine, so it's easy to use right out of the box.
Stitching modes:
Includes stitch regulation, speed regulation, needle up and down, & start/stop.
Cruise Mode:
The Cruise mode offers stitch regulation, and gives the quilter control for free motion quilting or stippling with a constant and fluent stitch line from the smooth, regulated stitch. Stitch length and speed is regulated by how fast the machine moves along the quilt top.
Speed Mode
Machine will stitch according to the speed and stitch length set on the setting touchpad. Press the start button to start sewing, and the stop button to stop
18" arm:
Finish 12" blocks and a King Size quilt
Built in Bobbin Winder:
Never wait for a bobbin! This means you can wind bobbins as you sew.
Fixed Gooseneck Lamp:
The lamp provides light just where you need it and never comes loose.
Built in Oil Reservoir:
Never get oil on your quilt top!
Cords and Cables:
All the cords are encased in the machine. No tangles or mess!
Improved Encoder Connection:
A durable resin casing protects encoders.
All-aluminum Body:
The light-weight aluminum body provides sturdy, smooth performance.
Stylus or Laser Work:
Easily switch handles from front of machine to back for stylus or laser work.
Includes Free Bungee Clamps and Cloth Leaders if paired with a Quilting Frame
Optional Frame Addons:
Phoenix Frame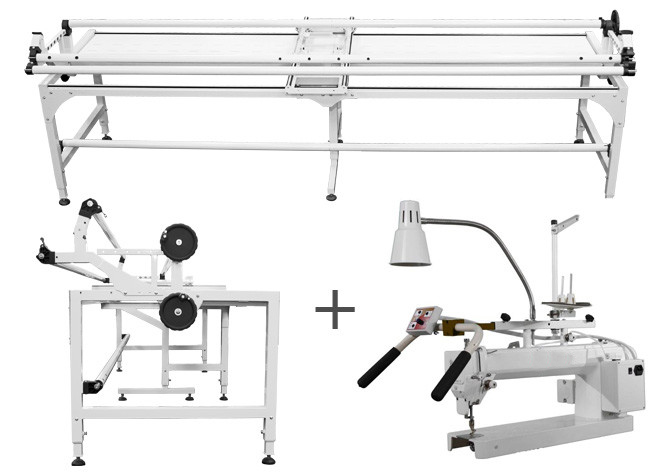 Gracie King Frame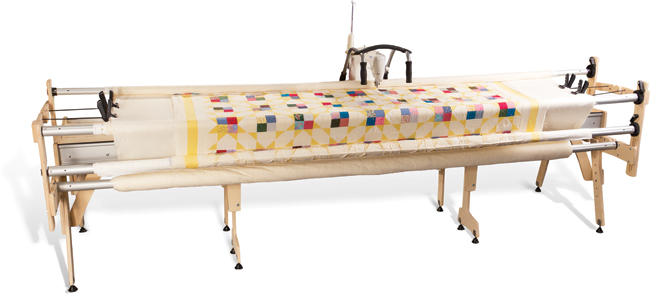 Gracie Queen Frame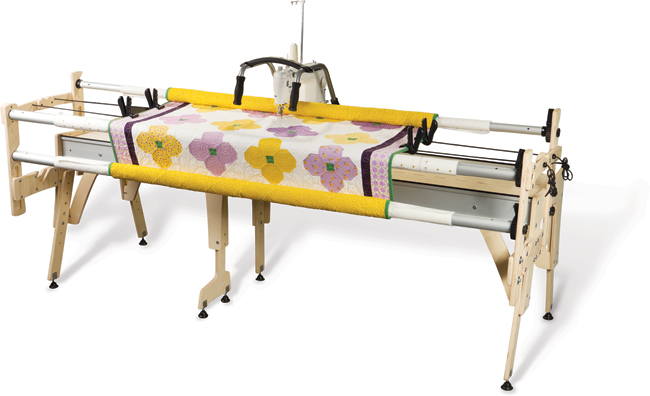 No rating yet... Be the first to rate this product!
Rating:
Global Rating: stars from reviews
View All Reviews

Overall Store Rating
(
8.99
/10) 3432 reviews
Rating:
10
/10 - Date: 05/23/2016
the order was filled and sent on it's way quickly and received in a timely fashion. Greatly appreciated.
dodie-32601, real customer review
Rating:
10
/10 - Date: 05/23/2016
Thank you for your prompt service and carrying the sewing machine bobbins that most others do not! The price was right and was so pleased at the speed they were sent. Will order from again.
anna_reatherford, real customer review
Rating:
10
/10 - Date: 05/23/2016
The sewing machine extension table arrived quickly and fits my sewing machine perfectly!
pfah, real customer review
Rating:
10
/10 - Date: 05/23/2016
Laura at Sewing Machine Plus was very helpful and knowledgeable about the Long arm machines. She made my online purchase very easy. Especially on such a big ticket item. My Tin Lizzie Apprentice m...
laverngolden, real customer review
Rating:
10
/10 - Date: 05/23/2016
I ordered 2 of the 1/4" feet and they arrived very quickly! This was my second order and both were very prompt. Thank you.
jsanvitis, real customer review
Rating:
10
/10 - Date: 05/22/2016
Sewing Machines Plus is my favorite store because they really go out of their way to be sure i am happy with my purchase. They have a really good repair shop right in the store so i can easily get...
merrymurphy, real customer review
Rating:
10
/10 - Date: 05/22/2016
Although there was a small glitch with the handi quilter tracking information being sent, the reps at sewing machines plus we're very quick to find out the information and respond back. I am very s...
marthajanebarfield, real customer review