The best selling TinLizzie18 Empress is back! BUT ONLY FOR A LIMITED TIME. We ordered 25 of these and as soon as they sell out this model is no longer available!
The TinLizzie18 Empress 18-inch Long Arm Quilting Machine
The TinLizzie18 Empress 18 offers quilters of all levels a feature-rich machine at an affordable price. Experts and professionals will appreciate the precision, speed, and power of this 18 inch longarm, as well as its sturdy and quality construction.
Machine Features
Beginners will love the ease-of-use features - we've incorporated a range of popular features from the home sewing machine, so it's easy to use right out of the box.
Stitching modes:
Includes stitch regulation, speed regulation, needle up and down, & start/stop.
Cruise Mode:
The Cruise mode offers stitch regulation, and gives the quilter control for free motion quilting or stippling with a constant and fluent stitch line from the smooth, regulated stitch. Stitch length and speed is regulated by how fast the machine moves along the quilt top.
Speed Mode
Machine will stitch according to the speed and stitch length set on the setting touchpad. Press the start button to start sewing, and the stop button to stop
18" arm:
Finish 12" blocks and a King Size quilt
Built in Bobbin Winder:
Never wait for a bobbin! This means you can wind bobbins as you sew.
Fixed Gooseneck Lamp:
The lamp provides light just where you need it and never comes loose.
Built in Oil Reservoir:
Never get oil on your quilt top!
Cords and Cables:
All the cords are encased in the machine. No tangles or mess!
Improved Encoder Connection:
A durable resin casing protects encoders.
All-aluminum Body:
The light-weight aluminum body provides sturdy, smooth performance.
Stylus or Laser Work:
Easily switch handles from front of machine to back for stylus or laser work.
Includes Free Bungee Clamps and Cloth Leaders if paired with a Quilting Frame
Optional Frame Addons:
Phoenix Frame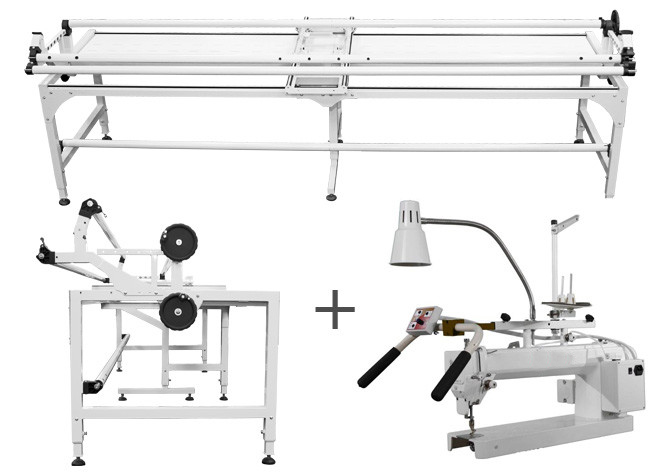 Gracie King Frame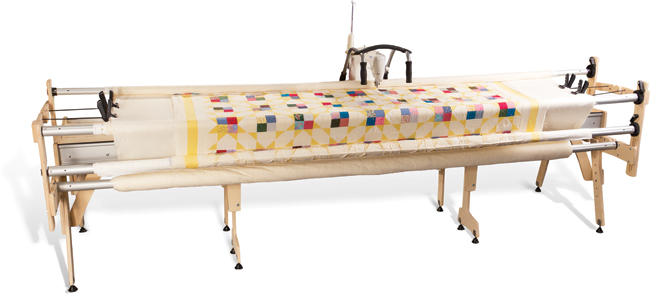 Gracie Queen Frame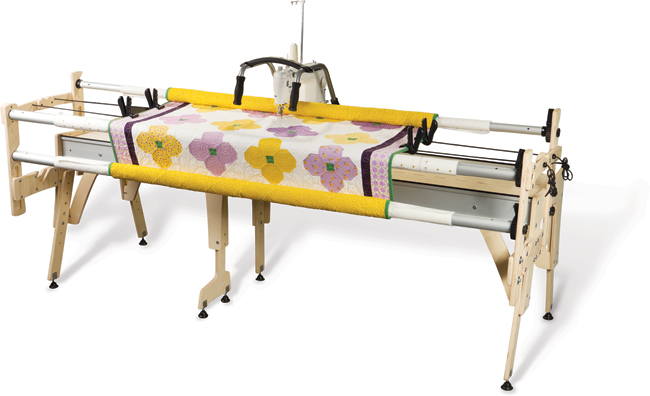 No rating yet... Be the first to rate this product!
Rating:
Global Rating: stars from reviews
View All Reviews

Overall Store Rating
(
8.63
/10) 3023 reviews
Rating:
10
/10 - Date: 02/01/2016
I love my new Janome Memory Craft machine. It sews beautifully. I have bought other machines and supplies before, and everything was just as Sewing Macines Plus described. Their sales people are al...
1sewsforothers, real customer review
Rating:
10
/10 - Date: 02/01/2016
I had been looking for a ruffling foot for my machine. Everywhere that I found it, the price was over $100.00. That was not in my budget. I found it here for a lot less. Shipping took a little...
immhiggins, real customer review
Rating:
10
/10 - Date: 02/01/2016
Love it so far!!! Early days yet tho....works like a charm ....love the speed control and wide space...will take a bit to get used to....
sueharnish, real customer review
Rating:
10
/10 - Date: 02/01/2016
Be sure to watch the video before attempting to put the cabinate together. Do not rely on the instructions only.
Dei79072, real customer review
Rating:
10
/10 - Date: 02/01/2016
I am quite satisfied with the timely delivery of my order. Everything was in good shape and I got exactly what I ordered for. However I did not see the Form for the Platinum warranty for 3 years. K...
fomotosho, real customer review
Rating:
10
/10 - Date: 02/01/2016
Product was delivered exactly as represented online. Easy to assemble,very good looking and comfortable. My wife loves it!
Satgls, real customer review
Rating:
10
/10 - Date: 02/01/2016
Easy to order from and all I had to do was give them the model of my machine and l was sent the right part. Thank you!
conner_cl, real customer review