FREE Shipping on orders $49 and up.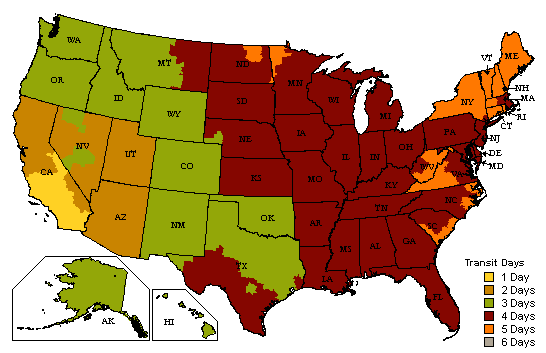 Most orders are processed and shipped same day. Orders placed on Friday after 3pm, Saturday, or Sunday are processed on Monday. Processing and shipping does not take place on weekends or holidays.
Within the continental United States (the contiguous 48 states), Shipping is FREE to customers on orders over $49. Orders being shipped to Hawaii, Alaska, Canada, APO's, FPO's and DPO's are not eligible for free shipping. Also, the free shipping policy does not apply to large or heavy items that require special shipping methods such as assembled industrial sewing machines and some sewing cabinets.
Introducing the New QBOT V3 Computerized Quilting System (TABLET NOT INCLUDED)
The most anticipated innovation in quilting has arrived. What is QBOT? QBOT stands for 'Quilting Based on Technology." It is a new, totally computerized quilting system. Why pay someone to create a professional quilt, when the QBOT can do it for you? The QBOT offers professional results…easily and automatically. Simply put, the QBOT does everything for you. Automatic hands-free movement creates the perfect design that would be impossible to do by hand. You are now the professional! Just think about all of those quilting projects that you started, but never finished. The QBOT will complete your quilting projects in a fraction of the time. Design more intricate quilting than you ever imagined. With more than 18 quilting designs included, you can start creating beautiful designs immediately. If you prefer, you can "record" your very own one-of-a-kind pattern and repeat it the same way, or shrink it, anywhere you want on the quilt. Take pride in professional results, the easy way. Own your QBOT today!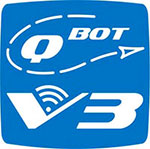 QBOT V3 is our newest product - available for purchase as an upgrade to earlier firmware versions of QBOT or as a new-in-the-box complete unit.
Many design features are built into the interface, like Design Management, Line Quilting, Mirror Image, and Nesting; as well as improved features you're already acquainted with like Pattern Quilting, %Restart, Another/Chain, and Overlay. QBOT V3 requires an Android-based tablet with Bluetooth®. With the many Android options available on the market, you'll be able to get the screen size which best suits your needs (NOTE: our beta testers highly recommend 10" models). The benefit of the tablet interface is that the QBOT will never go out of style. As new tablets come out with new features, you can always have a fresh look to QBOT - it's your choice.
QBOT Product Features
QBOT does it for you!
Automated quilting at your fingertips!
Simple Installation
Quick set up and easy learning curve!
Menu Driven Interface
QBOT leads you step by step!
Professional Results
Even difficult designs are easily stitched!
Four-Point Scaling
Automatic adjustments for rotated or skewed blocks!
On-Board Rotation
Enter the rotation angle and QBOT does the rest!
Record Your Own Designs
QBOT automatically records your free-motion quilting!
Quilting Designs Included
Machine quilting and embellishing have never been easier!
Compatible With Most Studio Quilting Frames
For a current compatibility list, click HERE. If you do not see your machine/frame on the list, please give us a call 800-401-8151 and let one of our Quilting experts share with you how the QBOT will exceed your quilting needs!
System Requirements
Quilting Frame, Quilters Cruise Control, or stitch regulated sewing machine.
FREE Design Downloads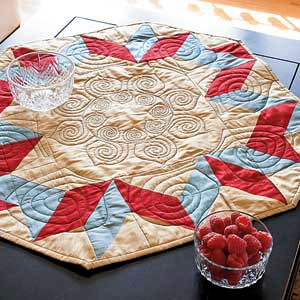 Quilting with Silk
This zipped folder contains various formats of Denise Applegate-Schober's design which corresponds to a recent McCall's Quilting article on quilting with silk.
.4qb
.plt
.iqp
.qli
.PDF (printable template)
Regarding ".plt" files:
Save the zipped folder to your computer. Then unzip/open the folder; copy the ".plt" file to your SD card
FasTrax Designs
FasTrax Designs are found on the QBOT Version 2 disk. The zipped folder contains a sample of the FasTrax designs.
Regarding ".plt" files:
Save the zipped folder to your computer. Then unzip/open the folder; copy the ".plt" file to your SD card
QBOT Compatibilities
For QBOT to properly perform, a stitch-regulated sewing machine and a free-standing quilt frame are needed. Stitch regulation can be built-in (available for many long-arm machines) or added separately (mid-arm sewing machines must have a Quilter's Cruise Control®). We are always updating QBOT's compatibilities, please contact us to inquire. Please note: the development and test cycle for certain frames can be lengthy, so we ask for your patience as we expand QBOT's compatibilities.
Machines
A-1
ABM Innova** - 18, 22, 26
Aloha Quilting System
APQS (coming soon)
Artistic Liberty 18-8
Babylock Crown Jewel/Crown Jewel II
Babylock Coronet 16 ** (coming soon)
Babylock Jewel
Babylock Quilter's Choice Professional
Bernina Q20, Q24
Bernina-some models equipped with BSR
Brother 1300/1500
Elna 7200
Empress Quilter by Tin Lizzie
Fun Quilter by Nolting
Gammill, some models* & **
GrandQuilter 18.8 by Pfaff
GrandQuilter mid-arm by Pfaff
HQ16* - equipped with stitch regulator
HQ Simply Sixteen** (coming soon)
Handiquilter 18/Avante, 24/Fusion
Hobby 1200 Grandquilter by Pfaff
Janome 1600, 6500, 6600
Janome Artistic Quilter™ 18, 26
Janome Artistic Quilter™ 18-8DX**
Janome Artistic Quilter™ 26-8DX**
Juki TL98E, TL98Q, TL98QE
Juki 2000 series
Juki QVP*
King Quilter/King Quilter SE - 18, 26
King Quilter LE**
Liberty 18-8
Martelli long-arm (requires dealer installation)
Mega Quilter 18x8 by Viking
Mega Quilter mid-arm by Viking
Nolting Pro Series**
Pfaff PowerQuilter™ P3**
Tin Lizzie 18**, LS, DLS
Tin Lizzie Ansley
Tin Lizzie Apprentice
Tin Lizzie Original
Tin Lizzie Queen Quilter*
Tin Lizzie Ram, ESP**
Viking Platinum™ 3000**
Voyager 17* - equipped with SLR
Frames - Wood
B-Line
Bradley/Ultra Quilter
Falcon by Tin Lizzie
GMQ Pro by Grace
Gracie Queen, King by Grace
Little Gracie II by Grace
Tin Lizzie Wood Frame
Frames - Metal
A-1
ABM Innova
Aloha Quilting System
APQS
Artistic Freedom Frame by Tin Lizzie
Babylock Coronet Clamp Frame
Bernina Q20, Q24
C-Frame (Janome) by Tin Lizzie
Debutante by Tin Lizzie
Freedom by Tin Lizzie
Gammill, some models*
GQ Frame by Grace
HQ Pro and Studio by HandiQuilter
HQ Simply Sixteen Clamp Frame
Hinterberg Original, Stretch and Summit
Inspira Imperial by Grace
Inspira original with upper shelf
iQuilt by Grace
Juki QVP frame
Majestic by Grace
Martelli long- arm (requires dealer install)
Momentum (Babylock) by Grace
New Joy Gold Standard
Next Generation Viking and Pfaff
Nolting Pro
Phoenix (PX) by Tin Lizzie
Pinnacle by Grace
Need more supplies? Find them below!

Just add them to your bag below.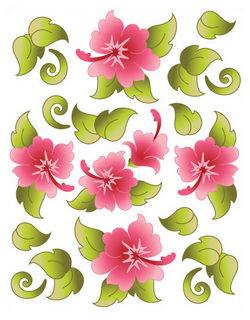 $21.95 $19.99
(Clicking this product will display information in a new window.)
Get introduced to this product:
NEW! LiTen Up QBOT V3 Computerized Quilting System for Long Arm Quilting Machines!
View these videos to get a better idea of what you'll purchase!
Watch this video to become familiar with the product
QBOT V3 - Start Here
QBOT V3 - File Management
QBOT V3 - Settings & Help
QBOT V3 - Pattern Quilting
QBOT V3 - Quilting & %Restart
QBOT V3 - Edge-to-Edge Nesting
QBOT V3 - Overlay Quilting
QBOT Quilting - QBOT V3 Line Quilting - Fills
QBOT Quilting - Version 3 - Curves Feature in Line Quilting
QBOT Quilting - V3 - 4 Point Quick Scale
QBOT Quilting - QBOT Version 3 - Sneak Peek 3
QBOT Quilting - Installation Details and Troubleshooting
Quilting with QBOT - 4 Point Scaling - Part 1 of 2
Quilting with QBOT - 4 Point Scaling - Part 2 of 2
Quilting with QBOT - 4-point Echo Quilting and Rotation
Quilting with QBOT - Nesting Edge-to-Edge Designs with Proportional Scaling
Quilting with QBOT - Nesting Designs with Non-Proportional Scaling
Quilting with QBOT - Using Templates & Quilting Multi-Path Designs
Quilting with QBOT - Using Overlay and Another Functions
Quilting with QBOT - Keeping the Quilt Straight - Basting
QBOT Quilting - Borders and Corners - Part 1
QBOT Quilting - Borders & Corners - Part 2
Quilting with QBOT - Triangular Areas and Designs
QBOT Quilting - Using the Corner Finder
QBOT Quilting - Transferring from CD_DVD to SD Card
QBOT Quilting - Onboard rotation using 4 PT Scaling
Proper Optical Encoder Installation & Removal
QBOT Quilting - Turning a Quilt
QBOT Quilting - Product How-To - Red Snappers
QBOT installation on Juki TL2200QVP
Quilting with QBOT - Appliqué & Trapunto Techniques
QBOT Quilting - Installation on Majestic Quilt Frame
QBOT Installation on Phoenix Quilt Frame
Quilter's Cruise Control with Janome 6500/6600