Introducing the New QBOT V3 Computerized Quilting System
The most anticipated innovation in quilting has arrived. What is QBOT? QBOT stands for 'Quilting Based on Technology." It is a new, totally computerized quilting system. Why pay someone to create a professional quilt, when the QBOT can do it for you? The QBOT offers professional results…easily and automatically. Simply put, the QBOT does everything for you. Automatic hands-free movement creates the perfect design that would be impossible to do by hand. You are now the professional! Just think about all of those quilting projects that you started, but never finished. The QBOT will complete your quilting projects in a fraction of the time. Design more intricate quilting than you ever imagined. With more than 18 quilting designs included, you can start creating beautiful designs immediately. If you prefer, you can "record" your very own one-of-a-kind pattern and repeat it the same way, or shrink it, anywhere you want on the quilt. Take pride in professional results, the easy way. Own your QBOT today!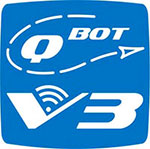 QBOT V3 is our newest product - available for purchase as an upgrade to earlier firmware versions of QBOT or as a new-in-the-box complete unit.
Many design features are built into the interface, like Design Management, Line Quilting, Mirror Image, and Nesting; as well as improved features you're already acquainted with like Pattern Quilting, %Restart, Another/Chain, and Overlay. QBOT V3 requires an Android-based tablet with Bluetooth®. With the many Android options available on the market, you'll be able to get the screen size which best suits your needs (NOTE: our beta testers highly recommend 10" models). The benefit of the tablet interface is that the QBOT will never go out of style. As new tablets come out with new features, you can always have a fresh look to QBOT - it's your choice.
QBOT Product Features
QBOT does it for you!
Automated quilting at your fingertips!
Simple Installation
Quick set up and easy learning curve!
Menu Driven Interface
QBOT leads you step by step!
Professional Results
Even difficult designs are easily stitched!
Four-Point Scaling
Automatic adjustments for rotated or skewed blocks!
On-Board Rotation
Enter the rotation angle and QBOT does the rest!
Record Your Own Designs
QBOT automatically records your free-motion quilting!
Quilting Designs Included
Machine quilting and embellishing have never been easier!
Compatible With Most Studio Quilting Frames
For a current compatibility list, click HERE. If you do not see your machine/frame on the list, please give us a call 800-401-8151 and let one of our Quilting experts share with you how the QBOT will exceed your quilting needs!
System Requirements
Quilting Frame, Quilters Cruise Control, or stitch regulated sewing machine.
Watch this video to become familiar with the product
---
FREE Design Downloads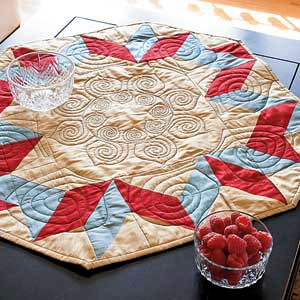 Quilting with Silk
This zipped folder contains various formats of Denise Applegate-Schober's design which corresponds to a recent McCall's Quilting article on quilting with silk.
.4qb
.plt
.iqp
.qli
.PDF (printable template)
Regarding ".plt" files:
Save the zipped folder to your computer. Then unzip/open the folder; copy the ".plt" file to your SD card
FasTrax Designs
FasTrax Designs are found on the QBOT Version 2 disk. The zipped folder contains a sample of the FasTrax designs.
Regarding ".plt" files:
Save the zipped folder to your computer. Then unzip/open the folder; copy the ".plt" file to your SD card


Global Rating: 5.00 from 1 reviews
Add your review of this product
QBOT V3
May 26, 2015
Adam Struve
Magalia Ca US
I have owned the Qbot for a week and have ran 3 quilts. I love this thing. Installation could not have gone easier. They give you a disk with the instructions on it, shows you how to assemble, very easy. The qbot is very easy to operate, they give you a disk with the operating instructions. Just fallow along with the instructor and it couldn't be easier. The 320+ designs they give you are very nice to start your collection off.The machine stitches out perfectly, no adjustments nessessary. You will feel like an expert long armer. It was a good bit of money, but I am very glad I purchased the Qbot, its all I hoped it would be and even better than I thought it would be! PS I had 1 question and the service dept. got right back to me.l love, love, love this thing, worth every penny I spent and half the price of any other robot.
Rating:
Global Rating: 5.00 stars from 1 reviews
View All Reviews

Overall Store Rating
(
9.00
/10) 2593 reviews
Rating:
10
/10 - Date: 11/22/2015
Good parts good service and shipped quickly.
bspate, real customer review
Rating:
10
/10 - Date: 11/22/2015
I was very pleased with the service I received from Sewing Machines Plus. Though this was a very small order it got very good attention from them. They were prompt and accurate in delivering this...
suwaneekate, real customer review
Rating:
10
/10 - Date: 11/22/2015
The sewing machine table came on the day it was supposed to arrive. All is good.
tmroczka, real customer review
Rating:
10
/10 - Date: 11/22/2015
So far everything I expected
mcjpmse, real customer review
Rating:
10
/10 - Date: 11/22/2015
Purchased a King Quilter with Phoenix Frame. Machine came quickly and was easy to setup. Excellent customer service they were there to answer my questions and followed up with a delivery response o...
joyce4297, real customer review
Rating:
10
/10 - Date: 11/22/2015
Very happy with purchase! Shipping was fast and the free shipping was a big plus. Have order other items and same quality service.
tewalters57, real customer review
Rating:
10
/10 - Date: 11/21/2015
There was great communication from Sewing Machines Plus, including a personal phone call about an item on backorder. Backordered item was shipped within the week. This was my first experience with...
jm88-91501, real customer review