Introducing the QBOT Computerized Quilting System
The most anticipated innovation in quilting has arrived. What is QBOT? QBOT stands for 'Quilting Based on Technology." It is a new, totally computerized quilting system. Why pay someone to create a professional quilt, when the QBOT can do it for you? The QBOT offers professional results…easily and automatically. Simply put, the QBOT does everything for you. Automatic hands-free movement creates the perfect design that would be impossible to do by hand. You are now the professional! Just think about all of those quilting projects that you started, but never finished. The QBOT will complete your quilting projects in a fraction of the time. Design more intricate quilting than you ever imagined. With more than 18 quilting designs included, you can start creating beautiful designs immediately. If you prefer, you can "record" your very own one-of-a-kind pattern and repeat it the same way, or shrink it, anywhere you want on the quilt. Take pride in professional results, the easy way. Own your QBOT today!
QBOT Product Features
QBOT does it for you!
Automated quilting at your fingertips!
Simple Installation
Quick set up and easy learning curve!
Menu Driven Interface
QBOT leads you step by step!
Professional Results
Even difficult designs are easily stitched!
Four-Point Scaling
Automatic adjustments for rotated or skewed blocks!
On-Board Rotation
Enter the rotation angle and QBOT does the rest!
Record Your Own Designs
QBOT automatically records your free-motion quilting!
Quilting Designs Included
Machine quilting and embellishing have never been easier!
Compatible With Most Studio Quilting Frames
Worried about compatibility? Give us a call 800-401-8151 and let one of our Quilting experts share with you how the QBOT will exceed your quilting needs!
System Requirements
Quilting Frame, Quilters Cruise Control, or stitch regulated sewing machine.


Watch this video to become familiar with the product
---
FREE Design Downloads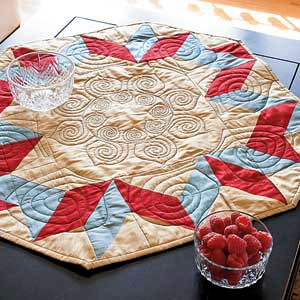 Quilting with Silk
This zipped folder contains various formats of Denise Applegate-Schober's design which corresponds to a recent McCall's Quilting article on quilting with silk.
.4qb
.plt
.iqp
.qli
.PDF (printable template)
Regarding ".plt" files:
Save the zipped folder to your computer. Then unzip/open the folder; copy the ".plt" file to your SD card
FasTrax Designs
FasTrax Designs are found on the QBOT Version 2 disk. The zipped folder contains a sample of the FasTrax designs.
Regarding ".plt" files:
Save the zipped folder to your computer. Then unzip/open the folder; copy the ".plt" file to your SD card