Sewing Machines Plus Store Policies
Low Price Guarantee with 110% Guaranteed Price Match
Are you tired of settling for uninformed salespeople, poor customer service, and insufficient product information in your quest to find the best available price? You don't have to settle anymore. Our exclusive 110% Guaranteed Price Match ensures you the lowest delivered price with the highest standards of professional service.
Taking advantage of our 110% Guaranteed Price Match is easy:
If you think you've found the same specialty product offered online at a lower delivered price, please call our Sales team at (800) 401-8151, Mon.-Fri. (8am-6pm, PST), Sat.(10am-5pm, PST), and say that you'd like to report a Price Match.

We'll ask you for the competing store's name, website, and the exact location of the advertised item to verify the price and that the item is new, in stock, and includes the manufacturer's warranty.

Once we've verified the competitorís pricing, we will match the lower price, subtract 10% of the difference between prices, and process your order. If we offer a product for $1,000, and you find it for $900 somewhere else, you'll pay $890 with our 110% Guaranteed Price Match.
If you find a lower delivered price after you've purchased a specialty product from us, you'll still reap the benefits.We will honor our 110% Guaranteed Price Match for up to 30 days after your purchase by giving you an in-store credit for 110% of the difference in price.
Our 110% Guaranteed Price Match is valid when the named online competitor is an authorized dealer of the product and is selling a non-auction, new, in-stock, warranted item at or above the manufacturer's wholesale cost. Delivered price is calculated by adding the base item price plus shipping, handling, taxes and any other charges. This offer may not be used in combination with any other financing or promotional offers. Sewingmachinesplus.com reserves the right to refuse any order or price match if the preceding terms are not met or cannot be verified. Certain manufacturers such as Janome and Miele have restrictions on pricing that may prevent us from matching some prices.
100% Customer Satisfaction Guarantee:
Your satisfaction is our top priority. We at Sewingmachinesplus.com are committed to providing you with the best on-line shopping experience in the business.
Accepted Forms of Payment
Credit Card
We currently accept 4 major credit cards: Discover, American Express, MasterCard and Visa. We must be able to verify your credit card, so the billing address you provide must match the address to which your credit card statements are sent. We also require the security code found on all major credit cards. If you are unable to provide us with this information at checkout, your order may require extra processing time. If you have any questions about paying by credit card, call us at 1-800-401-8151.
Check or Money Order
If you wish to pay by check, we will ship your order when the payment clears our bank, which is typically 10 days after we receive your payment.

If you wish to pay by money order, we will ship your order when the payment clears our bank, which is typically within 24 hours after we deposit your payment.

Please send your check or money order payable to SewingMachinesPlus.com to the following address:

Accounts Receivable
SewingMachinesPlus.com
713 Center Drive
San Marcos, CA 92069

Please include your order number with your payment. If you have any questions about paying by check or money order, call us at 1-800-401-8151.
Wire Transfer
If you wish to pay via a Wire Transfer, we will be able to process your order immediately upon verification of payment. Please call us at 1-800-401-8151 to schedule a wire transfer.

Please pay all bank fees separately. If your bank or an intermediary bank deducts your fees from our payment, we will not be able to ship your order until we receive the full order amount.

Please include your order number with your payment. If you have any questions about wire transfers, call us at 1-800-401-8151
Gift Certificate
If you have a gift certificate, during the checkout process, enter the Gift certificate number and PIN then press Redeem Certificate. If you have any questions about using Gift Certificates, call us at 1-800-401-8151

Disclaimer - You may not use Gift Certificates to purchase more Gift Certificates. Thank You.
Paypal
If you wish to pay via a PayPal account, you must first proceed through the checkout process. At the end of the checkout process, you will see a PayPal logo that you must click. This link will ensure that all of your order information is properly stored during the PayPal transaction.

If you have any questions about PayPal payments, call us at 1-800-401-8151. You can also visit the PayPal Help Center.
Google Checkout
Google Checkout is a fast, secure checkout process allowing you to buy from us quickly and easily with a single login.

If you wish to pay via Google Checkout, you must first proceed through the checkout process. At the end of the checkout process, you will see a Google Checkout logo that you must click. This link will ensure that all of your order information is properly stored during the Google Checkout.

If you have any questions about using Google Checkout, call us at 1-800-401-8151. You can also visit the Google Checkout Help Center
Purchase Orders
If your school, school district, hospital, business or organization uses purchase orders, you can send us a purchase order by fax, email or mail. Once a valid purchase order is received, our Customer Support Team will process the order.
Fax us your purchase order: 1-866-550-7091
Email us your purchase order to: info@sewingmachinesplus.com
Mail your order to:
Accounts Receivable
SewingMachinesPlus.com
713 Center Drive
San Marcos, CA 92069

Special requirements may apply to purchase orders, including an approved credit application.

If you have any questions about paying with a purchase order, call us at 1-800-401-8151.
GE Capital Financing
SewingMachinesPlus.com is offering 0% financing on many of our products. Call and speak to one of our customer service representatives for all of our financing options at 800-401-8151.

Get approved through GE Capital Finance.





Click here to apply online!

Please call 800-401-8151 to place your order and to find out about additional promotions.

If you're already a GE Capital cardholder, please call our customer service department at 800-401-8151 to place your order.
Purchase Order Policy
Purchase orders are only available as a payment option for businesses, established companies, government and educational institutions. In order to place a purchase order please call toll free 800-401-8151 and any one of our friendly staff will take your order over the phone.
Sales Tax
Sales tax at the rate of 8.0% is applied to all orders being shipped to a California address. Orders shipped to addresses outside the state of California are not charged sales tax.
Order Processing and Shipping:
We will ship to locations within the United States and Canada. We do not ship to any other country at this time.
Orders shipped to Canada will be charged a fee for duties and taxes when package is delivered. That fee is the responsibility of the customer and is not paid for by Sewingmachinesplus.com, Inc. If the customer refuses the package then those fees will be deducted from the refund amount.
Within the continental United States (the contiguous 48 states), SHIPPING is FREE to the customers on orders over $49. Second day shipping does not apply to products drop shipped from supplier. Orders being shipped to Hawaii, Alaska, and Canada are not eligible for free shipping. Also, the free shipping policy does not apply to APO's, FPO's and DPO's. Please call 800-401-8151 for APO/FPO/DPO rates. Shipping rates may be calculated by clicking the Checkout button in the shopping cart.
Free shipping does NOT apply to any item that requires freight ground delivery. On all orders that require freight ground delivery, we will immediately contact you by phone to give you the freight charges. Click here for freight shipping policies.
We ship most orders via UPS Ground. Items that are shipped directly from the manufacturer will be shipped using the manufacturer's preferred method (either UPS or FedEx). Packages that weigh less than 1 pound may ship via USPS Priority Mail. On orders that include free shipping, we reserve the right to choose the carrier of our choice to accommodate the most efficient method of getting the product to you.
Shipping charges in the shopping cart are accurate UPS published rates. We do not inflate any shipping charges.
Please keep in mind that UPS and FedEx do not ship to PO Boxes. If you put a PO Box as your shipping address the merchandise will be shipped via USPS. (Additionally, providing a PO Box as your shipping address will not cause us to ship via USPS for you. If you have experience with UPS delivering to your PO Box, please call us and we'll make the exception; however, if the package gets denied and rerouted, you will be charged all applicable shipping costs.)
All orders will be processed within 1-2 business days. Orders placed on weekdays before 2pm Pacific time will usually be shipped the same day. Orders placed on Friday after 3pm, Saturday, or Sunday are processed on Monday. Processing and shipping does not take place on weekends or holidays.
Regarding expedited shipping: Expedited shipping is effective based on when the item is sent out, not from the time the order is placed. If we have an item in stock, we can generally have it sent out the same day we receive an order. Items that must be special-ordered or drop-shipped by the manufacturer cannot be sent through an expedited method.
UPS Ground transit times are approximated on the map below, and measured in business days (Monday through Friday):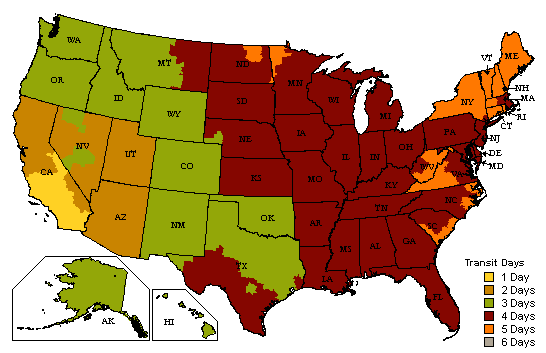 Any customer that refuses their package will be charged the original shipping cost, plus the cost of shipping to have the item returned back to us.
Freight Shipping Policy:
So that heavy-item orders can go as smoothly as possible, please read the following specifications and conditions for delivery of cabinets and assembled industrial machine tables.
Assembled industrial machines with table and assembled sewing furniture will ship via freight truck line, NOT UPS or FedEx. Freight delivery cannot be expedited and does not apply for free shipping. Freight shipping charges are generally in the range of $150-250, depending on your location and type of delivery address. (No shipping method other than freight is applicable for these items, even if other methods show up in the shopping cart.) We will contact you about the freight shipping charges. You are also welcome to contact us after you have placed your order.
Someone needs to be at the delivery address to receive and sign for the product when delivery takes place. The freight company will call you to inform you of the delivery date so that you can plan accordingly. Provide as many phone numbers as possible to ensure that the shipping company can contact you and let you know when your order will be delivered.
Be aware that the delivery driver is not responsible for bringing the product inside your home. Their responsibility is to deliver the product to the delivery address and move the freight to the end of the truck. They may or may not take it off the truck for you, but they will not bring the item inside your house, take it up stairs, place it for you, etc. You will need to have appropriate assistance and/or equipment available at delivery to unload it off the end of the truck and get the product inside your house.
When you sign the delivery receipt, it is a legal contract that states that you received the product in acceptable condition. Always inspect your shipment before signing for it. It is best to completely remove your shipment from its containers regardless of the condition of the box, inspect it thoroughly, and if the cabinet is damaged refuse the shipment. This is very important, because once you have signed for your shipment it is your responsibility if it is damaged. If the Customer signs for the product in good condition and the product is damaged, only replacement parts can be purchased at the customer's expense and it is the customer's responsibility to install any replacement parts.
Save your box and all packaging materials until you are certain that your cabinet and all accessories are in satisfactory condition.
Replacement of accepted damaged products will only occur when funds are received from the shipping company after the claim has been filed. Normal claim time is 3 to 4 weeks. If the freight claim is denied and the customer does not inspect the cabinet, signing for it in good condition, the damaged product is the customer's responsibility.
Inserts are usually shipped out via UPS or Fed-Ex and customarily do not arrive at the same time as your cabinet. Delivery on inserts can take up to two additional weeks for delivery due to the time it takes to create your insert.
Remember to call us before signing for the product if you do not understand this delivery agreement.
Return Policy:
With every purchase at SewingMachinesPlus.com we offer a 60 day money back guarantee. This means that for any reason you are not satisfied with your purchase you can call us and return it for a refund. We are so confident you will love your purchase we have extended our money back guarantee from 30 days to 60 days.
No other authorized dealer stands behind the products they sell like we do. It is a very simple motto we live by, "YOUíLL LOVE IT, OR YOUR MONEY BACK". You wonít find this anywhere else; this is our own unique mission statement that we have developed over 40+ years of being in the sewing machine business.
We know what our customers want and know what makes them comfortable. It is important that you feel confident when making a purchase that you will be taken care of after the purchase in case you are having doubts, or in very rare cases something went wrong with your order.
To return an item for any reason, simply contact us via phone or e-mail returns@sewingmachinesplus.com and explain to us why you wish to return the item. We will issue a Return Merchandise Authorization (RMA) number, along with instructions on returning your purchase. Please do not try to return an item without a Return Authorization Number; as different products must be returned to different locations.
General Returns
Unopened Merchandise may be exchanged or refunded. "Unopened" means that the contents have not been removed from its packaging, and all factory seals are unbroken.
Opened Merchandise may be returned for a refund at the full sale price. Merchandise must be returned in its original factory carton (undamaged unit, Styrofoam, warranty card, instruction manual and all included accessories).
Shipping Costs on the original purchase are non-refundable. Items originally purchased with Free Shipping will have standard ground shipping fees deducted from the refund.
If any machine is returned without its original factory box or missing accessories a restocking fee will be deducted from the refund..
Regarding items such as bobbins, presser feet, or any other sewing accessory that requests you to provide your machine brand and model: SewingMachinesPlus.com is responsible for all return costs incurred if the part is listed as fitting your machine and it does not.
Non-returnable Items:
All opened software and designs
All sewing cabinets, cutting tables, cabinets inserts, and quilting table extensions
Dream World Sew Steady extension tables
Defective Merchandise:
If you receive an item that is defective, notify us of the problem to arrange for a refund, repair, replacement or item exchange. SewingMachinesPlus.com is responsible for all shipping/return costs incurred when a product is defective.
Privacy Policy
This privacy notice discloses the customer privacy practices of Sewingmachinesplus.com. This privacy notice applies solely to information collected by this web site. It will notify you of the following:
What personally identifiable information is collected from you through the web site, how it is used and with whom it may be shared.
What choices are available to you regarding the use of your data.
The security procedures in place to protect the use of your information.
How you can correct any inaccuracies in the information.
Information Collection, Use, and Sharing
Sewingmachinesplus.com are the sole owners of the information collected on this site. We only have access to/collect information that you voluntarily give us via email or other direct contact from you. We will not sell or rent this information to anyone.
We will use your information to respond to you, regarding the reason you contacted us. We will not share your information with any third party outside of our organization, other than as necessary to fulfill your request, e.g. to ship an order.
Unless you ask us not to, we may contact you via email in the future to tell you about specials, new products or services, or changes to this privacy policy.
Your Access to and Control Over Information
You may opt out of any future contacts from us at any time. You can do the following at any time by contacting us via the email address or phone number given on our website:
See what data we have about you, if any.
Change/correct any data we have about you.
Have us delete any data we have about you.
Express any concern you have about our use of your data.
Security
We take precautions to protect your information. When you submit sensitive information via the website, your information is protected both online and offline.
Wherever we collect sensitive information (such as credit card data), that information is encrypted and transmitted to us in a secure way. You can verify this by looking for a closed lock icon at the bottom of your web browser, or looking for "https" at the beginning of the address of the web page.
While we use encryption to protect sensitive information transmitted online, we also protect your information offline. Only employees who need the information to perform a specific job (for example, billing or customer service) are granted access to personally identifiable information. The computers/servers in which we store personally identifiable information are kept in a secure environment.
If you feel that we are not abiding by this privacy policy, you should contact us immediately via telephone at (800) 401-8151 or click here to send email.
Pricing Variables
Website Errors
Our Website may contain errors, may have missing information, or may not be up to date. We reserve the right to correct any errors or omissions, and to update information at any time without prior notice. Corrections or updates may occur after you have submitted an order from our Website. In that event, we will attempt to contact you with the correct information before processing your order. If we are unable to contact you with the correct information, then you may return the item according to our return policy.
If an item is listed at an incorrect price or with incorrect information, then at our sole discretion we reserve the right to refuse orders for that item, contact you for instructions, or cancel your order and notify you of the cancellation. We reserve the right to limit quantities, even after you have submitted an order from our Website. We apologize for any inconvenience that this may cause you.