Grace EZ3 Hand Quilting Frame
The EZ3 has anodized aluminum rails and the easiest installation method. It is a 3-rail, no-baste quilting system. Rail extensions for 32-inch crib, 64-inch crib, and 96-inch Queen sizes are included. Great for small to large projects including cross-stitch, embroidery and scroll work.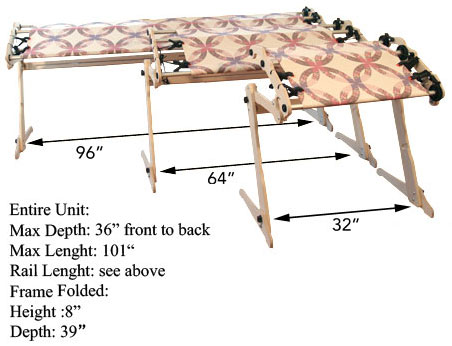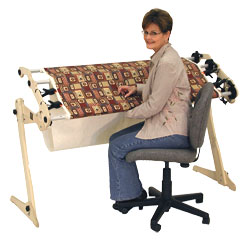 The EZ3 has a light-weight yet very sturdy design. It is made from premium dense Baltic birch plywood. The rails are aluminum extrusions made with quilting in mind. The streamlined design gives you the most quilting frame in the least amount of space. When in use it is only 23 inches front to back. The 12 inch work area tilts to four different angles, from horizontal to 45 degrees. The unique "Z" design means your leg space is always preserved, regardless of angle.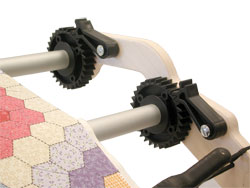 Smooth Rolling Ratchet Wheels.
Three 30-tooth ratchet wheels provide excellent front-to-back tension. The stops have a double-lock design to eliminate the chance of tension slipping.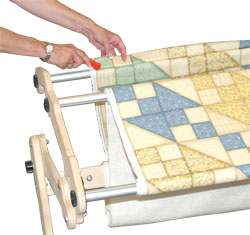 Includes New Fabri-Fast Rails.
The Fabri-Fast feature alone makes the EZ3 an excellent value. Now install your fabric without tacks or tape! Simply align your fabric (or leader cloth) with the slot in the rail, and push in using the Fabri-Fast tubing.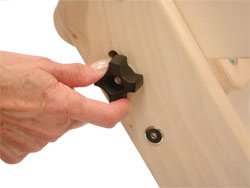 Easy Adjustment.
Adjusting and folding the EZ3 is easier now that larger black knobs are used instead of wing nuts.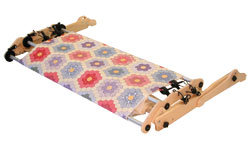 Folds up for easy storage.
When you need extra space, simply fold the EZ3 and store it against the wall or even under the bed. With the new comfy grip knobs, folding takes seconds without tools. The frame flattens down to just nine inches!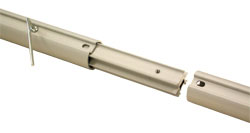 Rail Extensions Included.
Rail extensions have inside connectors to make rail diameter uniform along the entire length, from crib to queen size. Fabric rolls on smoothly without any variance, bumps or bunches.


Global Rating: 4.33 from 3 reviews
Add your review of this product
quilting frame
Apr 1, 2014
kim taylor
fairfax mn US
I love this quilting frame but wish it would go king too

Space Saving
Aug 1, 2013
BLynn
NC US
I had always quilted on my Maw-Maw's old timey frames that had to hang from the ceiling because they took up the entire room! We would have to wind it back up to the ceiling so folks could walk under it when we were not quilting. At my house, I can set the EZ-3 behind my couch and still be a part of the family while quilting. Went together nicely and is a dream to quilt on. When Maw-Maw finally had the opportunity to quilt on it, she loved how I could adjust the frame and we could quilt in different positions. One suggestion - I keep the instructions handy when loading a new quilt, because my brain just always wants to do it the wrong way! Love it so much, I just ordered the Gracie Z44 so we can quilt a king size quilt. Two sewing machines and two quilting frames - too bad I cannot grow two more arms!

Perfect for hand quilting
Jun 16, 2010
Christina James
tucson az US
I got this last year for my birthday. It was easy to put together and use. i just finished my first quilt using it soon after it arrived. I loved every minute of using it. It was definatly easier than using my lap.

Overall Store Rating
(
8.93
/10) 2115 reviews
Rating:
10
/10 - Date: 08/01/2015
My machine was delivered within a few days as promised. It arrived in excellent packaging. I am very pleased with the machine and service and would buy from them, again.
ddwild2003, real customer review
Rating:
10
/10 - Date: 08/01/2015
promptly received what I ordered
jajlfcsk, real customer review
Rating:
10
/10 - Date: 07/31/2015
I live in an area with very little sewing machine service. So I really need to be able to get things. I am very pleased with your customer service. Thank u
loni3236, real customer review
Rating:
10
/10 - Date: 07/31/2015
ordered and received the quarter inch quilting foot and it fits. Hurray. Thank you so much.
ckim4512, real customer review
Rating:
10
/10 - Date: 07/31/2015
Every time I purchase from them it's a good experience
cwig1960, real customer review
Rating:
10
/10 - Date: 07/31/2015
I was denied financing for my machine but a representative proactively contacted me with alternate payment options so that I could purchase my machine!
Gabriellepilot87, real customer review
Rating:
10
/10 - Date: 07/31/2015
Disappointed at first that my item was backordered. However, they kept frequent touch with me to notify me of progress (1st time I have ever experienced that), and it arrived without much delay. Gr...
dorisf_lum, real customer review