Grace EZ3 Hand Quilting Frame
The EZ3 has anodized aluminum rails and the easiest installation method. It is a 3-rail, no-baste quilting system. Rail extensions for 32-inch crib, 64-inch crib, and 96-inch Queen sizes are included. Great for small to large projects including cross-stitch, embroidery and scroll work.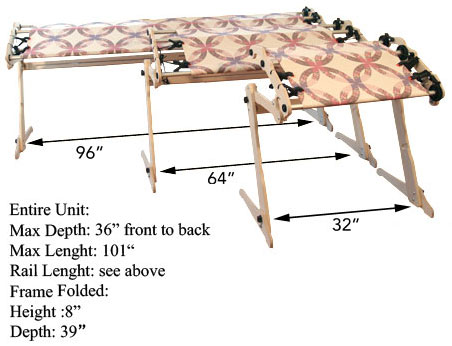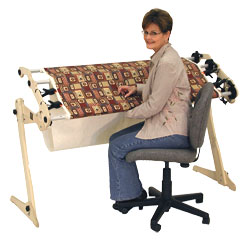 The EZ3 has a light-weight yet very sturdy design. It is made from premium dense Baltic birch plywood. The rails are aluminum extrusions made with quilting in mind. The streamlined design gives you the most quilting frame in the least amount of space. When in use it is only 23 inches front to back. The 12 inch work area tilts to four different angles, from horizontal to 45 degrees. The unique "Z" design means your leg space is always preserved, regardless of angle.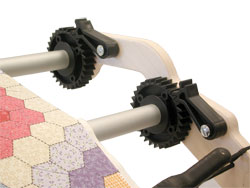 Smooth Rolling Ratchet Wheels.
Three 30-tooth ratchet wheels provide excellent front-to-back tension. The stops have a double-lock design to eliminate the chance of tension slipping.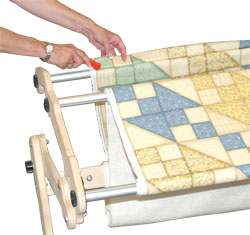 Includes New Fabri-Fast Rails.
The Fabri-Fast feature alone makes the EZ3 an excellent value. Now install your fabric without tacks or tape! Simply align your fabric (or leader cloth) with the slot in the rail, and push in using the Fabri-Fast tubing.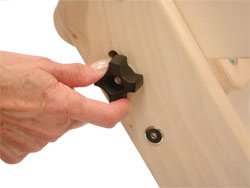 Easy Adjustment.
Adjusting and folding the EZ3 is easier now that larger black knobs are used instead of wing nuts.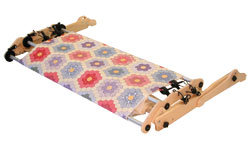 Folds up for easy storage.
When you need extra space, simply fold the EZ3 and store it against the wall or even under the bed. With the new comfy grip knobs, folding takes seconds without tools. The frame flattens down to just nine inches!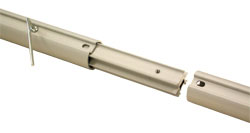 Rail Extensions Included.
Rail extensions have inside connectors to make rail diameter uniform along the entire length, from crib to queen size. Fabric rolls on smoothly without any variance, bumps or bunches.