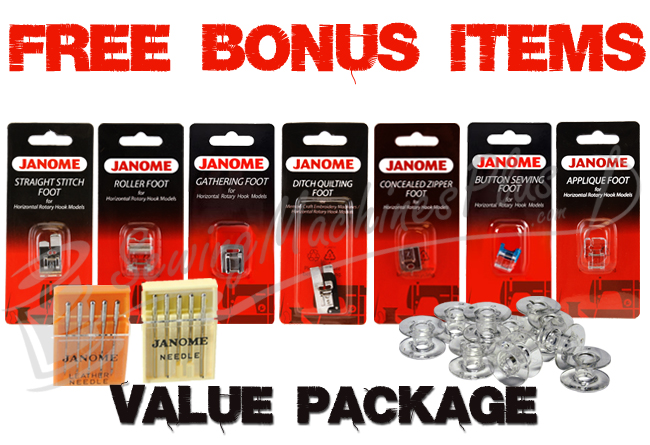 Enjoy these FREE BONUS items found in our Value Package. These accessories will give you everything you need to take your Sewing and Quilting to the next level!
FREE BONUS Value Package Includes
FREE Janome Straight Stitch Sewing Foot
FREE Janome Roller Sewing Feet
FREE Janome Gathering Foot
FREE Janome Ditch Quilting Sewing Foot
FREE Janome Concealed Zipper Sewing Foot
FREE Janome Button Sewing Foot
FREE Janome Applique Sewing Foot
FREE Janome Size 16 Universal Needles
FREE Janome Size 14 Leather Needles
FREE Janome 10 Pack of Bobbins
Accessories may be substituted if we run out of stock. Packaging might vary.
---
Janome Memory Craft 6500 Professional Package
The Janome Memory Craft 6500P is not your typical home sewing machine. It is a computerized dream machine for every type of project, from garments to quilting and home decor. It has the speed and precision needed for advanced sewing. It contains serious features for the serious sewist.
Janome Sewing Table (Included)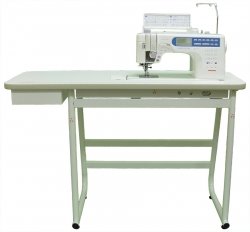 Sewing Table Included.
The Janome MC6500P comes with a straight stitch foot, straight stitch needle plate, edge-join (stitch-in-the-ditch) foot, and heavy-duty sewing table. The table's surface measures 45 inches w x 19 inches d x 30 inches h. It features:
A drawer for holding scissors, pins and other notions.
A cut out perfectly fitted to the base of the MC6500P, giving you a flush surface.
A hole in the front of the machine's nest to accommodate the knee lift.
A ruler along the table surface.
Sturdy metal construction with formica-finished tabletop.
Feet And Plate (Included)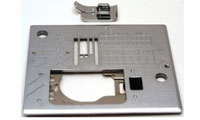 Straight Stitch Foot-Needle Plate (Included).
For straight stitching on your Memory Craft 6500P in the center needle position.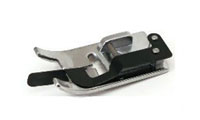 Straight Stitch Foot-Needle Plate (Included).
Quilting/stitch-in-the-ditch foot. Sews top-stitch, edge-stitch, and join-stitch.
Sewing speeds of 1,000 stitches per minute mean your projects get finished quickly. Advanced features ensure that they get completed easily. It has many features designed especially for the quilter, including specialty stitches and an advanced feed mechanism.
Sewing and quilting are meant to be calming and relaxing. But when you see what you can do with a true professional-level machine, your pulse is sure to quicken. The Memory Craft 6500 Professional is Janome's fastest home machine. It has the largest bed and arm space and more unique features for serious sewing.
This sewing machine is the same as the Elna 7200, manufactured to the same specifications.
Expert Review
"There are incredible features on the Memory Craft 6500 Professional that should make life easier for all who sew and quilt. WIth the machine, you'll have the speed, you'll have the control and the freedom to create projects that turn out exactly the way you want! Quilting is a breeze with the knee lift,extra large arm and bed space, and easy-access to drop or raise the feed-dogs.Features like the Visible Pressure Gauge and precise speed control make garments come together with an expert finish. Blazing stitch speed and the awesome specialty stitches will help you get more home dec done in less time. If you're serious about sewing, this is your machine."
SewingMachinePlus.com Customer Personal Review
"After owning a Bernina 817 for ever, I finally decide to buy a new modern machine. After many months of research and test driving many different machines I finally decided on the Janome 6500. The price and all it offered is why I chose it. It has all the features (and more) that I wanted for quilting. Most important was the extra wide throat area. I love the needle threader and don't know how I ever managed without it. The ease of switching from one of the many stitches to another is wonderful! This is a great machine! I highly recommed it for those who want alot of machine but not alot of money!"
Lisa Bryson,
Statesville NC
Jun 19, 2010.
"What a beautiful machine! I am so thrilled that I took this suggestion from SMP. They were knowledgeable and asked the right questions to help me find a machine to suit my needs. This was perfect! It was everything I was looking for! Thanks so much for your help!"
Josephine,
Brooklyn, NY
Mar 23, 2009.
For more customer reviews, click the "Review" tab on this page or specifically the Memory Craft 6500P's reviews!
Key Features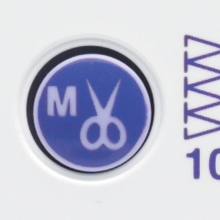 Automatic Thread Cutter.
The Quick Key directly above the needle activates the Automatic Thread Cutter and accurately snips your thread. You can also program the machine to clip your thread at the end of a custom stitch sequence.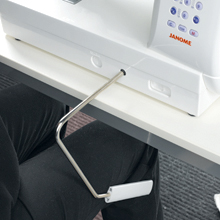 Knee Lift.
Press the knee lift to raise the presser foot while leaving the needle in place so you can keep your hands on your work. A favorite feature of quilters, it's also very useful for garment and home decor projects. If you accidentally bump the lift while you're sewing, the MC6500P has a built-in safety feature that stops the machine and gives you a warning. You won't break a needle or ruin your project.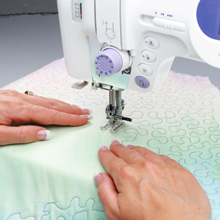 9 inches x 5 inches of Bed Space.
9 inches x 5 inches (225mm x 120mm) is the largest arm and bed space of any household sewing machine. It comes standard with a generous extension table for even more room.

Easy Access Feed Dog Control.
For quilting or other free-motion sewing, you can quickly drop the feed dogs. The lever is right on the front of the machine.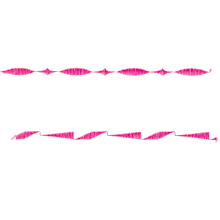 Customize Stitches.
Stitches can be elongated, flipped and combined with other stitches, then saved into the Memory Recall Bank. Adjust stitch width from 0 to 7mm. Adjust length from 0 to 5mm.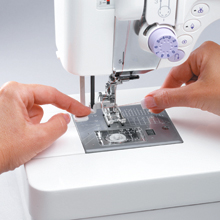 Easy Needle Threader.
Another great time saving feature. Just push down the lever, loop the thread through, release, and your ready to sew.

More Needle Positions.
Janome is known for precision stitch quality, but the MC6500P takes it to the next level. It has 71 total needle drop positions (including 15 left to right needles positions). Your decorative stitches have the detail and quality you expect and deserve.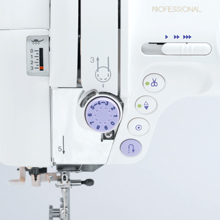 Shortcut Buttons.
The shortcut buttons are all within easy reach right above the sewing area. Plus, the Automatic Thread Cutter and Needle Up/Down keys have indicator lights, so you never have to guess if they're turned on. The buttons are:

• Automatic needle threader.
• Needle Up/Down.
• Lock Stitch.
• Reverse Keys.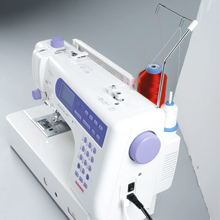 Independent Bobbin Winder.
When you need to wind another bobbin, there's no need to stop and unthread the machine. The Memory Craft 6500P has an Independent Bobbin Winding Motor. You can wind your bobbin while you keep sewing.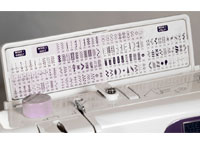 Quick Flip Stitch Chart.
All 135 stitches are easy to find on a clever flip chart that folds up from the back of the machine.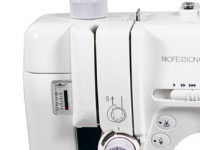 Pressure regulator with visible pressure gauge.
Sometimes bulky layers of fabric need more pressure from the foot. Other times sheer fabrics need less. The MC6500P lets you control how firmly the foot is pressing on your fabric. The Visible Pressure Gauge shows you the exact position of your ideal setting so you can get the same results every time.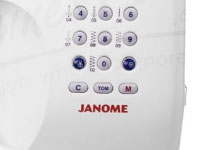 Ergonomic and Intuitive Design.
Easy-access, raised keys and a bright, clear LCD screen give you efficient navigation through all the machine's operations. Press a key and the screen displays everything you need to know about the stitch or function. Giant stitch diagrams pop up to confirm your stitch selection. For more information or options, simply press the Help key.
Features
Built-in needle threader.
Automatic thread cutter, with memory capability.
14 standard feet.
SFS (superior feed system).
Backlit LCD screen.
Maximum sewing speed: 1000spm/Straight; 700spm/Zigzag.
135 Stitches across 4 modes.
7 Buttonholes.
Block and script monogram stitches.
Speed control lever.
Visible pressure gauge.
Jam-proof, magnetic, top-loading, full-rotary hook system.
Independent motor for bobbin winding.
External feed balancing dial.
Front access feed dog up/down control.
Stitch adjustment.

Stitch width: 0 to 7mm.
Stitch length: 0 to 5mm.

Individual stitch editing.
Combination stitch editing.
Elongation.
Turn over memory.
Recall memory bank.
Resumption set/last stitch recall.
Command keys.

Auto-lock.
Lock-a-matic.
Needle up/down.

Vertical thread delivery system with dual thread guide bar.
71 needle drop positions (including 15 left to right needle positions).
Extra-high presser foot lift.
Twin needle guard.
Extended seam allowance guide.
Beep indicator shut-off.
Large extension table.
10 languages available on-screen.
Sewing light.
Arm and bed space: 9 inches x 5 inches (225mm x 120mm).
Knee lifter.
Electronic foot control.
Soft dust cover.
Included Accessories
Set of needles.
Bobbins.
18 inch x 24 inch Extension table.
Pre-wound bobbins.
Part number: PRE-WOUND.
Quilting bar.
Quilting bar for walking foot.
Felt.
Spool holder (large).
Spool holder (small).
Accessory box.
Lint brush.
Seam ripper.
Screwdriver.
Knee lifter.
Foot control.
Feet.

1/4 inch Seam foot O.
Automatic buttonhole foot R.
Blind hem foot G.
Cloth guide with screw.
Cording foot H.
Darning foot P2.
Overcast foot M.
Overedge foot C.
Rolled hem foot D.
Satin stitch foot F.
Zig-Zag foot A.
Zipper foot E.
Open toe satin stitch foot F2.
Open toe walking foot.

Instruction book.
Specifications
Built-in needle threader.
Auto thread cutter.
Thread cutter on face plate.
Snap on presser foot.
Lever drop feed device.
Speed control slider.
Bobbin winder thread cutter.
Horizontal full rotary hook model.
Maximum speed.

Straight: 1,000 spm.
Zigzag: 700 spm.

13 Additional feet.
5pcs. feed dog.
391 Total stitch functions including buttonhole and monograms.
135 Total built-in stitches including 7 buttonholes.
Monogram.

Alphabet & number 67.
European 60 in 2 fonts (Block & Script).
Total 254.

Adjustable zigzag width.
Maximum zigzag width: 7 mm.
Adjustable stitch length.
Maximum stitch length.

5 mm Forward.
5 mm Reverse.

Stitch Selection.

Ten-Key mode.
Direct mode.
Quilting mode.

Stitch indication on LCD: LCD with backlight (70 x 40 mm, 128 x 64 dot).
Elongation.
Manual beehive tension dial.
Independent motor bobbin winder.
Presser foot lifter at the back of presser bar (with Sensor).
Foot pressure adjustment: adjusting screw with indicator.
Pop-up hook cover plate.
Slited thread take up lever.
Industrial spool stand.
1 Sewing lamp in face plate.
Control keys.

Auto thread cutter key with LED.
Help key.
Lock stitch key.
Needle up/down key.
Reverse feed key.

Auto stop at end of buttonhole.
Memory function.
Turn-over stitch & reduction of monogram.
Editing.

All at Once.
Individually.

Memory recall/Previous setting recall: 3 Memory Banks.
Customized setting function.
Buzzer sound level adjustment: 2 Levels.
10 Language selection.
Extension table: W 600 x D 400 mm.
Knee lifter.
Electronic foot speed control.
Aluminum die-cast arm, bed, top cover, & face plate.
Short folding handle.
Dust cover (#846806).
Arm space : W 8.8 x H 4.7 inches.
Machine size: W 19.5 x H 11.8 x D 8.6 inches.
Machine weight: 23.4 lb.
Optional needle plate (SS) for 5 Piece Feed Dog.
Downloads