Juki TL-2000Qi with Gracie King Frame and Grace SureStitch Dual-Function Stitch Regulator Package Contains the Following Items: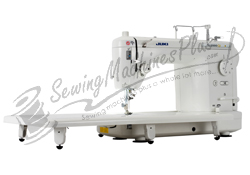 Juki TL-2000Qi Sewing and Quilting Machine
The NEW Juki TL-2000Qi is a high-quality sewing and quilting machine. The TL-2000Qi is a portable, lightweight machine, constructed of aluminum die-casting to ensure industrial-quality sewing. With 9 inches of space between the needle and the arm of the machine, the TL-2000Qi can handle large quilts and home decor project with ease.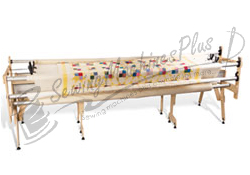 BONUS ITEM
Gracie King Frame by the Grace Frame Company
The Gracie King is for quilters who desire stability without sacrificing the traditional beauty of a wood-crafted frame. It is our largest frame yet and can be set up in three sizes.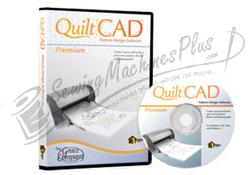 BONUS ITEM
Quilt CAD Pattern Design Software
QuiltCAD is the pattern software that lets you print custom-sized pantographs, blocks, and borders from your home computer.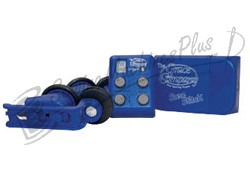 BONUS ITEM
Grace SureStitch Dual-function Stitch Regulator
The Grace SureStitch is both a stitch regulator and a constant stitch speed control.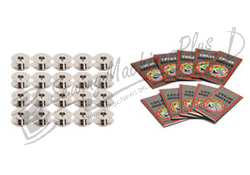 BONUS ITEM
20 Free Metal "L" Bobbins
20 Free Metal "L" Bobbins are included with your order
BONUS ITEM
100 FREE Organ Needles
100 high-quality Organ brand universal sewing needles for household sewing machines
Juki TL-2000Qi Description
Juki has made some incredible improvements to their all new Juki TL2000QI updated quilting and home decor machine. It offers a powerful 1500 Stitches Per Minutes, low vibration due to the aluminum die cast frame and has automatic thread cutting.
This single needle, lock stitch machine is useful for straight stitching and quilting and also for tailoring, dressmaking and home decor items. In addition, the machine includes LED lights and one pedal control for speed and the trimming system. This semi industrial machine has Juki's famous stitch quality along with true drop feed used by many of the best quilters. This workhorse machine comes with a 1/5 inch quilting foot, an even feed foot and an extended bed table. Up to 12mm foot left, easily hems denim jeans.
Key Features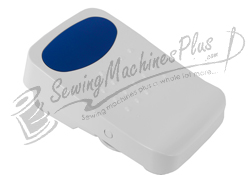 Foot Controller with Thread Trimming Function.

It is possible to automatically trim both needle and bobbin threads by pressing the heel side of foot controller. The foot controller is big enough and it is easy to control sewing start and stop.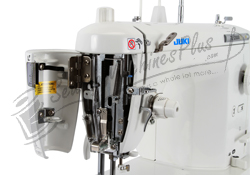 LED Light.

This brightens the needle area for better material handling. Cuts down on eyestrain as well.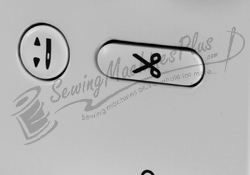 Automatic Thread Trimmer.

The machine is equipped with an automatic thread trimmer device that simultaneously trims the needle and bobbin threads at the sewing end. All it takes is a gentle push on the push-button. It uses the thread trimming mechanism.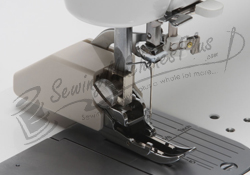 Even Feed Foot.

The even feed foot makes a reliable feed. It ensures beautiful seams when sewing difficult-to-feed fabrics such as georgette and velvets. Also works well on heavy weight materials such as leather.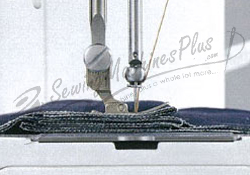 Sew Heavy Weight Materials With Ease.

The speed control mechanism is operated by microcomputer for precise control. It allows the machine to sew materials at low speeds. This provides for accurate feed and perfect stitching when sewing heavy weight fabric, quilting and multiple layers of materials.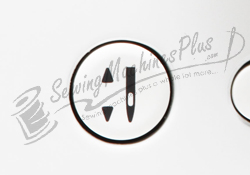 Predetermined Needle Stop Position.

When you stop sewing, the machine comes to an accurate stop with the needle down. To move the needle up or down as desired, simply press the needle up/down button.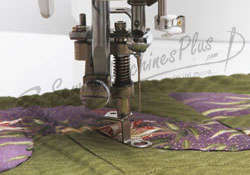 Quilting Foot.

The quilting foot is designed for free motion quilting and free-hand embroidery.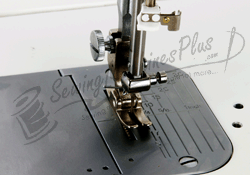 Feed Dogs.

The feed dog can be raised and lowered simply by pressing a switch. When quilting, the drop feed allows you to sew curved stitches with ease.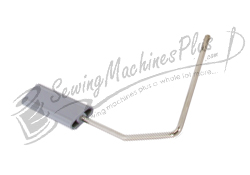 Knee Lifter Lever.

The knee lifter lever lifts / lowers the presser foot without using your hands. The presser foot can be raised as high as 12mm.
Additional Features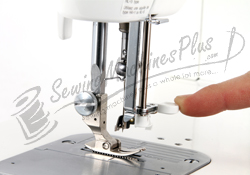 Automatic Needle Threader.

The push lever automatic needle threader threads the needle with ease without eyestrain. You can start sewing quickly.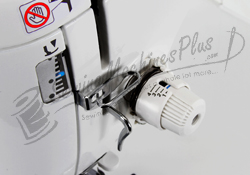 Thread Tension Scale.

The machine is provided with the thread tension scale. Adjust the tension to match the thread and material used.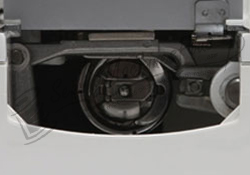 Easy Bobbin Replacement.

A new bobbin case latch and an enlarged bobbin case area make it easier to remove and replace the bobbin.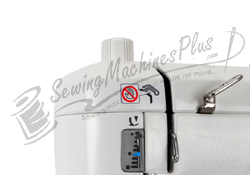 Adjustment of Presser Foot Pressure.

Presser foot pressure can be adjusted according to the fabric being sewn by turning a regulator located on the top of the machine.
Features
Large work area. Wider handling area than conventional sewing machines.
Longer arm and sewing bed for easy handling of quilts.
High sewing speeds up to 1,500 spm.
Automatic bobbin winder.
Light weight and portable.
Supplied with HA-type needles.
Arm and bed of Juki TL2000Qi is constructed of die cast aluminum.
Basic sewing functions operated by foot pedal.
Specifications
Sewing Speed.

Maximum 1,500 s.p.m.

Stitch Length.

Maximum 6mm.

Lift of the Presser Foot.

By Lever, Maximum 9mm.
By Knee Lifter, Maximum 12mm.

Needle.

HAx1 (130/705H) #7-#18.
HLx5 #9-#16.

Dimensions.

17.8 x 8.6 x 13.8 inches.

Weight (Machine only).

11.5 kg.

Rated Voltage / Power Consumption.

120V / 1.4A, 100W.

Power Consumption of the Lamp.

12V, 3W.

Auxiliary Table (Dimensions).

590 x 277 (mm).

Hook.

Horizontal-axis Full-rotary Hook.
Included Accessories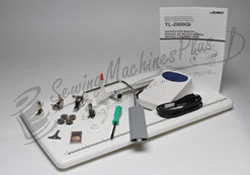 Bobbins.
Spool cap.
Needle pack.
Even Feed Foot.
1/5" Quilting Foot
Compensating Presser Foot.
Standard Presser Foot.
Foot control w/ thread trimmer.
Knee lever.
Small screwdriver.
T-screwdriver.
Lint brush.
Oiler.
Extension table (see product image).
Power cord.
Instruction manual.
---
Grace SureStitch Dual-function Stitch Regulator Specifications
The Grace SureStitch is both a stitch regulator and a constant stitch speed control.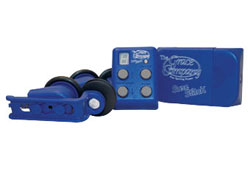 Provides superior stitch accuracy.
Digital stitch speed display.
Stitch speed +/- button.
Dual Color LED (Green-on; Red-Maximum speed reached).
Pulse Button activates constant-stitch speed mode. Press and release for stitch tie-off.
On/Off button.
Constant contact design provides seamless stitch regulation.
Easy to install.
Takes advantage of your machine's full range of speeds. Utilize low, medium, and high settings to create your desired stitch length.
Warranty
One-Year Manufacturer's Warranty (Parts and Labor).
---
QuiltCAD Pattern Design Software
QuiltCAD is the pattern software that lets you print custom-sized pantographs, blocks, and borders from your home computer. No more spending money on expensive pantograph books and patterns that you have to scale to size! QuiltCAD comes with over 200 patterns, or you can create unlimited patterns of your own—even design and trace patterns from photographs. Easily bring your ideas to life with this user-friendly software. Designing and printing pantographs has never been so easy!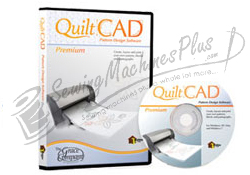 QuiltCAD Features
Includes extensive library of over 120 patterns(blocks, continuous lines, corners and more!)
Create and design your own pantographs, blocks and borders
Personalize your quilts by importing photography to trace and create patterns
Includes easy-to-follow tutorials
Works with Windows 2000, XP, Vista and Windows 7 operating systems
Optional Import / Export Modules available
---
Gracie King Quilting Frame
The Gracie King is the ideal solution for quilters who love the beauty of a wood-crafted frame, but don't want to sacrifice stability. This is Grace's largest frame to date. Although the frame is large it can be set up in three sizes:
King (122 inches).
Queen (87 inches).
Crib (51 inches).
This Machine Quilting Frame has adjustable legs which extend from 32 inches to 52 inches, creating the perfect height for you! Grace has provided a fourth rail, to keep the batting off the floor. A flip up rail is also included so you can easily examine and adjust the batting under your top quilt layer.
If you are looking for beauty and functionality in one package, then look no further! Own your very own Gracie King Quilting Frame today!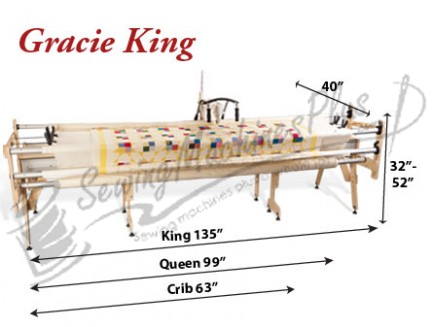 Key Features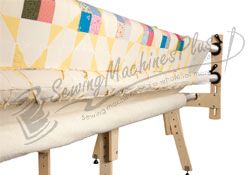 Fourth rail.

A fourth rail is included to manage your batting and keep it off of the floor.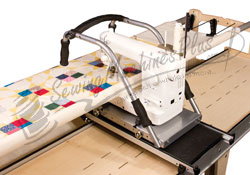 Professional Series Carriage.

The Professional Series carriage has a smooth and precise movement that is perfect for intricate stitching.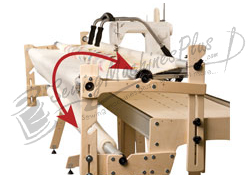 Flip-Up Rail.

Flip up the bottom rail to quickly see and adjust your batting and backing layers.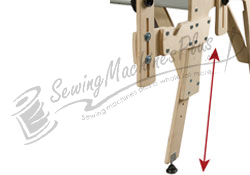 Height Adjustable Legs.

Height adjustable legs are standard on both the Gracie Queen and the Gracie King.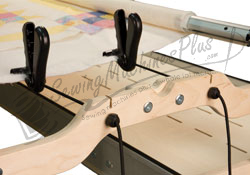 Tension Locking Bungee Clamps.

New tension locking Bungee Clamps come standard with this frame.
Additional Features
Adjustable work areas.

King (122 inches).
Queen (87 inches).
Crib (51 inches).

Fits machines with up to an 18 inch throat.
Beautiful wood craft construction.
Height adjustable legs.
Leveling feet.
2 inch diameter aluminum rails.
Set of four bungee clamps.
Fourth rail for batting.
Movable bottom rail for quick access to your batting.
Physical Dimensions
Width: 135 inches.
Height: 32 inches to 52 inches.
Depth: 40 inches.
Juki TL-2000Qi Downloads
Juki TL-200Qi Instruction Manual (PDF)

Need more supplies? Just check the boxes and click "Add to Cart" to pick up everything at once!