Juki TL-2200 QVP Quilt Virtuoso Pro Long Arm 18 inch x 10 inch Quilting Machine
Why Shop with SewingMachinesPlus.com?
SewingMachinesPlus.com is the leader in the long arm quilting business. We have been selling most brands of long arm quilting machines for years. We were proud to have launched the New Juki TL-2200QVP at the 2012 Long Beach Quilt Show
SewingMachinesPlus.com has surveyed thousands of quilters to find out exactly what they are looking for in a long arm quilting machine. We received your feedback, and have passed along this information on to the engineers at Juki and the result is the ALL new Juki TL-2200 Quilt Virtuoso Pro Long Arm Quilting Machine.
Juki TL-2200 QVP Product Features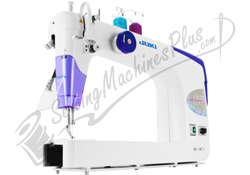 Unique Design
The Quilt Virtuoso Pro has a slim sleek and sturdy design, unlike any Long Arm Quilting Machines to date!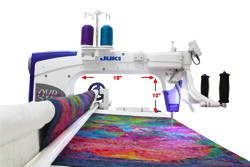 18" x 10" Extra Large Workspace
Wider handling area than conventional sewing machines. Discover the impressive 18 inches of horizontal throat space between the arm of the machine and the needle. Even more impressive is the 10 inch height, unlike most long arm quilting machines which only provide an 8 inch height or less.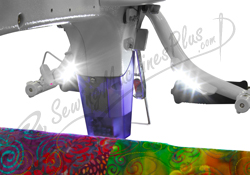 Bright LED Lights
Ultra Bright LED Lights over the needle area illuminate your workspace like never before, making it easy to see detailed work, while simultaneously reducing strain on your eyes.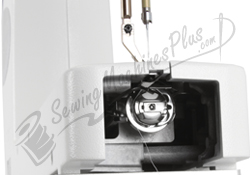 Large Capacity High Speed Rotary Hook
Decrease the frequency of bobbin thread changing and also enable sewing work with increased efficiency.
Easy Reach Bobbin
A new bobbin case latch and an enlarged bobbin case area make it easier to remove and replace the bobbin.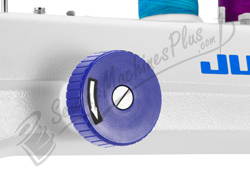 Needle Up/Down
Easily move the needle up or down with the included Needle Up/Down Button. If the machine is off you can use the easy to reach hand wheel on the front of the machine allowing you to raise and lower the needle without having to turn on the machine or reach all the way around to the wheel on the back of the machine.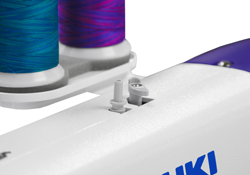 Independent Bobbin Winder
The built-in bobbin winder has its own motor independent of the machine, so you can wind bobbins while you continue to quilt or while the machine is idle.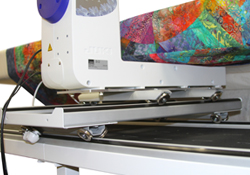 Ultra Glide Tracking System
Eight Ball bearings hug the track of the frame, ensuring smooth even quilting at all times.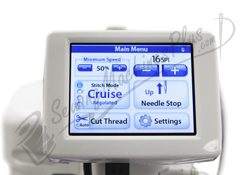 Large Color LCD Display
Maintain absolute control with a top of the line Color LCD display where you can manage the stitch regulator, light settings, needle speed, stitch length and all you need to complete your masterpiece.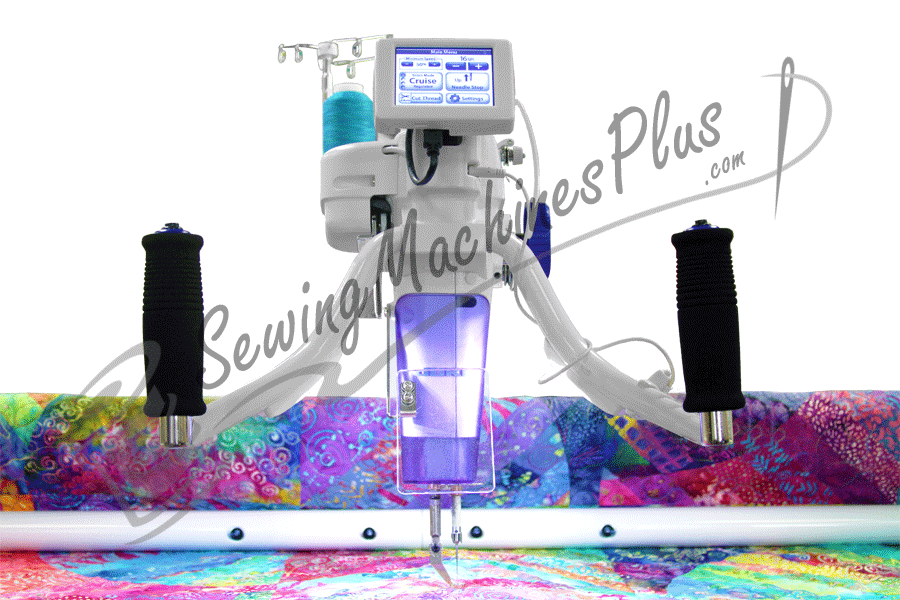 Adjustable Front and Optional Rear Handles
Added comfort and maneuverability with the adjustable front and optional rear handles that will give you complete control over your project from any position around the machine.
Handle Bar Controls
Start/Stop - Needle Up/Down controls at the reach of your finger tips.
Ergonomic Handles
The TL2200 QVP comes equipped with ergonomic handles for ease and comfort while quilting. The ergonomic handles swivel into micro handles for precise close up detailed work!
Built-in Stitch Regulator
Start, stop, speed up and slow down the motor of the quilter delivering the exact amount of stitches per inch that you have set in with the built-in stitch regulator on the TL-2200QVP Quilter.
Four Stitching Modes
Work on your project the way you see fit! With three different stitch modes (Cruise, Precise, Manual and Baste) you can set up your stitching preferences and obtain the results you are looking for without added effort.
Automatic Thread Trimmer
The machine is equipped with an automatic thread trimmer device that simulaneously trims the needle and bobbin threads at the sewing end by lightly pressing the push-button. It uses the thread trimming mechanism.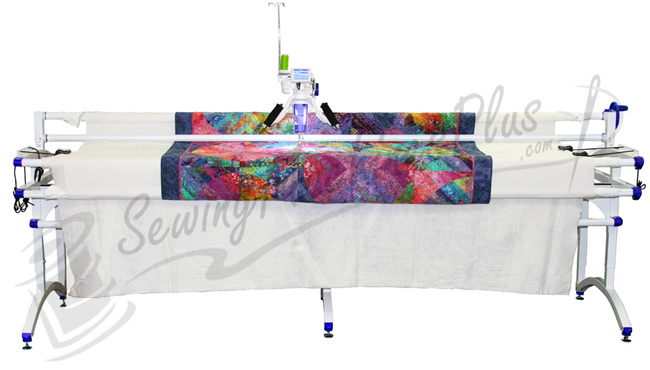 Deluxe Quilting Frame Features
Sets up in King or Crib
4th Rail Included
Quick Release System
Adjustable Height
Optional 2ft Extension
Other Features:
Built-in Scissors
Convenient automatic scissors simultaneously trims the top and bottom thread. No other Long Arm Quilting Machine has this feature!
Take-up Bar
The included take-up bar allows you to roll up your quilt all the way without making any adjustments to the frame, unlike most other quilting machine frames where you have to adjust the rails up and down as the quilt fills the machine throat.
Made in Japan
The TL2200QVP is made and assembled entirely in Juki's leading industrial manufacturing plant in Japan - not China or Taiwan.
Leader in Sewing and Quilting
Juki is the Leading manufacturer of industrial sewing machines worldwide. Juki has taken this industrial knowledge and experience and put it into this long arm quilting machine for home use. The result is a unique heavy-duty high quality long arm quilting machine that all quilters are sure to love.
2,200 SPM Maximum Sewing Speed
Obtain faster results! The TL-2200QVP offers professional speed so you can complete projects in record time.
Stitch Control - Perfectly Balanced Stitches
The stitch control allows you to deliver more consistent stitching according to your needs for a perfect finish on your quilt.
Internal Motor
Internal motor provides a quiet smooth operation.
Dry Head System
Thanks to the advanced dry-head technology, no lubrication is required except for the hook section. This eliminates oil stains on the sewing product.
Quick Response Direct Drive Motor - No Drift
For quiet and smooth operation.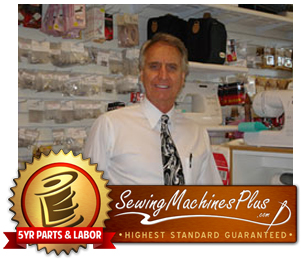 • 5 years FREE Parts & Labor.
• During the FIRST year we will have your machine picked up, repaired or replaced and deliver it back at NO CHARGE. (Just save your box).
• We have 3 experienced mechanics to support you if any problem arises.
I Ron Martin, owner, have 40 years in the sewing machine business & I give my personal assurance.
See the TL-2200 QVP in Action
This video was taken at the 2012 Long Beach Quilt Show, where the new Juki was launched by SewingMachinesPlus.com
Check out these pictures from the 2012 Long Beach Quilt Show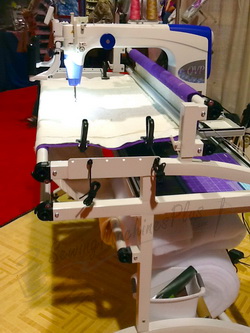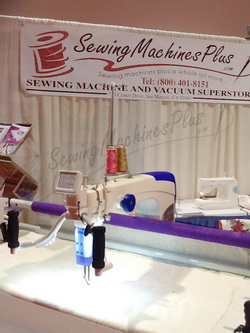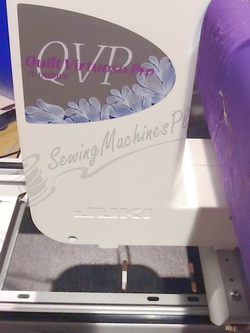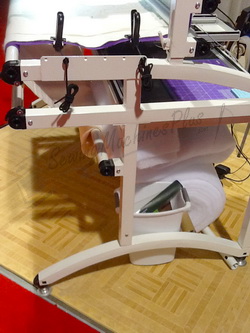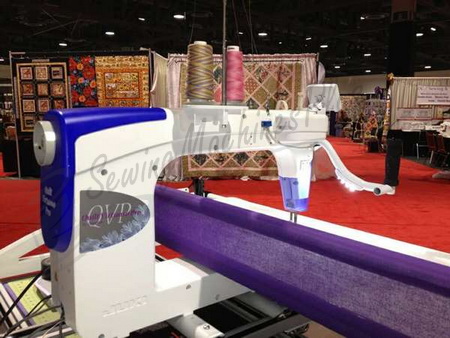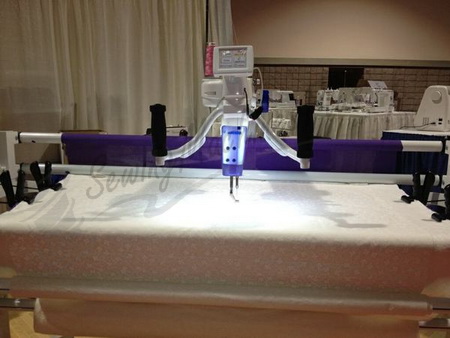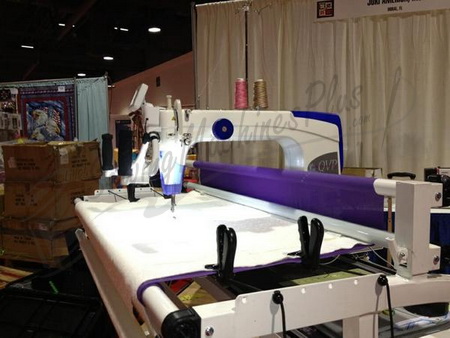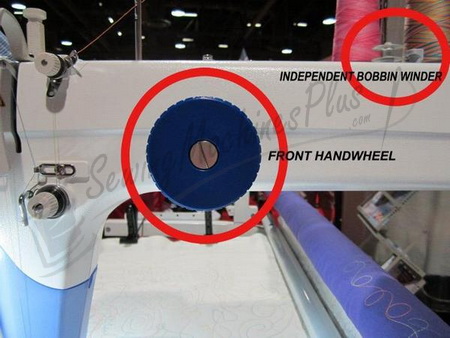 Global Rating: 4.64 from 11 reviews
Add your review of this product
love it
Jan 6, 2015
Bridgett Hylton
Kimper Ky US
This is my 3rd Juki. I love this machine. It runs like a dream... My first one was a very old machine and very heavy. The 2nd one was a mid arm. Loved it to just had to have something bigger. I think this one will be my last because it is just the right size for anyone. But the frame isn't what it should be.

I love my new Juki
May 1, 2014
Estelle Denison
Concord CA US
If I could give this machine a ten star, I would. I purchased this sewing machine in January. I use it almost everyday. This machine has power, but fineness for the intricate. There is no holding back with it. The design is great. I grew up on PFAFF, but my Juki 2200 is the best! The Rep I bought it from is awesome. She always gives me little tips and tricks that help with the little things.

Juki Virtuoso-disappointing for...
Nov 10, 2013
Linda Ferguson
Pendleton Or US
I have been long arm quilting for about seven years. I had a Juki TL-98E with a frame for several years and was very excited to get this machine. Unfortunately I had problems with the electronics right after I first got it, The handle buttons wouldn't shut off. The Grace company sent me new handle bars and it is working better, but still does not always shut off when it should. The frame is very sturdy however I have had to replace the ratchets at the end of the rollers after six months. This was very disappointing. The machine itself is working very well. My husband made a ruler base for me and I love it! The staff at sewing machine plus have been very good to work with and the Grace company people have been wonderful. They have really tried to make everything work for me. for that I give five stars. I am disappointed because I have only made six payments and have had problems with major things- I can only pray that everything will get better going forward as I can't afford to replace it.

Juki TL-2200QVP 18x10
Nov 8, 2013
Lisa Martin
Tacoma WA US
price is very good... the Machine is a DREAM to operate!!! Husband and I set it up in about 3-4 hours. (we did not even argue one time :-) I had a mid arm 9" and I can not tell you what a dream this machine is at 18" my quilting is improved so much. I am very happy to have spent the money on this machine and every stitch is perfect . I have had my machine 3 months.

Juki 2200QVP
Nov 7, 2013
Judi Duvall
Lexington SC US
Love, love, LOVE this machine!! I was able to put the frame together by myself and only needed to call on my better half to help lift the machine onto the trolley. I was thrilled after quilting a "practice" quilt to get the feel of the new machine. Very smooth movement in all directions. This is an excellent machine/frame combo for the money. It has all the bells and whistles I need for free motion quilting. I find it comparable in smoothness of motion to a Gammill. As with any new machine, it takes a little practice and relearning some muscle memory to adjust to the larger throat. The frame is great and the height is adjustable. Grace and Juki have created a wonderful marriage with these two items. Highly recommend!!

Juki Virtuso
Oct 9, 2013
debi crocker
Springboro PA US
This is my first long arm or I'd give it all 5 stars. I looked a long time and the advantages of this machine were everything I could want. The staff at Sewing machines Plus are just great. They are patient and willing to take the time to get the answers I needed. I emailed and spoke with several staff. Everyone knew what I had called about before even when I had not spoken to them personally. You just don't get that from most places. And I put it together myself. It does go together easy. The Grace frame is straight forward. Just put the bolts in the holes, they have machined them so there are no nuts to deal with. The head is solid and sleek. I got the 2 foot extension to make 12 foot. They sent 12 foot rail inserts so there are no bumps. The wheels are double at each corner, which makes for an easily manipulated machine. No sore back from pulling on a heavy carriage, or reaching over rails. There is only one rail on the front to reach past, and the head comes quite close. Lighting is great. I'm learning and developing my skills. I love the basting choices. A slight change in bobbin tension and I have not broken a thread since. Who knew it would be this much fun!!

staff
Sep 30, 2013
James Price
Wallingford Ky US
The Juki was just as described, a fantastic machine my wife can't make tops fast enough lol, just be sure to use the recommended thread size for results you are looking for. The staff at Sewing Machines Plus are great to work with on purchases, so go for it and order you one from them to.

Ruler base?
Jul 23, 2013
Pam heyna
Shepherdsville Ke US
I love my Virtuoso Pro! It is so easy to operate and glides so smoothly over your quilt. I am looking for a ruler base to add so I can use the quilting rulers. Any idea of when and where to get it? Pamheyna@gmail.com

Juke 18/10 A Breeze to Setup
May 7, 2013
Gary A
Rocky Hill CT US
Just recently purchased the new Juki TL-2200QVP and was amaized how easy the frame was to set up. Make sure you balance the track by tightening the underneath attachment screws evenly. I balanced by gradually tightening screws opposite each other to spread out the tension on the rails. Makes for real smooth carriage movements. A nice solid frame that supports a solid machine head. The Juki head is straight forward. A fully manual head that threads simply and the tensions adjustments are easy to adjust. Just remember that this is a manual sewing machine and is not automated at this stage. The stitch regulator functions perfectly in all modes and the "Cruise" mode is my favorite in that it stops when you stop. Can't wait till the rear handles become available for pattern following. Will add more comments as more work gets done on this smooth running system. Take the extra time and set the frame up properly. I think Juki has a real winner with the TL2200QVP!

high quality
Feb 27, 2013
Ron Martin
Escondido CA US
I was on the team that helped design the machine. The machine is engineered and built entirely in Juki's high quality factory in Japan. The team of engineers would not comprimise on anything short of perfection. These engineers are the same people who make the highest quality commercial machines for every top name clothing manufacturer in the world. This machine has every concievable feature that a quilter would want. I highly reccomend this machine.

Juki long arm
Jul 30, 2012
Torrie
I was at the long beach quilt show and was able to try out the prototype. It was awesome! The stitch was perfect. It has an auto bobbin winder with an independent motor so you don't have to stop sewing, class m bobbin[really big] and it has a thread cutter built in. That was the big one for me. 18x10 extra bright lights and a great frame.
Rating:
Global Rating: 4.64 stars from 11 reviews
View All Reviews

Overall Store Rating
(
9.09
/10) 3458 reviews
Rating:
10
/10 - Date: 05/29/2016
Love having all my embroidery thread in the two boxes I purchased! They arrived quickly and were in great condition!
Pmrandolph, real customer review
Rating:
10
/10 - Date: 05/28/2016
It works just fine . Like the original that lasted for 50+ years
rane333, real customer review
Rating:
10
/10 - Date: 05/28/2016
A nice thank-you note,that machines are way good than i expect!!!!Instructions are the best ever.How nice is to gate a holiday present like that for mums grandmothers and sisters,they will gate soo...
victoriakin, real customer review
Rating:
10
/10 - Date: 05/28/2016
Received fast and quick delivery of product. Was able to take advantage of coupon and received an even greater deal! Thanks, Sewing Machines Plus!!
mcghee_s, real customer review
Rating:
10
/10 - Date: 05/28/2016
That is what I got, I ordered thread and it came very fast and I was very happy with it.
priscanell, real customer review
Rating:
10
/10 - Date: 05/27/2016
I will try local stores first. But, if I cannot find the items in my local stores, then Sewing Machines Plus is one of my favorite online sewing sources, Ordering online is easy. And the shipping,...
lovebitn, real customer review
Rating:
10
/10 - Date: 05/27/2016
Excellent service. Item ordered was as advertised
orders_cathy, real customer review