Juki MO-654DE - 2/3/4 Thread Overlock Serger
Enhance your world of sewing with the Juki MO-654DE Serger. The MO-654DE has built-in rolled hemming and performs all the popular overlock and flatlock variations. Add serging techniques to your world of sewing and open new doors to design opportunities!
What you Get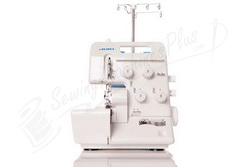 Juki MO-654DE 2/3/4 Thread Overlock Serger
The Pearl line sergers are ideal for use with today's latest fabrics as well as decorative threads
Juki MO-654DE Key Features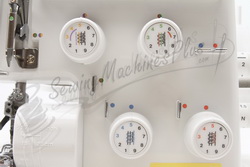 Color-Coded Threading Guides
Threading the MO-654DE is a breeze. The thread paths are color-coded and clearly marked.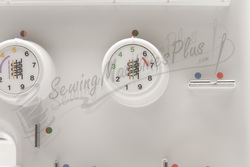 Easy Tension Adjustment
1-Rotation Thread Tension Dials with normal tensions highlighted for simple, consistent tension adjustment. Specially designed guides keep thread in place and ensure proper sewing tension at any speed.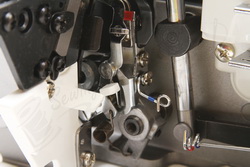 Super Easy Looper Threading
The lower looper threader disengages for fast, easy looper threading, in seconds. Just slide the thread into the slot and snap the looper into place.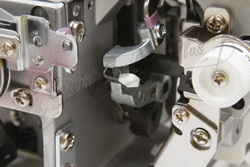 Chain Looper Threading - in a Snap
Threading that is fast, easy and done in a snap. Just push the button and the chain looper snaps down for easy threading.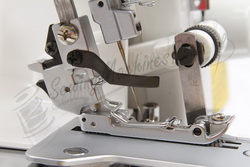 Multi-Function Presser Foot
The multipurpose presser foot, standard on the MO-654DE, allows you to create overlock stitches and add tape, elastic, ribbon, or sequins to your creations. Snap-on presser feet mean that you can easily change from the multi-purpose foot to one of the Juki Specialty feet and expand the creative potential of the MO-654DE.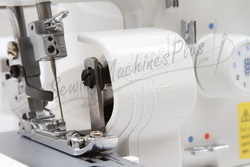 Serging Precision
The built-in seam guide takes the guesswork out of seam allowances. Just use the conveniently located gauge on the guard cover and serge away, creating accurate seam allowances as you go.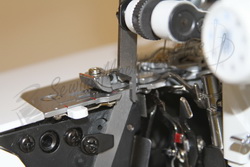 Heavy Duty Knife System
The knife system on the MO-654DE operates with a dedicated drive to assure consistent and easy cutting for both light and heavy weight fabrics.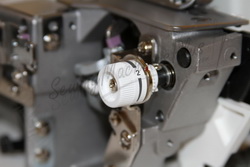 Easy Cutting Width Adjustment
The lower knife cutting width easily and quickly adjusts with the turn of the dial allowing you to create perfect seams and rolled edges.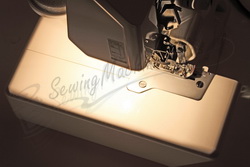 Bright Lights - Better View
Lighting on the MO-654DE provides optimum lighting to the fabric and needle areas.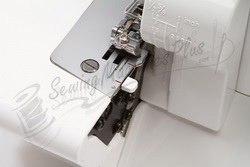 Flip and Roll
Automatic rolled hemming can be created quickly and easily with a flip of a switch. No need to change the needle plate or foot - Just Flip and Roll!
Differential Feed Adjustment
Keep things moving along evenly, or create fashion techniques, like lettuce edges, with the easy to use Differential Feed dial.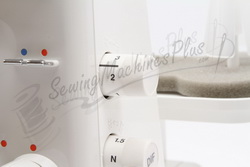 Easy Stitch Length Adjustments
Change the stitch length for specialty thread or overlock techniques using the conveniently located dial.
List of Features
Snap-On Presser Feet
Color Coded Thread Paths
Disengaging loopers for fast, easy threading
Built-in rolled hemming
2/3/4 Thread options
Industrial Tension System
Industrial Cutting System
Sewing Guage built-in for accurate seams
Fast 2-Thread Conversion
Differential Feed
Micro Safety Switch
Stitches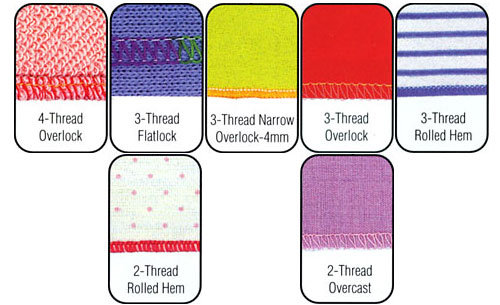 4-Thread Overlock
3-Thread Flatlock
3-Thread Narrow Overlock
3-Thread Overlock
3-Thread Rolled Hem
2-Thread Rolled Hem
2-Thread Overcast
Specifications
Sewing Speed
Max. 1500rpm
Stitch Length
Max.4mm
Standard 2.5mm
Overlocking Width
Left Needle: 6mm
Right Needle: 4mm
Rolled Hem: 2mm
Differential Feed:
0.7 : 2.0 Ratio
Presser Foot Lift
5mm
Dimensions (mm)
315mm x 345mm x 295mm
Weight (machine)
7.2 kg (15.5 lbs.)
Needles:
Household Machnie Size 11 or 14
Included Accessories:
Presser foot
Large screwdriver
Small screwdriver
Spare lower knife
Spool caps
Oiler
Thread nets
Vinyl cover
Needle pack
Tweezer
Brush & needle inserter
Needle threader
Guide bar
2/3 thread selector
Accessory pouch
Light bulb
Instruction manual
Foot control & power cord
Juki Serger Electronic Workbook CD -

BONUS ITEM!

Juki Serger Instructional DVD Video -

BONUS ITEM!
MO-654DE Serger Downloads
Juki MO-654DE Brochure (PDF)
Juki MO-654DE Instruction Manual (PDF)
How to Thread a Four Thread Serger Diagram (PDF)