Juki Garnet Line MO-644D 2 Needle Serger Combo
Bonus Package Includes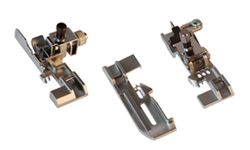 BONUS ITEMS!
3 Serger Feet
Serger Blind Hem Foot - Serger Elasticator Foot - Serger Cording Foot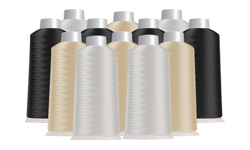 BONUS ITEMS!
12 Thread Cones
12 thread cones. 4 White, 4 Black, 4 Egg Shell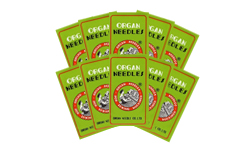 BONUS ITEMS!
100 Organ Overlock Needles
100 high-quality Organ brand universal sewing needles for household sewing machines
Features
With the Garnet Line of home sergers, a beginner or experienced sewer can create simple sportswear or elegant evening wear with unbelievable ease. Expand your range of design and technique!
Machines available in the Garnet Line are:
The MO-623 single needle, 2/3 thread serger.
The MO-644D double needle, 2/3/4 thread serger.
The MO-644D is an easy to operate, durable and dependable 2-needle, 2/3/4 thread overlock machine. It features built-in rolled hemming and differential feed. This model handles the latest materials and threads to assist you in sewing the most fashionable apparel for the entire family, as well as accessories, crafts and home decorating items.
The Garnet Line was developed with all types of sewing in mind, at a price you can afford. You'll get great serger performance for your individual needs. Comes with a free instructional DVD.
This machine ships with a FREE 3-foot kit, which includes an elasticator presser foot, cording foot, and blindstitch (bottom hemming) foot. Also included is 100 needles and 12 cones of thread in a combination of black, white and eggshell.
Illustrated Features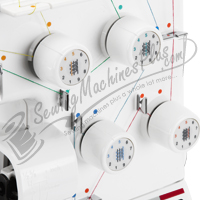 Color Coded Threading Guides.
Color coded threading guides are located throughout the machine make threading easy and efficient.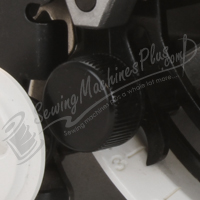 Adjustable Stitch Length.
The stitch length is adjusted with ease. Just turn the knob inside the machine. Stitch length ranges from 1 to 4 millimeters (mm).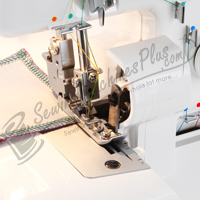 Adjustable Differential Feed.
The adjustable differential feed is controlled and adjusted by a dial conveniently located on the outside, left-hand side of the machine.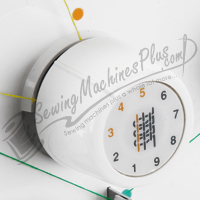 Single Rotation Thread Tension Dials.
1-Rotation thread tension dials. Normal tension settings are highlighted for simple, consistent tension adjustment.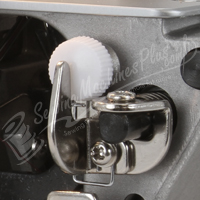 Easy Knife Adjustment.
The easy dial knife adjustment makes the upper knife completely self-adjusting.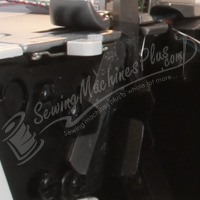 Heavy Duty Knife System.
The heavy duty knife system has a dedicated drive to assure consistent and easy cutting of light to heavy weight fabrics.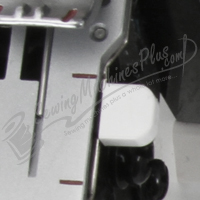 Automatic Rolled Hemming.
Automatic Rolled Hemming can be created with built-in finger tip control. There is no need to change the foot or plate.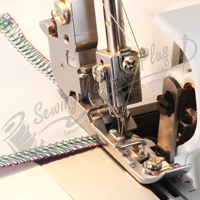 Sewing Light.
The sewing light is placed to provide the best lighting to the fabric and needle areas.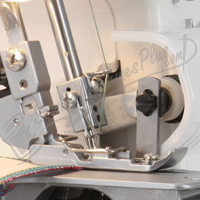 Multi-Purpose Foot.
The multi-purpose foot has a slotted tape guide for sewing woven tape, elastic, sequins and ribbon.
Sewing Width Gauge.
The sewing width gauge takes the guesswork out of seam allowances. It is conveniently located on the guard cover.
The optional 2/3 Thread Converter is easy to install. It allows 1 needle thread and one lower looper thread for securing overedging. The converter accessory must be purchased separately.
Stitch Variations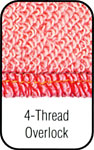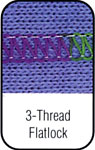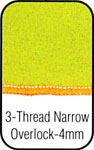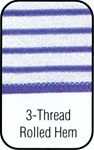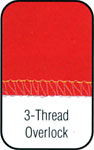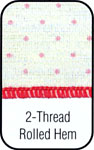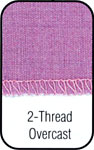 Specifications
Sewing Speed.

Maximum 1,500 spm.

Number of Threads.

2/3/4 Threads.

Needle.

Household Machine Size 11 or 14.

Overlocking Width.

Left Needle: 8mm.
Right Needle: 4mm.
Rolled Hem: 2mm.

Stitch Length.

1 - 4mm.
Standard: 2.5mm.
Rolled Hem: 1.0 - 1.5mm.

Differential Feed.

0.07 : 2.0 Ratio.

Tension.

Industrial Type Dial / 1 Rotation.
Built-In Rolled Hemming.

Right (Narrow) or Left (Wide) Needle.
2 or 3 Thread.

Flat Lock.

Right or Left Needle.
2 or 3 Thread.

Universal Presser Foot.

Tape, Ribbon, Narrow Elastic Application.

Presser Foot Lift.

5mm.

Dimensions.

270mm Wide.
340mm Deep.
295mm High.

Weight.

7.0 kg (15 lbs.).

Juki Limited Warranty.

2 Years electrical.
5 Years mechanical.
Included Accessories
Needle pack.
Presser foot.
Spool caps.
Looper threader.
Thread nets.
Brush & needle inserter.
Tweezers.
Screwdriver.
Oiler.
Accessory pouch.
Light bulb.
Foot control & power cord.
Vinyl cover.
Instruction manual.
Downloads
Diagram showing how to thread a 4-thread serger.
Instruction Manual. (24 Megabytes, long download time).

Need more supplies? Just check the boxes and click "Add to Cart" to pick up everything at once!