FREE Shipping on orders $49 and up.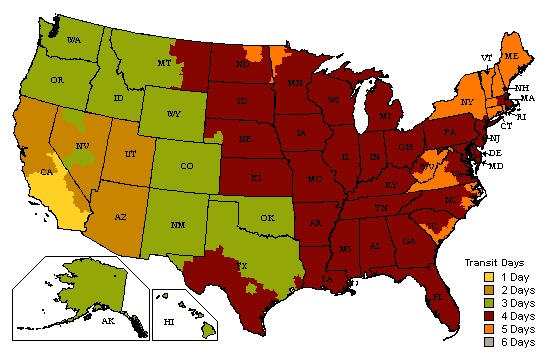 Most orders are processed and shipped same day. Orders placed on Friday after 3pm, Saturday, or Sunday are processed on Monday. Processing and shipping does not take place on weekends or holidays.
Within the continental United States (the contiguous 48 states), Shipping is FREE to customers on orders over $49. Orders being shipped to Hawaii, Alaska, Canada, APO's, FPO's and DPO's are not eligible for free shipping. Also, the free shipping policy does not apply to large or heavy items that require special shipping methods such as assembled industrial sewing machines and some sewing cabinets.
Needle Type Chart
Different projects require the use of different types of needles. Selecting the right needle can be confusing sometimes, especially if you are just starting out.
To help you figure out what your needs are you can check this reference guide. Hopefully this will clear some of your doubts regarding the types of sewing machine needles and their use.
If you are still having trouble after reading the chart you can give us a call and ask to talk to one of our expert sewers who will be able to answer your questions.
---

Universal
The Universal needle implies that you can use them in any sewing application, although you may want to consider a different needle for heavier or more delicate fabrics this tends to be true for these needles. This type of needle is most often used for woven fabrics where a sharper needle may ruin the garment.
The shank of the needle is flat so you may want to check your machine to make sure you can use these needles for your project as some machines only take rounded shanks. The construction is very similar to the ballpoint needles but universals are also tapered so that the needle will slip through the weave without causing runs.
---

Embroidery
Embroidery needles are designed for use with fabrics like rayon, polyester, cotton or acrylic embroidery thread.
These needles are designed with a special scarf which is a groove out of one side of the needle, and a larger eye to prevent shredding when sewing with special machine embroidery threads.
---

Ballpoint
Ballpoint needles can sometimes be confused with universal needles. The difference between them is that the ballpoints have rounded edges and are not tapered like the universal needles.
Ballpoints are specially used to sew on closely woven fabrics without cutting the threads of the fabric. Different sizes usually will include information suggesting the appropriate fabrics which the needles can be used on.
---

Jeans/Denim
As the name suggests these needles are for specifically designed for use with Jeans/Denim fabric, however they also excel on canvas and other tightly woven fabrics and even layers fabrics such as cotton.
Equipped with a sharp strong point, slender eye and strong shaft they easily penetrate dense fabrics. Use different sizes depending on the weight of the fabric.
---

Wing
Wing needles get their name due to the distinct flanges on each side of the needle that create a hole in the fabric which is held open by the stitch. These needles can also be referred to as hemstitching needles since they are often used on hems and borders.
They are used for decorative finishing. The bigger the needle size the bigger the hole on the fabric will be. Some adjusting to the tension may be required and is recommended that you use a test swatch before use on the actual project.
---

Leather
Leather needles are designed with a wedge-like, triangular point which enables the needle to make a large, clean hole through thick materials like leather, hard vinyl or suede.
They are ideal for work with shoe repair, belts and other leather garments and accessories.
---

Metallic
Metallic needles are designed with a larger eye to accommodate heavier thread and making threading easier. Also has a long groove or scarf for trouble-free sewing which prevents shredding and/or splitting of thread.
The eye is Teflon coated to protect the more delicate metallic thread during stitch formation.
---

Quilting
When quilting you need to go through several layers of fabric and sometimes they can be pretty thick. Quilting needles have tapered point and stronger shaft than your regular needle, allowing it to stitch across multiple layers and even seams.
The shape of the needle point is also designed to minimize damage to the fabric. You should use bigger needle size if your layers are thicker.
---

Self Threading
These needles have a special slot on the side of the eye so that they can be easily threaded. If you're having trouble threading your needle simply pull the thread in through that slot.
It is to be noted that this needle is more fragile since the eye is not complete.
---

Serger
Serger needles are to be used in serger and overlock machines.
Please refer to your machine manual for proper needle selection.
---

Sharp
Sharp needles, also known as Microtex needles are sharper than universal types and have a more slender shaft.
They are mainly used on fine wovens and fine fabrics. It's great for piecing, appliqué and quilting.
---

Stretch
Stretch needles have a rounded tip and are specially designed for sewing on elastic fabrics like lycra or spandex.
Their specially designed eye and scarf prevent skipping stitches.
---

Top Stitch
Topstitching needles feature a very sharp point to go through multiple layers and a large eye to accommodate thick or decorative thread.
Topstitch needles are very similar to leather needles and work to achieve perfectly straight stitch lines and even stitches when using a straight stitch plate.
---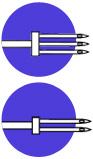 Triple/Twin
Twin and triple needles are attached to a single shank and are evenly spaced between each other and are used to create two or three rows of stitches at a time.
To be able to use these, your machine should have a throat plate with a hole wide enough for the needle. Also more than one thread spool is needed so each needle has its own thread feed.