Call 800-401-8151

To Speak With An Expert Sewing Consultant
We'll help you find the perfect product and provide lifetime support for any purchase. E-mail us here.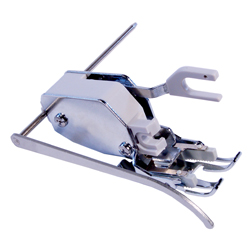 (More images coming later.)
Dual Feed Walking Foot 920077-096 replaced by 920219096
Sew bulky layers of fabric and batting smoothly and easily. The dual feed foot is designed keep multiple layers sewing evenly. Use with the right or left guide for channel quilting and topstitching. See exactly where the stitch will be, thanks to the open toe.
Select straight stitch for quilting and topstitching. Many decorative stitches sew well with the open toe dual feed foot including the hand look quilting stitch. Experiment on scraps with specialty stitches and threads before sewing your project.
Dual feed foot right and left guides: Slide the guide onto the dual feed foot to guide parallel rows of stitching side by side as in channel quilting or tucking.
Works with these machine groups 5, 6, 7 :
NOT Compatible with Emerald 122, 118, 116,
Group 5: Prelude 360, Prelude 340, Scandinavia 100, 335, 330, 325, 320, 315, 310, 250, 230, 225, 215, 210, 205, All Sew Easy series, Romeo, Juliet, Oscar, Anna, Sophia, Emma, Lena, Daisy 315, 325, 335, Sarah, Madison
Group 6: Platinum 955E, 950E, Platinum Plus 775, 770, 755 Quilt, 750 Quilt, 735, 730, 715, 700, Rose, Iris, 605, Rose 600, Lily 555, 550, 545, 540, 535, 530, 515, 500, Freesia 445, 435, 425, 415, 400, 350, Emerald 183, Interlude 435/445, Scandinavia 200, 300, 400
Group 7: Designer I, II, III, Designer SE, Quilt Designer, Quilt Designer II, Designer Diamond Deluxe, Diamond Royale, Ruby, Ruby Deluxe, (7), (7A)Sapphire 830, 850, 870, 930, 960Q, Diamond, Opal 650, 670, Topaz 20, 30, 50
REVIEWS

Global Rating: 5.00 from 3 reviews
Add your review of this product
Interchangeable Dual Feed Walking...
Aug 28, 2015
Susan K.
San Diego Ca US
This is a must have, not just for quilting, but also for knits and leather. Your fabric will never shift again. I did my research online, and although Sewing machines Plus is local to me, I ordered online, best price, free shipping, and prompt delivery.

Dual Feed Walking Foot
Aug 6, 2015
Charlene Kendall
Lodi Wi US
This walking foot was received quickly and in excellent condition. I can't wait to use this product. I plan to order from this company again soon. They are prompt, courteous, and eager to please.

Great addition!
Aug 14, 2014
Anonymous
Rating:
Global Rating: 5.00 stars from 3 reviews
View All Reviews