FREE Shipping on orders $49 and up.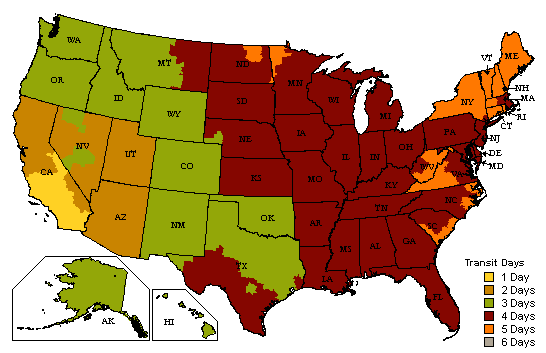 Most orders are processed and shipped same day. Orders placed on Friday after 3pm, Saturday, or Sunday are processed on Monday. Processing and shipping does not take place on weekends or holidays.
Within the continental United States (the contiguous 48 states), Shipping is FREE to customers on orders over $49. Orders being shipped to Hawaii, Alaska, Canada, APO's, FPO's and DPO's are not eligible for free shipping. Also, the free shipping policy does not apply to large or heavy items that require special shipping methods such as assembled industrial sewing machines and some sewing cabinets.
Husqvarna Viking
SKU: v-designer1
Viking Designer I USB Embroidery & Sewing Machine w/ Embroidery Unit
This item can only be purchased locally at our retail location.
Call 800-401-8151 for details or
Visit our store in San Marcos, CA

(click for more information)

.
Visit our San Marcos Location to learn more and purchase this product!
---
---

Monday-Friday: 6:30 am to 6:00 pm PST
Saturday: 10:00 am to 5:00 pm PST
Sunday: Closed
Phone
Please Call Us
800-401-8151

Monday-Friday: 9:30 am to 6:00 pm PST
Saturday: 10:00 am to 5:00 pm PST
Sunday: Closed
Showroom Location
SEWINGMACHINESPLUS.COM
713 CENTER DRIVE
SAN MARCOS, CA 92069

Viking Designer I Key Features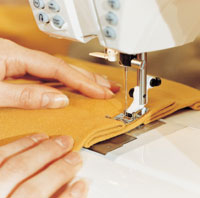 THE EXCLUSIVE SENSOR SYSTEM.
One of the most amazing features of the Designer I USB is ESS, the Exclusive Sensor System. The exclusive Sensor Foot Lift, Sensor Foot Pivot and Sensor Foot Pressure senses fabric thickness and adjusts accordingly. You can guide the fabric with both hands the whole time. Turning corners is a breeze.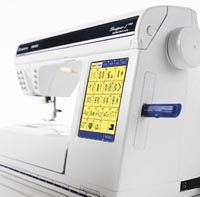 HUSQVARNA VIKING USB EMBROIDERY STICK.
Save your designs on a special Husqvarna Viking USB Embroidery Stick. The Stick is included with Designer I USB and can save up to twelve floppy disks of designs! Transfer designs from your PC onto your Husqvarna Viking USB Embroidery Stick using the 3D Disk Manager software included.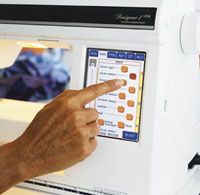 THE BEST TOOL IS BUILT IN.
The exclusive Husqvarna Viking Sewing Advisor® feature is invaluable no matter what youíre sewing. Itís so simple! Just select your fabric type and weight and sewing method. The Sewing Advisor instantly sets the ideal stitch, stitch width and length, thread tension, sewing speed, sensor foot pressure. It also recommends the presser foot and needle. With the patented Sewing Advisor, your sewing will be faster than ever. You will get perfect results no matter what fabric you use, from the finest silk to the thickest leather.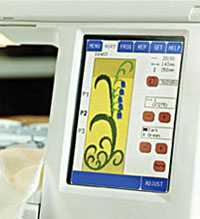 COLOR TOUCH SCREEN.
A simple touch is all it takes on the Designer I USB Color Touch Screen. Select a stitch, embroidery or technique with the tip of your finger or with the Stylus. Your selected stitch appears on the screen in the direction it will sew. When you embroider you see your design on the screen in full color before you even start. The Designer I USB features 20 menus with over 700 different stitches including Omnimotion and Pictogram, satin elements for unlimited sewing possibilities. It has 15 built-in permanent memories to store your favorite stitches and lettering combinations. The large Color Touch Screen also displays recommendations in a special help menu, telling you everything you need to know for successful sewing.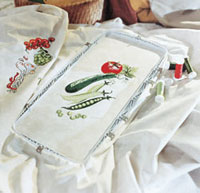 YOU CANíT GO WRONG WITH EMBROIDERY.
The Husqvarna Viking Designer I USB is both a sewing machine and an embroidery machine. You have endless opportunities to develop your creativity and personal style. The feed teeth are lowered automatically when you slide on the embroidery unit. With a vast range of designs in Husqvarna Viking's embroidery collections, youíll never be at a loss. If you want to make something completely original, you can use one of the optional Husqvarna Viking 3D Professional Embroidery Software Programs. Theyíre easy to use and give you unlimited opportunities to design, customize, edit and digitize embroidery designs.
Viking Designer I Features
EXCLUSIVE SENSOR FOOT LIFT.

The presser foot lowers and raises automatically for every sewing method. Your hands are free to guide fabric.
There are four positions for the foot: down, pivot, up and extra lift.

EXCLUSIVE SENSOR FOOT PIVOT.

Stop with needle down and the foot senses thickness of fabric. The foot rises to the float position for instant pivoting, easy applique and quilting.

EXCLUSIVE SENSOR FOOT PRESSURE.

The pressure adjusts for any fabric thickness while you sew to provide perfect, even feeding.

EXCLUSIVE SEWING ADVISOR FEATURE.

Touch the type of fabric and the sewing method. Proper settings occur instantly! The best stitch, stitch width and length, thread tension, sewing speed and sensor foot pressure are set.
On the display you'll see the stitch, best presser foot and best needle for the selected fabric and technique.
Change any of the settings anytime to meet project needs.

COLOR TOUCH SCREEN.

Everything is in front of you for finger tip control. Preview embroideries in color before sewing.

THREE EMBROIDERY HOOPS INCLUDED.

Make designs in three different embroidery hoops without repositioning.
• Standard Hoop 4 inch x 4 inch (100 x 100 mm).
• Large Hoop 9.6 inch x 6 inch (240 x 150 mm).
• Mega Hoop 14.2 inch x 6 inch (360 x 150 mm).

HUSQVARNA VIKING USB EMBROIDERY STICK.

Save your designs on a special Husqvarna Viking USB Embroidery Stick, included with your machine.
Large storage space holds up to twelve floppy disks of designs!
Transfer your designs from your PC onto your Husqvarna Viking USB Embroidery Stick using the 3D Disk Manager software included.

BUILT IN COLOR CUSTOMIZING.

Combine and arrange designs and lettering right on the Color Touch Screen.
Save your designs on the Husqvarna Viking USB Embroidery Stick for the future.

EXCLUSIVE SELECTIVE THREAD CUTTER.

Just one touch instantly cuts the top and bobbin thread, pulls the top thread to the underside of your fabric and lifts the presser foot.
Automatically cuts only the top thread for embroidery color changes.
When finished sewing it cuts the top and bobbin thread for embroidery, buttonholes, etc.
Program the Selective Thread Cutter to cut at end of a stitch program.
Touch the Selective Thread Cutter while sewing or program it to trim after you've finished a programmed sequence.

SEE BEFORE YOU SEW.

Stitches appear on the Color Touch Screen in the direction they will sew. Any changes appear instantly with the recommended presser foot.

QUICKFONT PLUS INCLUDED.

Unlimited embroidery fonts. Letters, numbers and symbols. Create an embroidery font from any true-type font in your computer.

MADE IN SWEDEN.

Husqvarna Viking has engineered and manufactured superior quality sewing machines and developed cutting edge technology for over 130 years.

FIX FUNCTION.

Touch FIX to stop and lock any stitch instantly with tiny forward and backward stitches. Program FIX for instant tie-off in a stitch program.

STOP FUNCTION.

Touch STOP to finish a stitch or stitch program and tie off automatically. Perfect for single stitch tying of quilts and quilted projects.

INSTANT AND PERMANENT REVERSE.

Touch REVERSE to sew any stitch backward for lockstitch and tie off. Touch REVERSE twice for permanent reverse.

SPEED ADJUSTMENT.

Touch SPEED to adjust to one of five sewing speeds based on your sewing project and skill level. Perfect for teaching sewing.

SEW WITHOUT FOOT CONTROL.

Touch START/STOP to start and stop. It's perfect for long rows of stitching at a steady speed. Makes it easy to center your effort on the project. Ideal for sewers with physical limitations.

STITCH RE-START.

Touch STITCH RESTART to begin sewing at the start of any stitch or stitch program. All stitch adjustments will be retained.

NEEDLE STOP UP/DOWN.

Set the needle stop position up or down for pivoting, applique and more. Tap the foot control or touch a button to move the needle up or down at any time.

TRULY AUTOMATIC SELF ADJUSTING TENSION.

Best tension for all sewing and embroidery set automatically. Override automatic tension easily for specialty techniques.

TWO BUILT-IN SPOOL PINS.

Horizontal and vertical thread delivery for twin needle sewing, specialty sewing and topstitching techniques.
Wind a bobbin while sewing or embroidering.

TWIN NEEDLE SAFETY.

Enter the twin needle width to set maximum stitch width for any stitch.

EASY THREADING & AUTOMATIC NEEDLE THREADER.

Spent time sewing, not threading!

QUICK WIND BOBBIN.

Wind a bobbin from the needle. There is no need to unthread and rethread.

JAM PROOF ROTARY HOOK.

Threads float around the bobbin area for jam free sewing.

PERMANENTLY LUBRICATED.

No oiling means no fabric stains.

TOP AND BOBBIN THREAD SENSOR.

The Designer I USB stops sewing and alerts you when thread runs out or breaks.

PRESSER FEET SNAP OFF AND ON.

Change presser feet quickly and easily.

EXCLUSIVE ONE STEP BUTTON-HOLE SENSOR FOOT & PBB.

One Step Buttonhole Sensor Foot sews perfect buttonholes, every time.
Make Perfectly Balanced Buttonholes (PBB) with the exclusive One-Step Buttonhole Sensor Foot. It sews both columns in the same direction for balanced, professional buttonholes.

20 SPECIALTY STITCH MENUS FEATURE 700+ STITCHES.

Every possible stitch you desire is at your fingers for endless creative opportunities. One touch stitch selection makes setup fast and easy. Program from menu to menu with a touch.

STYLUS PEN.

Use your stylus for easier stitch selection on your Color Touch Screen.

PICTOGRAM EMBROIDERY.

There are thirty-five satin element stitches to program for making original decorative stitches and Pictogram embroidery.

ELONGATION.

Increase or decrease the size of decorative satin stitches and Pictogram elements with elongation. The density of the stitch remains the same.

OMNIMOTION STITCHES AND SCALLOPS.

Side motion feeding creates up to 36.5 mm wide decorative stitches and scallops.
Large Omnimotion scallops and small, dainty scallops are available to finish the edges of all your projects.

FOUR-WAY STITCHES.

Fifteen different stitches to sew in four directions for patching and mending tears.

EIGHT-WAY STITCHES.

Straight stitch and reinforced straight stitch can be sewn in 8 directions without turning the fabric.
Program these stitches with other stitches to achieve large decorative borders and embellishments.

MY STITCHES MENU.

Save your favorite stitches or stitch programs in your personal menu to use again.

SPECIALTY TECHNIQUES.

Select Menu V for specialty techniques such as free hand stippling, tacking etc.

EASY PROGRAMMING.

See the stitch and/or lettering combinations horizontally as you put them into the program.
Program FIX and the selective thread cutter for instant tie-off at the end of the sequence.
Touch REPEAT to see them in the direction they will sew.
Save stitch combinations in My Stitches.

PERMANENT MEMORIES.

15 Permanent memories are built in. Each one holds 62 stitches for stitch and/or lettering programs.
The maximum is 930 stitches total.

25 NEEDLE POSITIONS.

Set the exact needle position for topstitching, sewing zippers, quilting, specialty techniques, and accessory presser feet.
See the needle position move on the Color Touch Screen.

ADJUSTABLE STITCH WIDTH AND STITCH LENGTH.

Adjust stitch width from 0 - 6 mm and for Omnimotion stitches up to 36.5 mm.
Adjust stitch length from 0 - 6 mm for specialty sewing.

MIRROR IMAGE.

Flip stitches and/or stitch programs side to side and/or end to end for unlimited creative combinations.

HELP.

Touch HELP for everything you need to know to sew. It recommends needle type and size, stabilizer, buttonhole tips and more.

SCREEN SAVER OPTION.

ERGONOMICALLY DESIGNED: COLOR TOUCH SCREEN.

Up-front convenient threading, bobbin winding and bobbin placement.
All settings are at your fingers with ergonomically-placed function buttons and the Color Touch Screen.
One piece aluminum casting is lightweight yet strong, long lasting and prevents vibration.
Ergonomically designed foot control has a self winding cord.

LARGE WORK SPACE.

Large work space inside the sewing arm gives ample room for quilting and extra large projects.
The extra long free arm makes sewing sleeves and pant legs easy.

BUILT-IN RULER.

A built-in ruler lets you measure anything.
Convert from inches to centimeters in an instant.

SLIDE ON ACCESSORY TRAY.

The Slide On Accessory Tray locks in place. It stores bobbins, accessory feet, needles and more, right at your finger-tips.

CARRYING CASE.

Attractive light-weight Carrying Case protects your Designer I USB and accessories for storage and/or transport.

DUAL LIGHTS.

Dual lights give excellent brightness over the work area and just above needle.
Need more supplies? Find them below!

Just add them to your bag below.