Singer 20U109 Single Needle Lockstitch Straight and Zig Zag Industrial Sewing Machine
The table, stand and motor are shipped assembled. The machine head comes in the box and has to be placed on the table. All the components are placed on a pallet.
Features and Benefits
Versatile Design
This machine is perfect for tailors, seamstresses, home decorators, designers, industrial sewers and high volume domestic sewers. The versatile design appeals to a range of zigzag and straight stitch sewing applications. By utilizing the included accessories, the 20U109 can be used for straight stitching, zigzag stitching, appliqueing, buttonhole stitching, freehand embroidery, narrow hemming, inserting zippers and adding cords to projects.
Heavy-Duty Motor
The machine's industrial grade motor provides high speeds, extra power (up to 1/3 horsepower), is constructed for decades of extended use and is designed for high speed sewing on multiple fabric layers.
Extra-High Sewing Speed
The extra-high sewing speed provides professional sewing capabilities. Sewing at 4,000 stitches per minute allows this machine to complete projects almost four times faster than a conventional sewing machine.
Included Knee Lifter
The knee lifter allows for hands-free raising and lowering of the presser foot and is vital for sewing multiple layers of thick fabric. The extra-high knee lifter provides 13.0 mm (0.50 in) of lift, allowing for more layers of fabric to be sewn than on a conventional sewing machine. If you choose not to use the knee lifter, the traditional presser foot lifer allows for 5.5 mm (0.22 in) of lift. The knee lifter can also be adjusted to operate stitch width. While in use, the knee lifter can be moved from left to right to taper the stitch as desired. This is helpful when appliqueing and freehand embroidering. The stitch width can also be adjusted using a lever on the front of the machine.
Adjustable Stitch Length & Width
Keep your seams strong and prevent bunching on any fabric type. Choose from various stitch lengths with a maximum of 5 mm (0.20 in) for straight stitch customization. The zigzag width can be adjusted to a maximum of 9.0mm (0.25 in).
Reverse Lever
The reverse lever is used to reinforce the ends of seams, ensure quality stitches, avoid unraveling and provide stronger stitching.
3 Needle Positions
Needle positions can be changed for individual projects, such as inserting zippers, cording and creative top stitching.
Bobbin Winding Spindle System
No need to learn a new method of bobbin winding! This industrial machine uses the same bobbin winding method as most conventional domestic sewing machines.
Large Sewing Space
Easily manage bulky projects. The arm of the machine extends to 11.75" so overcrowding is not an issue. The tabletop measures 50" in length by 22.5" in width.
Adjustable Presser Foot Pressure
The amount of pressure exerted on the fabric by the presser foot is adjustable. Sew from the lightest tricots to the heaviest denim with only the turn of a dial.
Adjustable Tension
Adjust the needle tension to ensure stable stitch quality on any fabric type. You can also change the tension according to special project settings.
Sturdy H-Leg Stand
The stand's h-legs provide a safe, stable and immobile space when sewing at high speeds. The stand also features adjustable height and a tan laminate surface for durability.
Included Accessories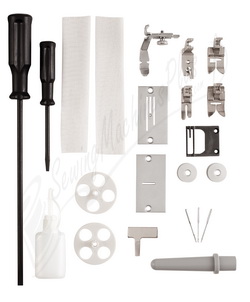 Zigzag Foot (on machine)
Zipper Foot
Buttonhole Foot
Straight Stitch Foot
Hemmer Foot
Pack of Needles
Needle Plate (for Straight Stitching)
Needle Plate (for Zigzag Stitching, on machine)
Feed Dogs (for Straight Stitching)
Feed Dogs (for Zigzag Stitching, on machine)
Bobbins (2)
Oiler
Second Spool Pin / Machine Rest Pin (usefully when accessing the machine's oil pan)
Screwdrivers (large, small, needle plate)
Thread Unwinder Spool Caps (2)
Thread Unwinder Spool Nets (2)


Global Rating: 5.00 from 1 reviews
Add your review of this product
Singer 20U-109
Sep 30, 2012
Kenneth Colbert
Fayetteville Ar US
I only had mine a few weeks but I would never sell it.I took off the stock pulley and put on a small one to slow it down.Now I have total control ove my sewing machine.But with time I may put back on the stock pulley.I had a nice sears sewing machine that does anything you could ask for but I still wanted this one and gave my sears sewing machine to my wife we are both very happy.
Rating:
Global Rating: 5.00 stars from 1 reviews
View All Reviews

Overall Store Rating
(
8.56
/10) 3045 reviews
Rating:
10
/10 - Date: 02/08/2016
I just love my Janome serger. I can do things with it that I did not know a serger could do, it's like having a second sewing machine in my crafts room. When it comes time to sew now the only decis...
sharonkennedy, real customer review
Rating:
10
/10 - Date: 02/08/2016
Was looking for bobbins for my new Brother sewing machine. Couldn't find any at my local stores, so started looking online. Found 50 bobbins for a great price at Sewing Machines Plus.
Phellyer, real customer review
Rating:
10
/10 - Date: 02/08/2016
Walking foot for Viking 183 helped me complete big alteration project in a professional manner.
kaymarcuson, real customer review
Rating:
10
/10 - Date: 02/08/2016
Great service! Thank you!
tbenthien, real customer review
Rating:
10
/10 - Date: 02/08/2016
Fit my father's mangle perfect ty
mrsflakes, real customer review
Rating:
10
/10 - Date: 02/08/2016
Sewing Machines Plus offers a good selection of sewing accessories at a great price. They have great communication with the customer. They also give free shipping with a qualifying purchase. I'd...
2me1, real customer review
Rating:
10
/10 - Date: 02/07/2016
My item was shipped immediately. I feel the Machine Quilting Foot I received is top quality.
travelinggirl1951, real customer review