Singer CG550 Commercial Grade Sewing Machine
Available only from specialty retailers.
Stronger Motor.

60% stronger than a standard machine. It's easy to sew heavy fabrics.

Faster Sewing Speed.

Up to 1,100 stitches per minute. Faster than a standard sewing machine.

Exclusive Electronic Foot Control.

Guarantees consistent speed with no jump starts. Includes a speed control dial that allows for slower speeds, regardless of the pressure applied.

Finger Guard.

Provides extra safety for fingers around the needle area. It's a real benefit during high-speed sewing.

Steel Plate On Machine Bed.

Protects against damage from sewing pins. Especially helpful for quilting.

Jam-Resistant Bobbin Case.

Floating bobbin case prevents thread jams, even when sewing on sheer fabric or no fabric at all.

Double Insulated.

Protects against shock. Creates a barrier between the sewer and the machine's interior electrical components.

Suction Cup Machine Base.

Holds the machine securely to the table, even when sewing at maximum speed.

Duratec Frame.

A Singer exclusive. Provides rigid support and prevents rusting.

25-Year Limited Warranty.

Peace of mind from a 25-year limited warranty on commercial, school and home use.
Additional Features
Snap-on presser feet.
Thread cutter.
Automatic pressure system.
Automatic reverse button.
Variety of built-in stitches for fashion, home decor and quilting.
Infinitely variable stitch length and width.
Multiple needle positions.
Built-in carrying handle for portability.
Cabinet mountable.
Stretch stitches for strength and flexibility to seams.
Balance adjustment lever for perfect buttonholes and stretch stitches.
Special Features

Automatic Four-Step Buttonhole.
A simple, four-step process for sewing perfect buttonholes every time.

Top Drop-In Bobbin.
No bobbin case to remove and adjust. Checking your thread supply has never been easier.

Horizontal Thread Delivery.
The thread feeds along a horizontal path for less twist and no tangle.

Touch & Wind Bobbin Winder.
The needle bar easily disengages for bobbin winding.

Handy Free Arm.
Provides professional results and easy access to cuffs, collars, pant hems and other hard-to-reach areas.

Value-Added Accessories.
Everything you need to help simplify your sewing. Includes a blindhem, zipper and special purpose foot.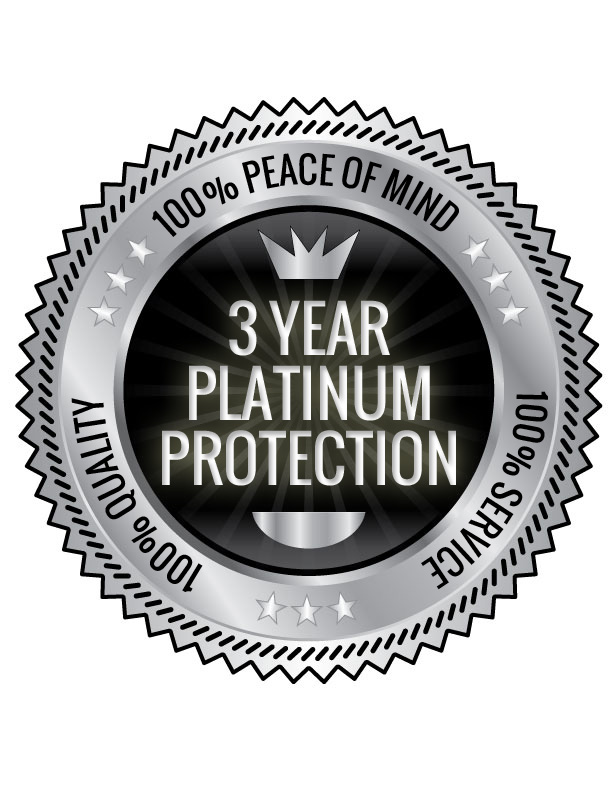 3 Year Platinum Protection Warranty
Add on a 3 Year Platinum Protection Warranty During Checkout For 100% Peace Of Mind!
SewingMachinesPlus.com is proud to offer its Platinum Protection Plan, for sewing, embroidery, longarm quilting and overlock machines sold in the U.S.A.
NO REPAIR BILLS
COVERED PARTS AND LABOR
1 YEAR FREE SHIPPING
NO DEDUCTIBLE
COVERS NORMAL USAGE
PEACE OF MIND
Your purchase is not complete until you add the security of a SewingMachinesPlus.com Platinum Protection Plan. You depend on your Sewing machine to work hard for you. When a problem arises and a repair is required, you need it fixed as fast as possible. But then you�re faced with a costly repair bill. Are you and your budget prepared? Especially when you have no way of knowing when or how often the machine may need service?
Now you can relax. With our SewingMachinesPlus.com Platinum Protection Plan, out-of-pocket expenses are completely eliminated for your sewing machine repairs. The plan guarantees to pay all covered parts and labor beyond the original warranty. It�s peace of mind protection you can count on. Don�t put it off! Protect your investment and pocketbook with affordable coverage.
Warranty Summary
This warranty covers parts and labor for 3 years.
Used under normal home sewing conditions.
Consumable items not covered; (needles, bobbins, bobbin cases, springs, and belts)
The warranty does not cover improper use, abuse, commercial or industrial use of machines.
The warranty does not cover flood, fire or other acts of nature.
Call SewingMachinesPlus.com if you have any questions. This is one of the best platinum protection warranties available for your sewing machine!
Need more supplies? Find them below!

Just add them to your bag below.
REVIEWS

Global Rating: 4.67 from 3 reviews
Add your review of this product
PAT'S CUSTOM SEWING
Jun 17, 2010
PATRICIA GILMORE
PHOENIX AR US
AS A BUSINESS OWNER AND SEAMSTRESS I BUY ONLY TOP OF THE LINE MACHINES FOR MY BUSINESS. THIS MACHINE IS HEAVY DUTY, AFFORDABLE AND EASY TO OPERATE AND MAINTAIN. I USE THIS MACHINE FOR ALL SORTS OF SEWING AND I'VE BEEN MORE THAN SATISFIED WITH IT IN ALL ASPECTS. IT'S A HARD WORKING MACHINE WITH HEAVY DUTY CAPABILITIES, BUT GENTLE ON FINE FABRICS. IT'S MY #1 PICK AND I'D RECOMEND IT TO ANYONE.

I love it
Oct 21, 2009
Leslie Kelly
Fords NJ US
Best machine i've ever had, its not pretty to look at, but it works great. Wouldn't trade it for anything! Great for starters.

Head Seamstress
Aug 23, 2009
Grace Dwyer
Trenton Ma US
I do all kinds of mending and lots of blue jean work. This machine does wonders on the thick seams.
Rating:
Global Rating: 4.67 stars from 3 reviews
View All Reviews