Reliable MSK-588 PORTABLE BLINDSTITCH
SO ECONOMICAL EVERY ONE SHOULD HAVE ONE
For small hemming jobs we recommend our model MSK-588. Having a small, portable blindstitch is a great time saver versus doing it by hand. With the skip stitch feature and the adjustable stitch penetration dial, you can easily fine tune from fine to medium weight fabrics.
For hemming pants, skirts, and dresses, the MSK-588 with all metal casting offers the whole package. Low noise and vibration design, outstanding build quality (Made in Taiwan) and reliability.
The true skip-stitch function on the MSK-588 allows you to go from fine sheer material all the way to heavier woolens. Note: You may need to change the needle size and make other adjustments when you change fabric types.
The MSK-588 comes complete with everything you need to get started; 3-needles, 2-screwdrivers, 5-piece allen key set, tweezers, oiler, 2-clamps, variable speed foot controller, knee lifter, 2-replacement brushes for the motor, instructions and a trouble shooting guide to help first time users.
ADJUSTABLE STITCH PENETRATION
The adjustable stitch penetration dial allows the user to modify the depth of the needle penetration, ensuring that the stitch does not show on the outside of the fabric.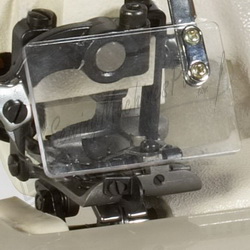 NEEDLE EYE GUARD
To protect your eyes, the MSK-588 is equipped with a clear plastic eye guard.
SKIP STITCH LEVER
Adjust from 1:1 to 2:1 with a simple flick of a lever. Allows the machine to skip every other stitch which reduces puckering on light-weight fabrics.
Features:
1,725-RPM speed
3.25" maximum hem width
Knee activated plunger drop
Adjustable thread tension
Swing-away plate
0-7 mm stitch length
8 mm foot lift (knee)
Weight: 24 Lb
Instruction / parts manual included
Tool kit, thread stand included
Individually tested and sewn off before shipping
Specifications:
Maximum sewing speed 1,725 RPM
Maximum hem width 3.25"
Stitch length 0 – 7 mm
Pressure foot lift By knee 8 mm
Needle system # 29BL
Skip stitch function 1:1 – 2:1 true skip stitch
Foot pedal Variable speed foot controller
Eye guard Yes
Lubrication Manual
Construction All cast metal
Net weight 24 lb – 10.9 kg
Shipping weight 30 lb – 13.6 kg
Head dimensions 13" x 12" x 10"
Shipping dimensions 16" x 14.75" x 13.75"
Videos
View some instructional videos on this machine (7 videos in this playlist):