Reliable MSK-146B Zig-Zag - Walking Foot Sewing Machine
* Machine comes with FREE Uberlight! *
The MSK-146B is designed to run at speeds up to 2,500 rpm. This makes it suitable for sewing applications where productivity is important.
The ability of the MSK-146B to handle a wide variety of sewing tasks makes it a very flexible machine for any sewing environment where a zig-zag stitch is required for heavier material.
For heavier work, where a straight or a zig-zag stitch is required; we recommend the MSK-146B zig-zag walking foot (compound feed) lockstitch machine. Top and bottom feed, and a higher foot lift allows the MSK-146B to sew from medium to heavy weight fabric.
For sewing sails, leather, canvas, and synthetics, the MSK-146B with stitch width up to 10 mm offers the whole package. Low noise and vibration design, outstanding build quality and reliability and the industries #1 DC servomotor.
Warranty:Reliable 1 Year
STITCH WIDTH DIAL
The stitch width dial allows users to modify the width of the zig-zag according to their needs, up to 10 mm.
REVERSE LEVER MECHANISM
Creating the perfect back tack is easy with the MSK-146B's reverse lever mechanism.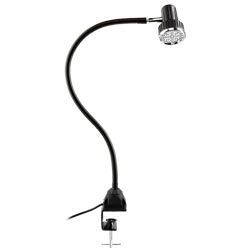 BONUS - FREE LED Uberlight 9000C
The perfect add on light ($89.00 retail value) is included at no extra charge for the MSK-335B, making it both a great sewing machine and a great value.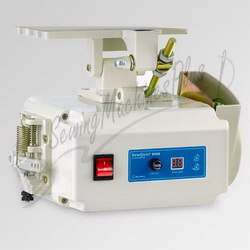 SewQuiet 5000 ServoMotor
Getting the performance you want out of a sewing machine requires the right motor. We only use the best, the industry's #1 SewQuiet 5000 brushless DC servomotor.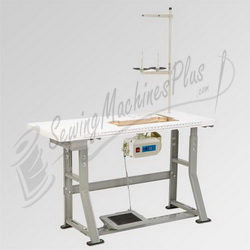 Superior Stand
Others skimp on the stand components, we don't. We use only 100% plywood in our tabletops (not cheap particle board) and our K-legs are made from heavy-duty 3/32" steel. * Tabletop (24" x 59") and stand is larger than image.
Best used for:
Sails
Bags
Leather, canvas
Synthetic textiles
Features:
Lever thread take-up mechanism for even thread tension
Built-in bobbin winder
Japanese Hirose brand sewing hook
Low noise, low vibration design
2,500 rpm high-speed operation
Stitch dial regulator
Reverse lever mechanism
Table, K-leg stand, plus Sewquiet 4000 motor included
Stitch dial regulator 0-5 mm
13 mm foot lift (knee)
Instruction / parts manual included
Tool kit, drawer, thread stand included
Individually tested and sewn-off before shipping
Specifications:
Electrical- 110V or 220V
Maximum sewing speed- 2,500 rpm
Stitch length- 0-5 mm
Stitch width- 10 mm
Pressure foot lift- By hand 6.2 mm
Needle system- # 135 x 17
Work space- 11.25"
Bed size- 18.5"
Hook type- Rotary - auto lubricated
Lubrication- Manual
Dimensions- head 9" x 26" x 23"
Weight- head 80 lbs
Dimensions with stand- 40" x 50" x 51"
Shipping weight w/stand- 200 lbs

Need more supplies? Just check the boxes and click "Add to Cart" to pick up everything at once!

Get introduced to this product: Reliable MSK-146B Zig-Zag - Walking Foot Sewing Machine & FREE Lamp!
View these images to get a better idea of what you'll purchase! Click on the thumbnail to enlarge!
Need more supplies? Just check the boxes and click "Add to Cart" to pick up everything at once!