FREE Shipping on orders $49 and up.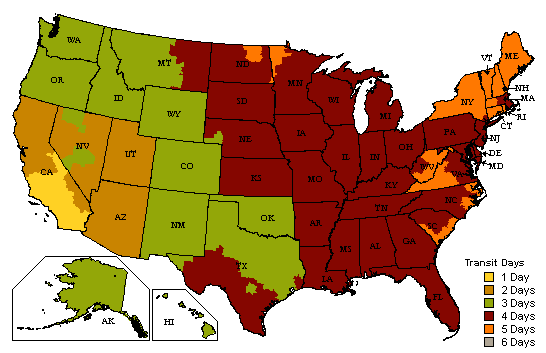 Most orders are processed and shipped same day. Orders placed on Friday after 3pm, Saturday, or Sunday are processed on Monday. Processing and shipping does not take place on weekends or holidays.
Within the continental United States (the contiguous 48 states), Shipping is FREE to customers on orders over $49. Orders being shipped to Hawaii, Alaska, Canada, APO's, FPO's and DPO's are not eligible for free shipping. Also, the free shipping policy does not apply to large or heavy items that require special shipping methods such as assembled industrial sewing machines and some sewing cabinets.
Call 800-401-8151

To Speak With An Expert Sewing Consultant
We'll help you find the perfect product and provide lifetime support for any purchase. E-mail us here.
Juki TL98Q POPULAR Long Arm Sewing & Quilting Machine
The Juki TL-98Q Popular single needle, lock stitch sewing machine is ideal for straight stitching and quilting. It is also perfect for tailoring, dressmaking and home decor items. It comes with an extension table, darning / embroidery foot (also called "free motion" foot), 1/4 inch seam foot, a rolled hem foot, a zipper foot and a walking foot! As a bonus, we also include 20 extra bobbins free, 100 Organ sewing needles, and a $50 gift certificate.
The TL-98Q is a high-quality sewing and quilting machine designed to replace the TL-98E. The TL-98Q is a portable, lightweight sewing machine that is easy to transport. The arm and bed of the TL-98Q are constructed of die cast aluminum to ensure industrial quality sewing. The larger work area enables maneuverability of large materials. An auxiliary table extends the work area to 23 inches to allow for even larger projects.
Juki Video
SewingMachinePlus.com Customer Personal Review
"Purchased this machine when it first came on the market. I have been sewing everything on this machine including quilts with absolutely no issues at all. I started teaching my granddaughters how to sew this summer and contiplated bringing out my older machine for the sake of ease and simplicity but decided that the JUKI wouldn't overwelm them. I was right! My ten year granddaughter even threads the machine and fills the bobbins. She loves this machine. I promised to purchase her first sewing machine and now I have to figure out how to "sell her" on a machine that's not too expensive. I might have to purchase anther one just for her."
- Kathleen,
Coral Springs Fl,
Jul 23, 2010.
For more customer reviews, click the "Review" tab of this page!
Key Features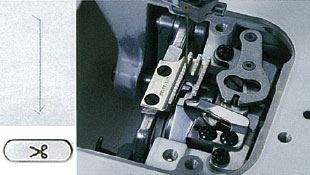 Automatic Thread Trimmer.
The TL98Q has an automatic thread trimmer device that simulaneously trims the needle and bobbin threads at the sewing end. A light press of the push-button is all it takes. It uses the thread trimming mechanism.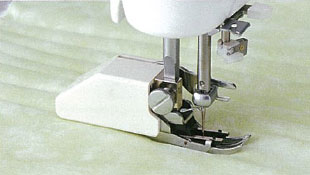 Even Feed Foot.
The even feed foot has a reliable feed. This ensures beautiful seams when sewing difficult-to-feed fabrics such as georgette and velvets. It works well with heavy weight materials such as leather.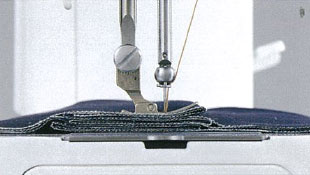 Sew Heavy Weight Materials With Ease.
The speed control mechanism is operated by microcomputer for precise sewing. It allows stitching at low speeds. This provides for accurate feed and perfect stitching when sewing heavy weight fabric, quilting and multiple layers of materials.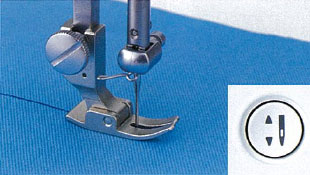 Predetermined Needle Stop Position.
When you stop sewing, the machine comes to an accurate stop with the needle down. To move the needle up or down as desired, simply press the needle up/down button.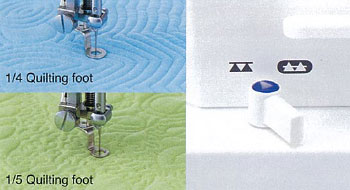 Two Types of Quilting Foot / Drop Feed.
The quilting feet are designed for free motion quilting and free-hand embroidery. The feed dog can be raised and lowered simply by pressing a switch. When quilting, the drop feed allows you to sew curved stitches with ease.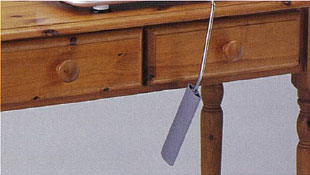 Knee Lifter Lever.
The knee lifter lever allows you to lift / lower the presser foot without using your hands. The presser foot can be raised as high as 12mm.
Additional Features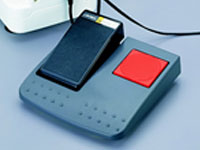 Foot Pedal for Thread Trimming.
Just like an industrial sewing machine, the thread trimmer can be activated with the foot pedal switch. It greatly increases sewing efficiency.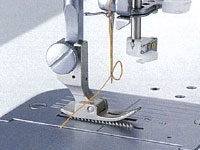 Automatic Needle Threader.
The push lever automatic needle threader threads the needle with ease and without eyestrain. You can start sewing quickly.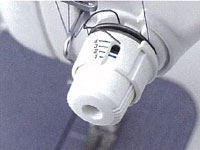 Thread Tension Scale.
The machine is provided with the thread tension scale. Adjust the tension to match the thread and material used.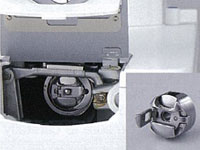 Easy Bobbin Replacement.
A new bobbin case latch and an enlarged bobbin case area make it easier to remove and replace the bobbin.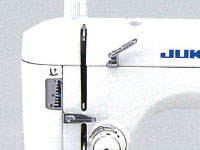 Adjustment of Presser Foot Pressure.
Presser foot pressure can be adjusted by turning a regulator located on the top of the machine.
Extra Features
Automatic bobbin winder.
High sewing speeds up to 1,500 spm.
Basic sewing functions operated by foot pedal.
Supplied with HA-type needles.
Arm and bed of TL98Q is contructed of aluminum die-casting.
Large work area. Wider handling area than conventional sewing machines.
Longer arm and sewing bed for easy handling of quilts.
Light weight and portable.
Included Feet

Hemming Foot.

Zipper Attaching Foot.

Even Feet Foot.

1/5 Quilting Foot.

1/4 Quilting Foot.

Compensating Presser Foot.
Included Accessories
Needle pack.
Bobbins.
Spool cap.
Straight stitch foot.
Foot control w/ thread trimmer.
Knee lever.
Lint brush.
Small screwdriver.
T-screwdriver.
Oiler.
Power cord.
Extension table (see product image).
Instruction manual.
Downloads
Specifications
Sewing Speed.

Maximum 1,500 s.p.m.

Stitch Length.

Maximum 6mm.

Lift of the Presser Foot.

By Lever, Maximum 9mm.
By Knee Lifter, Maximum 12mm.

Needle.

HAx1 (130/705H) #7-#18.
HLx5 #9-#16.

Dimensions.

452 mm Wide.
350 mm high.
219 mm deep.

Weight (Machine only).

11.5 kg.

Rated Voltage / Power Consumption.

120V / 1.4A, 100W.

Power Consumption of the Lamp.

12V, 3W.

Auxiliary Table (Dimensions).

590 x 277 (mm).

Hook.

Horizontal-axis Full-rotary Hook.
Need more supplies? Find them below!

Just add them to your bag below.
REVIEWS

Global Rating: 4.83 from 12 reviews
Add your review of this product
Mrs.
Jul 4, 2013
Carol cyrus
Corsicana Tx US
I bought this machine from a friend to use as a extra machine , but it is the only machine I use. I have it in my shop along with quite a few other brands whic are in the case stored in the corner. I use this one all the time. All I do is quilt and just need the straight stitch. I liked it so well I bought another one for the house so I could use it when I wasn't out in the shop. I also have a regular Juki sewing machine so I can use other stitches if I want . Love them both.

Phenominal Machine
Dec 16, 2011
Sandra Curry
Ridge NY US
Greatest quilting machine I've ever owned, gorgeous stitches, easy to use. Only downside, no one qualified to service it locally. I've had it for years, and I'm looking to buy a new one when $$$ saved as I find this machine irreplaceable. Perfect for piecing as well as quilting. Powerful machine without being intimidating to work with. I'm at a loss while waiting for the machine to either be serviced by a reputable dealer or I buy a replacement machine.

Awesome for Fashion Design too!
Jan 12, 2011
Desiree T. Ferraro
Jacksonville No US
This machine is amazing! I understand it is a quilting machine, but it works good on fashion garments as well! I've never had to use a zig-zag stitch in my clothing, but for potential buyers, please know this is a straight stitch only machine. The only thing I was disappointed in, is that the needle doesn't move left to right, so some of the feet I have bought for it (pretty much just the Stitch-in-the-Ditch foot) do not work as they should. I don't know if it's the foot, or the machine, all I know is that they don't work together. Other than that though, this machine is absolutely fabulous!!!

Fabulous Machine
Nov 22, 2010
Mary Oedekoven
Billings Mt. Mt US
The Juki 98Q just can't be beat for wonderful sewing. I have sewed for years and never have I had the pleasure of using such a remarkable machine until now. It performs so very well that I use it for most all of my sewing now. I have used it for FMQ & I will also be using it with a Grace Quilting Frame. It is so peppy and sews heavy duty fabric which amazes me. I absoluetly love this machine.

Great Juki!!
Sep 19, 2010
Becky Moran
Willis Va US
I am a sewer/stitcher/quilter with almost 40 years experience. I am also,it seems,a sewing machine collector, by the looks of my house! I have so many different machines that I have recently sold some of the excess ones to scale down and concentrate on the real needs that I have for a machine. I came to the conclusion that I needed a standard machine for any sewing project, (my Bernina basic machine), a machine to take to classes etc that does everything (my Kenmore) and my Baby Lock Quilters Choice that has all the bells and whistles and all the designer stitches! However the Baby Lock wasn't working out as I had planned for quilting, especially in my Handi Quilter frames. The computerized features proved to me to be a hassel and I needed something with more power and toughness. I did a lot of research and decided that I would try this Juki TL98Q. I couldn't be happier with this quilting machine. The power is awesome yet very controllable with the foot control. The stitches are beautiful, it's an easy to use straightforward machine. I love the space in the throat of the machine, there is plenty of room for even a king size quilt to be managed while sitting at the machine to quilt. I have not put the machine in my frames yet but I am sure that it will be perfect for quilting there too. I would recommend this machine to any one who quilts and can not afford a long arm quilter!!

Love This Machine
Jul 23, 2010
Kathleen
Coral Springs Fl US
Purchased this machine when it first came on the market. I have been sewing everything on this machine including quilts with absolutely no issues at all. I started teaching my granddaughters how to sew this summer and contiplated bringing out my older machine for the sake of ease and simplicity but decided that the JUKI wouldn't overwelm them. I was right! My ten year granddaughter even threads the machine and fills the bobbins. She loves this machine. I promised to purchase her first sewing machine and now I have to figure out how to "sell her" on a machine that's not too expensive. I might have to purchase anther one just for her. Very Lucky Girl

Best Buy
Jul 1, 2010
Ellen C
Satellite Beach FL US
As much as I love to quilt, I could not justify a quilting machine in the thousands. Someone told me that if I would just take some serious sit-down time and really learn to free motion quilt, I wouldn't need to spend thousands of dollars. I took her advice and spent many months practicing on an older home machine. When I saw the success of my practice, I bought a TL-98Q and it has been a dream! I have had no problems with it and the stitch quality is excellent. Plus, I also use it for piecing and it makes for a tremendous time-saver. You will not be disappointed.

A workhorse
Jun 24, 2010
Melissa Lunden
Morro Bay Ca US
I love this machine and am so happy that I splurged and bought it. It is a great workhorse and can handle quilting large quilts. I gave it 4 stars instead of 5 for a couple of reasons. First, it only does a straight stitch. I knew that going in but it is good to know as a potential buyer. Second, I had to get it serviced before I had it a year. It needed oil in a place that I would not have been able to reach as the user. Now it works great but I was a little disappointed that it needed service so soon. Lastly, the walking foot doesn't come with a guide to follow other quilting lines. My other machine has a guide and I really wish the Juki foot had one as well. Overall, I love this machine but I do need to use my other machine for any zigzag stitching and button holes. Together, the do everything I need and the Juki is awesome. My quilting looks so much better now that I have it.

great machine
Jun 16, 2010
Christine Legg
Blue Springs MO US
I have been wanting a quilting machine for a long time but couldn't justify spending thousands of dollars for a long arm machine. The Juki98Q was the solution for me. It has the features of a long arm with the price of a regular machine. The Juki98Q is one of the easiest machines I have ever used. The instructions are clear and easy to follow. The only difficulty I have had is with the threader. (4* instead of 5*) For me it is easier to just thread the needle the old-fasioned way. I searched to find the best machine with the best price. Other internet sites claimed to have the lowest price and would price match if it was found lower but when I called they told me that they could not match the sewingmachineplus price or tried to sell me something different. I am very happy with this machine and the service from Sewingmachinesplus. I placed my order on Thursday and had the machine on Monday and the frame (drop shipped) on Tuesday.

Juki TL-98Q
Jun 15, 2010
Deborah Hassler
Medford OR US
I've been drooling over a quilting machine for a long time, but was always scared away by the high prices. A friend told me about the Juki-TL98Q and I did some research on line, then went to try out hers. I really liked it and decided to buy my own, which my hubby provided on my next birthday! This is a great machine. I love the power and the speed. I love being able to free-motion a whole quilt in just a day. It's simple to use and it sings to me when I get in the quilting groove. I would recommend it to anyone. The service at Sewingmachinesplus.com was great. They answered all my questions and took care of a couple minor problems that came up when I ordered an additional part. They even gave me bonus stuff and free shipping for my trouble - nice people!

Juki TL98Q
Jun 5, 2010
Marrietta O'Brien
Sierra Vista AZ US
I LOVE THIS SEWING MACHINE! This precision machine not only sews wonderfully (and so fast!), it is unbelievably user friendly. I am currently ordering some specialty feet which is why I felt compelled to encourage ANYONE who is interested in buying a new machine to buy the Juki from this store. The price is remarkable for the quality; you will never want another machine for straight stitching and/or free-motion quilting. The customer service provided by Sewing Machines Plus is beyond compare. The staff (Christine and Grace)answered my questions with patience and courtesy, and the knowledge they have of their products demonstrates the confidence they have in the items they sell. How I wish I lived close enough to visit their store. I may just call them periodically to get a jolt of friendliness.

Wonderful Machine!!!!
Jan 25, 2010
Lucy Irvin
CA US
Great machine, much better than others that I have used previously! Easy to use, very durable. Comes with all the stuff (bobbins, different feet, needles, etc.) Very happy with purchase. Juki machines are top quality. Works well in quilting frame as well. Ordered this over the phone and the customer service was excellent. I will definitely order from sewingmachinesplus again.
Rating:
Global Rating: 4.83 stars from 12 reviews
View All Reviews