Juki HZL-K65 Sewing and Quilting Machine with FREE BONUS Package
FREE BONUS Includes:
Instructional DVD, Hard Carrying Case, 100 Needles, 20 Bobbins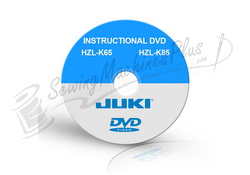 FREE
Instructional DVD
This Free Bonus Instructional DVD will help get you started sewing right away on your NEW Juki HZL-K65 Sewing and Quilting Machine!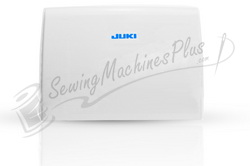 FREE
Hard shell Carry Case
Protect you machine with this Hard Shell Carrying Case included FREE with your NEW Juki HZL-K65 Sewing and Quilting Machine!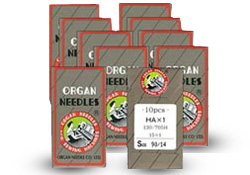 FREE
100 Needles
No need to worry about running short on needles. We have included 100 FREE Needles to keep you sewing, because once you start sewing, you won't want to stop!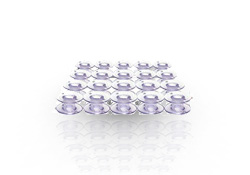 FREE
20 Bobbins
These 20 FREE Bobbins will allow you to keep bobbins full of all your favorite colors, so when it's time to change threads, you will be ready!
Product Details
Fast, fun and so easy to love!
The HZL-K65 weighs in at just 15.6 lbs. Sews at speeds faster than many full size sewing machines. And - because it's a Juki, the K-65 sews smoothly, quietly with superior stitch quality!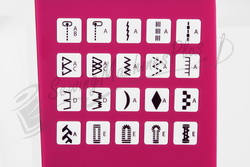 Just one touch!
Your desired sewing pattern can be selected by simply pressing a button.
The pattern Selection key illuminates when its selected.
The symbol of presser foot is shown by stitch illustration.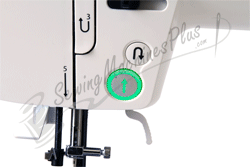 Start/Stop Button
Green - Ready to sew or currently sewing
Red - Not ready to start
Orange - In bobbin winding condition
The color of the start/stop button indicates the status of the machine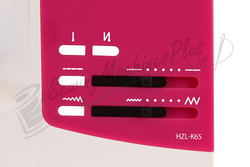 Size of Stitch Pattern and Needle Position
You can change the size of stitch patterns as well as the needle position. The HZL-K Series has 15 needle positions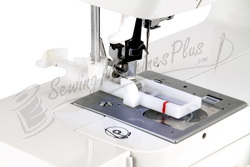 Buttonhole
3 Sensor buttonholes allow you to create perfectly sized buttonholes, for any need.
Box, Keyhole, Rounded...
Just snap on the Sensor Buttonhole foot, select
a buttonhole pattern and start sewing! It's that fast and that easy!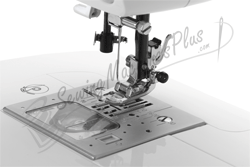 Needle Threader
The needle threader easily threads the needle and allows you to start sewing quickly.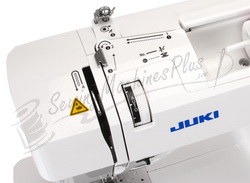 Thread Tension
With the HZL-K65 tension settings are never a worry.
You can use the Automatic Thread Tension or increase or decrease the tension to create different stitch effects.
Perfect control is always just a turn of a dial away.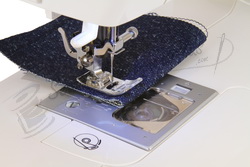 Easy to Start Sewing Thick Fabrics
Press the black button of presser foot to make the presser footparellel to the throat plate. This makes it easy to start sewing thick fabrics.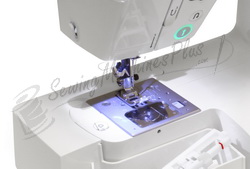 LED Light
LED Light Brightens the needle area for better material handling. The LED light will not heat up even during long operations.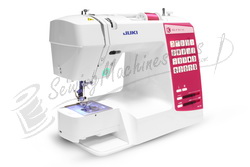 Free Arm
Remove the accessory tray to reveal a free arm. Perfect for working with sleeves or pant legs.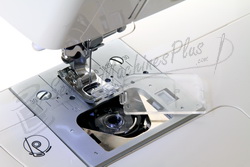 Drop-in Bobbin
Remove the clear cover, Drop in the Bobbin, and you are ready to go!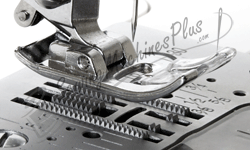 Drop Feed for Free Motion Quilting
Juki's rich tradition in quilting continues with the HZL-K65.
Want to free motion quilt, just drop the feed dogs and go!
Two automatic Lock Stitches
HZL-K Series can automatically sew a lock stitch at the beginning and end of sewing. There are two types of lock stitch, reverse stitch and reinforcement stitch.
Product Specifications
Sewing Speed: Max, 750sti/min
Needle: HAx1 (130/705H) #9~#16
Dimensions: 415(W) x 300(H) x 190(D)mm
Weight (machine only): 15.6 LBS
Included Accessories: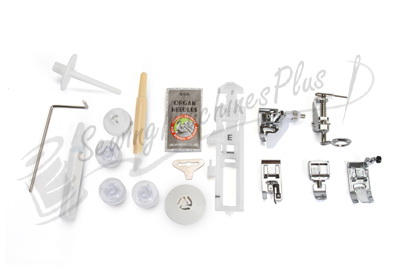 Presser Feet

Standard
Zipper
Overcast Foot
Adj Blindhem
Quilting Foot
Buttonhole Foot

Hard Case
4 Bobbins
1 Pack of Needles
Small, Medium and Large Spool Caps
Special Screw Driver
Seam Ripper

FREE

20 Bobbins

FREE

100 Needles

FREE

Hard Case

FREE

Instructional DVD


Global Rating: 5.00 from 2 reviews
Add your review of this product
great machine
Feb 11, 2015
Lynn Graham
Lincoln Ne US
just by taking the time to read everything about this quilting machine, it sounds great. a lot of features and a lot of free supplies that come with it. I like the idea of it having a cover. most machine don't have that. not only that you can finance it also for 12 months which helps those on a tight budget.

Can't go wrong
Jul 30, 2012
Wwcd
Sacramento
Great machine, great price, easy to use. Quick delivery. Very nice sales manager.
Rating:
Global Rating: 5.00 stars from 2 reviews
View All Reviews

Overall Store Rating
(
9.02
/10) 2600 reviews
Rating:
10
/10 - Date: 11/25/2015
I ordered pressed feet for my sewing machine. They shipped fast and got me back working on my projects. Thank you!
Dugan4057, real customer review
Rating:
10
/10 - Date: 11/24/2015
Arrived safely and in good condition.
payments-42219, real customer review
Rating:
10
/10 - Date: 11/24/2015
The service was very good and received the product very quickly. Thank you.
forrestnn, real customer review
Rating:
10
/10 - Date: 11/24/2015
Item was exactly as I expected and arrived right on time!!! Great company to deal with.
Jemms72, real customer review
Rating:
10
/10 - Date: 11/24/2015
This company had the bobbins I needed on hand at a reasonable price and shipped quickly. Excellent service.
ksanders3624, real customer review
Rating:
10
/10 - Date: 11/24/2015
Sewing Machines Plus always provides good fast service.
maddux_j2004, real customer review
Rating:
10
/10 - Date: 11/23/2015
Received item in good condition exactly when told to expect it. Satisfied customer
msbev12, real customer review