Juki Pearl Line MO-655 2/3/4/5 Thread Serger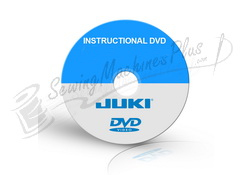 BONUS ITEM!
Instructional DVD Included
This Free Bonus Instructional DVD will help get you started sewing right away on your NEW Juki MO-623 Serger/Overlock Machine!
Enhance your world of sewing with the Juki Pearl Line MO-655 Serger! It features 2-needle, 2/3/4/5 thread overlock, differential feed and chainstitch. A free instructional DVD is included.
The Pearl Line offers two exciting models to expand your sewing capabilities:
MO-654DE 2/3/4 thread serger.
MO-655 2/3/4/5 thread serger.
Create the latest fashions or decorative home items and crafts with the MO-655 five-thread machine. It offers differential feed and built-in rolled hemming. It will perform all the popular overlock and flatlock variations. The MO-655 also performs a 2-thread chainstitch, making it possible to sew a secure 5-thread safety stitch.
The Pearl Line sergers from Juki are ideal for use with today's latest fabrics as well as decorative threads. Add serging techniques to your world of sewing and open new doors to design opportunities!
Key Features of the Juki Pearl Line MO-655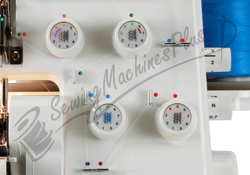 Color Coded Threading Guides.
Threading is easy and efficient with color coded threading guides throughout the machine. There are special guides to lock your thread into the tensions for consistent stitching.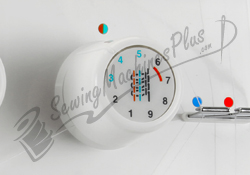 1-Rotation Thread Tension Dial.
The single-rotation thread tension dial has normal tensions highlighted for simple, consistent tension adjustment.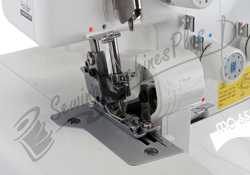 Adjustable Differential Feed.
The differential feed is controlled and adjusted by turning the knob conveniently located on the right-hand exterior of the machine.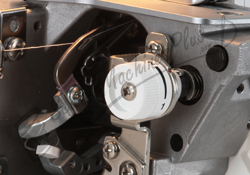 Lower Knife Adjustment Knob.
Adjust the lower knife with the convenient knob to quickly change the width of fabric in the seam allowance. The result will be perfect seams and rolled edges.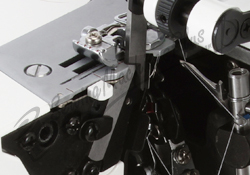 Heavy Duty Knife System.
The heavy duty knife system operates with a dedicated drive to assure consistent and easy cutting of light to heavy weight fabrics.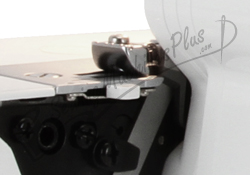 Automatic Rolled Hemming.
Automatic rolled hemming can be created with built-in finger tip control. There is no need to change the foot or plate.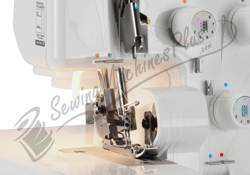 Sewing Light.
The sewing light is placed to provide ideal lighting to the fabric and needle areas.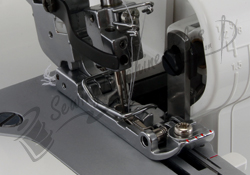 Multi-Purpose Foot.
The multi-purpose foot has a slotted tape guide for sewing woven tape, elastic, sequins and ribbon.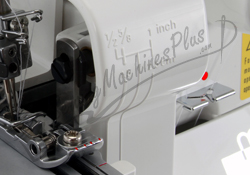 Sewing Width Gauge.
The sewing width gauge takes the guesswork out of seam allowances. It is conveniently located on the guard cover.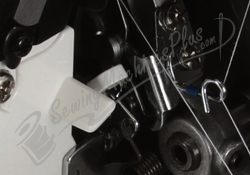 Lower Looper Threader.
The lower looper threader allows for easy threading in seconds. Simply slide the thread into a slot and snap the looper back into place.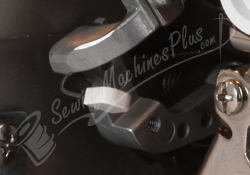 Chain Looper Threader.
The chain looper threader snaps down for easy threading by push button. It snaps back, out of the way, when serging.
Auxiliary Bed.
An auxiliar bed is supplied as standard for use in the chainstitch mode.
Adjustable Stitch Length.
Turn the convenient knob to adjust the stitch length within the range of 1-4mm. The knob is on the right-hand exterior of the machine.
Upper and Lower Loopers.
The upper and lower loopers are industrial strength for durability. They can handle a full range of decorative threads.
Optional 2/3 Thread Converter.
The optional 2/3 thread converter installs with ease. It allows one needle thread and one lower looper thread for securing overedging.
Stitch Variations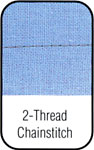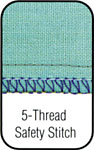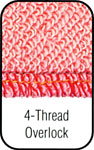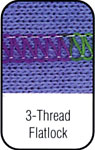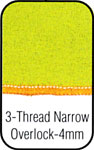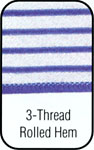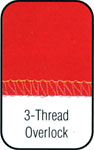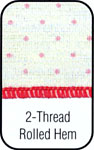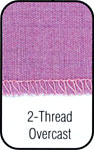 Specifications
Sewing Speed.

Maximum 1,500 spm.

Number of Threads.

2/3/4/5 Threads.

Needle.

Household Machine Size 11 or 14.

Overlocking Width.

Chain Needle: 10mm.
Left Needle: 8mm.
Right Needle: 4mm.
Rolled Hem: 2mm.

Stitch Length.

1 - 4mm.
Standard: 2.5mm.
Rolled Hem: 1 - 1.5mm.

Differential Feed.

0.7 : 2.0 Ratio.

Tension.

Industrial Type Dial / 1 Rotation.
Built-In Rolled Hemming.

Right (narrow) or Left (wide) Needle / 2 or 3 Thread.

Flat Lock.

2 or 3 Thread.

Universal Presser Foot.

Tape, ribbon, narrow elastic application.

Presser Foot Lift.

5mm.

Dimensions.

315mm Wide.
345mm High.
295mm Deep.

Weight.

7.2 kg (15.5 lbs.).

Juki Limited Warranty.

2 Years electrical.
5 Years mechanical.
Included Accessories
Needle pack.
Presser foot.
Thread nets.
Needle threader.
Brush & needle inserter.
Guide bar.
2/3 thread selector.
Spare lower knife.
Spool caps.
Light bulb.
Tweezer.
Large screwdriver.
Small screwdriver.
Support bed.
Oiler.
Foot control & power cord.
Accessory pouch.
Vinyl cover.
Instruction manual.
Downloads
Juki MO-655 Instruction Manual.

Need more supplies? Just check the boxes and click "Add to Cart" to pick up everything at once!
18in. x 18in. Sew Steady Extension Table for Sergers
$119.95 $79.00
(Clicking this product will display information in a new window.)
8 Piece foot Kit for Juki MO600 & MO700 Series Sergers
$399.00 $199.00
(Clicking this product will display information in a new window.)
Fashion Sewing Cabinets Model 30 Serger Caddy
$572.22 $390.15
(Clicking this product will display information in a new window.)
Fashion Sewing Cabinets 49 Add-on Serger Table
$166.06 $113.22
(Clicking this product will display information in a new window.)
Hemline Black Studio Collection Serger Tote Bag
$34.95 $29.95
(Clicking this product will display information in a new window.)
Hemline Black Studio Collection XL Serger Trolley Bag MR4682.2.BK
$169.95 $99.95
(Clicking this product will display information in a new window.)
Hemline Blue Floral Serger Tote Bag
$29.99 $24.99
(Clicking this product will display information in a new window.)
Hemline Burgandy Floral Serger Tote Bag
$29.99 $24.99
(Clicking this product will display information in a new window.)
Hemline Burgandy Floral Sew Easy Serger Trolley MR4681.H1
$129.95 $79.95
(Clicking this product will display information in a new window.)
Hemline Camel Studio Collection Serger Tote Bag
$34.95 $29.95
(Clicking this product will display information in a new window.)
Hemline Camel Studio Collection Serger Trolley Bag MR4681.2.BE
$169.99 $99.95
(Clicking this product will display information in a new window.)
Hemline Camel Studio Collection XL Serger Trolley Bag MR4682.2.BE
$169.95 $99.95
(Clicking this product will display information in a new window.)
Hemline Cream Floral Serger Tote Bag
$29.99 $24.99
(Clicking this product will display information in a new window.)
Hemline Cream Floral Sew Easy Serger Trolley MR4681.G4204
$129.95 $79.95
(Clicking this product will display information in a new window.)
Hemline Slate Blue Studio Collection Serger Tote Bag
$34.95 $29.95
(Clicking this product will display information in a new window.)
Hemline Slate Blue Studio Collection Serger Trolley Bag MR4681.2.BL
$150.00 $99.95
(Clicking this product will display information in a new window.)
Hemline Slate Blue Studio Collection XL Serger Trolley Bag
$169.95 $99.95
(Clicking this product will display information in a new window.)
Klasse Twin Universal Needle 80/4.0mm - Buy 2 Get 1 FREE
$4.49
(Clicking this product will display information in a new window.)
Klasse Twin Universal Needles Size 80 - 1.6mm - Buy 2 Get 1 FREE
$4.49
(Clicking this product will display information in a new window.)
Klasse Twin Universal Needles Size 80 - 2.0mm - Buy 2 Get 1 FREE
$4.49
(Clicking this product will display information in a new window.)
Klasse Universal Needles Size 80/12 - Buy 2 Get 1 FREE
$2.99
(Clicking this product will display information in a new window.)
Klasse Universal Needles Size 90/14 - Buy 2 Get 1 FREE
$2.99
(Clicking this product will display information in a new window.)
Schmetz Universal Needles - Box of 100 - Size 80/12
$59.99 $44.99
(Clicking this product will display information in a new window.)
Schmetz Universal Needles - Box of 100 - Size 90/14
$59.99 $44.99
(Clicking this product will display information in a new window.)
Schmetz Universal Needles - Size 80/12
$3.49 $2.99
(Clicking this product will display information in a new window.)
Schmetz Universal Needles - Size 90/14
$3.49 $2.99
(Clicking this product will display information in a new window.)
Serger Beading Foot 340522N - Bernette, Elna, Janome, Juki, Pfaff, Riccar, White
$12.99
(Clicking this product will display information in a new window.)
Sylvia Design Model 1000 Space Saver Sewing/Serger Cabinet
$2,029.90 $1,599.95
(Clicking this product will display information in a new window.)
Sylvia Design Model 1050 Sewing & Serger Cabinet
$2,099.90 $1,699.95
(Clicking this product will display information in a new window.)
Sylvia Design Model 1050Q Quilters Sewing & Serger Cabinet
$2,449.90 $1,999.95
(Clicking this product will display information in a new window.)
Sylvia Design Model 620 Compact Serger Cabinet
$1,179.95 $949.95
(Clicking this product will display information in a new window.)
The Ultimate Serger Answer Guide
$16.95
(Clicking this product will display information in a new window.)