Juki Garnet Line MO-644D 2 Needle Serger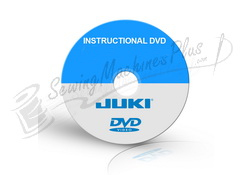 BONUS ITEM!
Instructional DVD Included
This Free Bonus Instructional DVD will help get you started sewing right away on your NEW Juki MO-623 Serger/Overlock Machine!
Both beginners and experienced sewists can create simple sportswear or elegant evening wear with unbelievable ease with the MO-644D. Expand your range of design and technique with the easy to operate, durable and dependable Juki 2-needle, 2/3/4 thread overlock machine. It features built-in rolled hemming and differential feed.
Machines available in the Garnet Line are:
The MO-623 single needle, 2/3 thread serger.
The MO-644D double needle, 2/3/4 thread serger.
The Juki MO-644D handles the latest materials and threads to assist you in sewing the most fashionable apparel for the entire family, as well as accessories, crafts and home decorating items. The Garnet Line was developed with all types of sewing in mind, at a price you can afford. You'll get great serger performance for your individual needs.
It comes with a free instructional DVD for a fast start.
Illustrated Features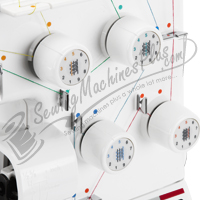 Color Coded Threading Guides.
Color coded threading guides are located throughout the machine make threading easy and efficient.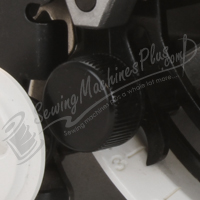 Adjustable Stitch Length.
The stitch length is adjusted with ease. Just turn the knob inside the machine. Stitch length ranges from 1 to 4 millimeters (mm).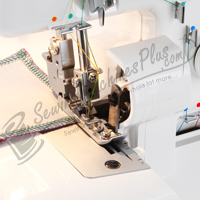 Adjustable Differential Feed.
The adjustable differential feed is controlled and adjusted by a dial conveniently located on the outside, left-hand side of the machine.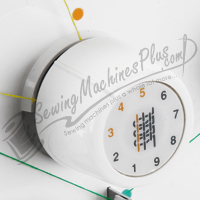 Single Rotation Thread Tension Dials.
1-Rotation thread tension dials. Normal tension settings are highlighted for simple, consistent tension adjustment.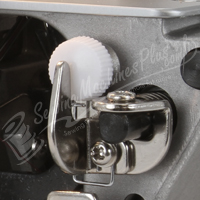 Easy Knife Adjustment.
The easy dial knife adjustment makes the upper knife completely self-adjusting.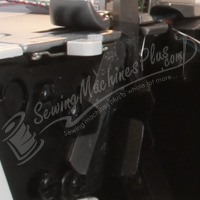 Heavy Duty Knife System.
The heavy duty knife system has a dedicated drive to assure consistent and easy cutting of light to heavy weight fabrics.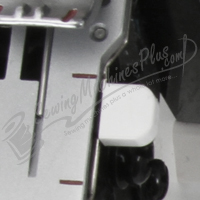 Automatic Rolled Hemming.
Automatic Rolled Hemming can be created with built-in finger tip control. There is no need to change the foot or plate.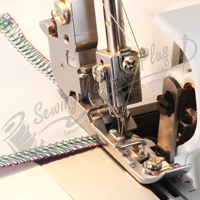 Sewing Light.
The sewing light is placed to provide the best lighting to the fabric and needle areas.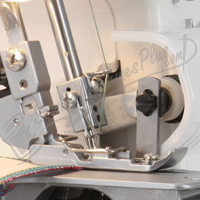 Multi-Purpose Foot.
The multi-purpose foot has a slotted tape guide for sewing woven tape, elastic, sequins and ribbon.
Sewing Width Gauge.
The sewing width gauge takes the guesswork out of seam allowances. It is conveniently located on the guard cover.
Optional 2/3 Thread Converter.
The optional 2/3 Thread Converter is easy to install. It allows 1 needle thread and one lower looper thread for securing overedging. The converter accessory must be purchased separately.
Stitch Variations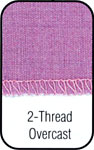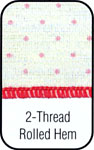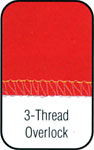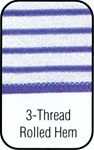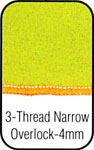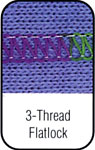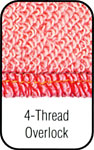 Specifications
Sewing Speed.

Maximum 1,500 spm.

Number of Threads.

2/3/4 Threads.

Needle.

Household Machine Size 11 or 14.

Overlocking Width.

Left Needle: 8mm.
Right Needle: 4mm.
Rolled Hem: 2mm.

Stitch Length.

1 - 4mm.
Standard: 2.5mm.
Rolled Hem: 1.0 - 1.5mm.

Differential Feed.

0.07 : 2.0 Ratio.

Tension.

Industrial Type Dial / 1 Rotation.
Built-In Rolled Hemming.

Right (Narrow) or Left (Wide) Needle.
2 or 3 Thread.

Flat Lock.

Right or Left Needle.
2 or 3 Thread.

Universal Presser Foot.

Tape, Ribbon, Narrow Elastic Application.

Presser Foot Lift.

5mm.

Dimensions.

270mm Wide.
340mm Deep.
295mm High.

Weight.

7.0 kg (15 lbs.).

Juki Limited Warranty.

2 Years electrical.
5 Years mechanical.
Included Accessories
Presser foot.
Needle pack.
Spool caps.
Thread nets.
Looper threader.
Brush & needle inserter.
Tweezers.
Screwdriver.
Oiler.
Light bulb.
Foot control & power cord.
Instruction manual.
Accessory pouch.
Vinyl cover.
Downloads
Diagram showing how to thread a 4-thread serger.
Instruction Manual. (24 Megabytes, long download time).


Global Rating: 5.00 from 6 reviews
Add your review of this product
owner
Jul 17, 2015
Laura Odomes
Thibodaux La US
Love my machine.Runs smoothly. Sews excellent

MO644D
May 6, 2015
Kathleen Force
Loganton PA US
Love this machine, came threaded and ready to sew. Have already sewn together a quilt and have started another one.

Juki Serger MO-644D
May 2, 2012
Linda Peck
Ann Arbor Mi
This is a great little machine, especially for the money and accessories that come with it. It runs smoothly and makes beautiful stitches. This is my first serger and I am very happy with it.

easy to use
Jan 14, 2012
Tina P.
Stuthers Oh US
I bought this serger as a christmas gift to myself and Love it! I never used one before and this machine was easy to use , Love it and I am so glad I decided on this model. I would recommend to any first time serger. I use it to serge sweaters together to make hats coats and blankets. LOVE IT!!!

My First
Aug 31, 2011
Betty
St Paul MN US
This was the first serger I ever bought/touched/used.. I was very worried throughout the whole process. Such as buying the right one, learning how to thread it, then using the machine. Sewing Machines Plus took all the worry out! I was able to thread the machine in 30 minutes after opening the box. Using the machine is not hard at all! Learning what the machine can do and how to do it is the biggest learning curve of this machine. I'd recommend this machine to anyone!

What a great buy!
Jan 25, 2010
Jenny Thompson
Bloomington Ut US
I purchased the MO644D Juki serger and love it! After my old Singer bit the dust, I just had to have another serger so I chose the Juki. I use it to finish seams on my outfits that I make. I have not had any problems whatsoever with this serger. I would definitely recommend this machine to others.
Rating:
Global Rating:5.00 stars from6 reviews
View All Reviews

Overall Store Rating
(
9.01
/10) 2596 reviews
Rating:
10
/10 - Date: 11/24/2015
This company had the bobbins I needed on hand at a reasonable price and shipped quickly. Excellent service.
ksanders3624, real customer review
Rating:
10
/10 - Date: 11/24/2015
Sewing Machines Plus always provides good fast service.
maddux_j2004, real customer review
Rating:
10
/10 - Date: 11/23/2015
Received item in good condition exactly when told to expect it. Satisfied customer
msbev12, real customer review
Rating:
10
/10 - Date: 11/22/2015
Good parts good service and shipped quickly.
bspate, real customer review
Rating:
10
/10 - Date: 11/22/2015
I was very pleased with the service I received from Sewing Machines Plus. Though this was a very small order it got very good attention from them. They were prompt and accurate in delivering this...
suwaneekate, real customer review
Rating:
10
/10 - Date: 11/22/2015
The sewing machine table came on the day it was supposed to arrive. All is good.
tmroczka, real customer review
Rating:
10
/10 - Date: 11/22/2015
So far everything I expected
mcjpmse, real customer review