Expert Sewing Consultants Here For You!
We'll help you find the perfect product and provide lifetime support for any purchase.
Juki TL-2010Q Machine Features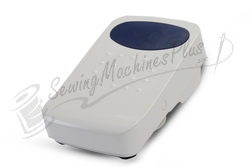 Juki TL-2010Q Foot Controller
Foot Controller with Thread Trimming Function It is possible to automatically trim both needle and bobbin threads by pressing the heel side of foot controller. The foot controller is big enough and it is easy to control sewing start and stop.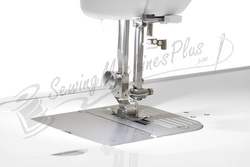 Juki TL-2010Q LED Light
LED Light This brightens the needle area for better material handling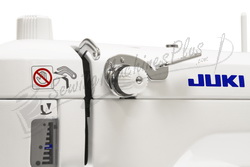 Juki TL-2010Q SubTension Unit
Sub Tension Unit Even if strongly twisted thread should be used, the unit will avoid "return of twist of thread" and supply needle thread to the main tension unit without thread quivering. It helps sewers create sttiches with stable thread tension.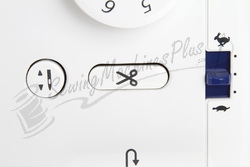 Juki TL-2010Q Automatic Thread Trimmer
Automatic Thread Trimmer The machine is equipped with an automatic thread trimmer device that simulaneously trims the needle and bobbin threads at the sewing end by lightly pressing the push-button. It uses the thread trimming mechanism.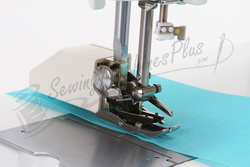 Juki TL-2010Q Even Feed Foot
Even Feed Foot With its reliable feed, the even feed foot ensures the machine's ability to produce beautiful seams when sewing difficult-to-feed fabrics such as georgette and velvets, as well as heavy weight materials such as leather.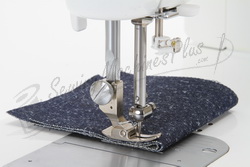 Juki TL-2010Q Heavy Weight Materials
Heavy Weight Materials are sewn with Ease The speed control mechanism, operated by microcomputer, allows the machine to sew materials at low speeds. This provides for accurate feed and perfect stitching when sewing heavy weight fabric, quilting and multiple layers of materials.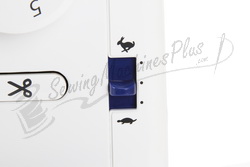 Juki TL-2010Q Maximum Sewing Speed Control
Maximum Sewing Speed Control Now you can control maximum sewing speed within the range from 200 to 1,500 SPM with this slide knob. This ideal for free motion quilting.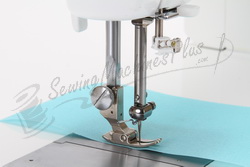 Juki TL-2010Q Maximum Predetermined Stop Position of the Needle
Predetermined Stop Position of the Needle When you stop sewing, the machine will come to an accurate stop with the needle down. To move the needle up or down as desired, simply press the needle up/down button.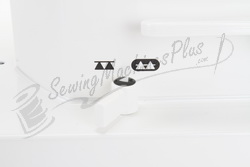 Juki TL-2010Q Two Types of Quilting Foot/Drop Feed
Two Types of Quilting Foot/Drop Feed The quilting feet are designed for free motion quilting and free-hand embroidery. The feed dog can be raised and lowered simply by depressing a switch. When quilting, the drop feed allows you to sew curved stitches with ease.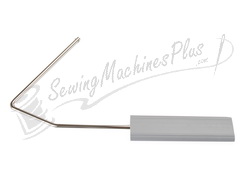 Juki TL-2010Q Knee Lifter Lever
Knee Lifter Lever The knee lifter level allows you to lift/lower the presser foot without using your hands. The presser foot can be raised as high as 12mm.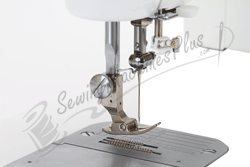 Juki TL-2010Q Automatic Needle Threader
Automatic Needle Threader The push lever automatic needle threader easily threads the needle without eyestrain and allows you to start sewing quickly.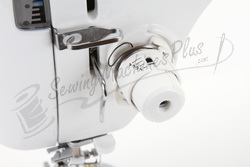 Juki TL-2010Q Thread Tension Scale
Thread Tension Scale The machine is provided with the thread tension scale, which allows you to adjust the tension according to the thread and material to be used.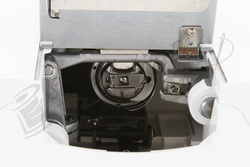 Juki TL-2010Q Easy Bobbin Replacement
Easy Bobbin Replacement A new bobbin case latch and an enlarged bobbin case area make it easier to remove and replace the bobbin.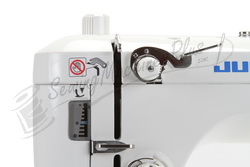 Juki TL-2010Q Adjustment of Presser Foot Pressure
Adjustment of Presser Foot Pressure Presser foot pressure can be adjusted according to the fabric being sewn by turning a regulator located on the top of the machine.
Additional Features
Light weight and portable
Supplied with HA-type needles.
Arm and bed of TL-2010Q is contructed of aluminum die-casting.
Larger work area - wider handling area than conventional sewing machines.
Included Accessories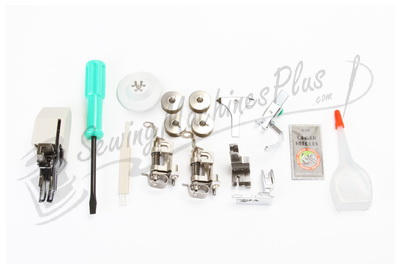 Foot controller
Auxiliary table
Exclusive screwdriver
Screwdriver (small)
Cleaning brush
Bobbins (4pcs.)
Oiler
Needles (HAx1)
Spool cap
Sewing machine cover
Power cord
Knee lifter lever
Hemming foot
Zipper attaching foot
Upper feed presser foot
1/4 Quilting foot
1/5 Quilting foot
Compensating presser foot
Juki TL-2010Q Downloads
Juki TL-2010Q Instruction Manual (PDF)
Juki TL-2010Q Product Brochure (PDF)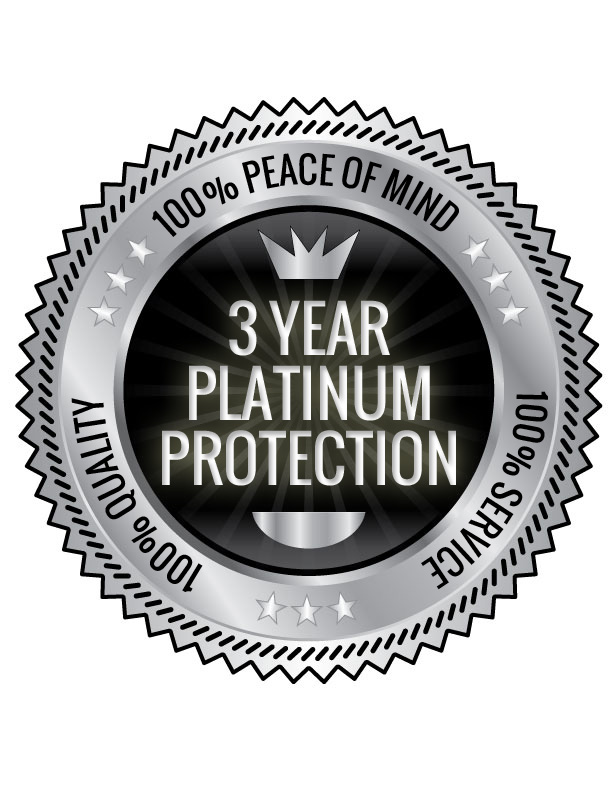 3 Year Platinum Protection Warranty
Add on a 3 Year Platinum Protection Warranty During Checkout For 100% Peace Of Mind!
SewingMachinesPlus.com is proud to offer its Platinum Protection Plan, for sewing, embroidery, longarm quilting and overlock machines sold in the U.S.A.
NO REPAIR BILLS
COVERED PARTS AND LABOR
1 YEAR FREE SHIPPING
NO DEDUCTIBLE
COVERS NORMAL USAGE
PEACE OF MIND
Your purchase is not complete until you add the security of a SewingMachinesPlus.com Platinum Protection Plan. You depend on your Sewing machine to work hard for you. When a problem arises and a repair is required, you need it fixed as fast as possible. But then you�re faced with a costly repair bill. Are you and your budget prepared? Especially when you have no way of knowing when or how often the machine may need service?
Now you can relax. With our SewingMachinesPlus.com Platinum Protection Plan, out-of-pocket expenses are completely eliminated for your sewing machine repairs. The plan guarantees to pay all covered parts and labor beyond the original warranty. It�s peace of mind protection you can count on. Don�t put it off! Protect your investment and pocketbook with affordable coverage.
Warranty Summary
This warranty covers parts and labor for 3 years.
Used under normal home sewing conditions.
Consumable items not covered; (needles, bobbins, bobbin cases, springs, and belts)
The warranty does not cover improper use, abuse, commercial or industrial use of machines.
The warranty does not cover flood, fire or other acts of nature.
Call SewingMachinesPlus.com if you have any questions. This is one of the best platinum protection warranties available for your sewing machine!
Need more supplies? Find them below!

Just add them to your bag below.
REVIEWS

Global Rating: 4.95 from 19 reviews
Add your review of this product
Love my Juki
Aug 24, 2016
Celia Gonzalez
Irving Te US
Ordered my Juki TL-2010Q first week of april, and delivery was quick. I quickly started quilting, and haven't stopped. The stitching is great, machine so quiet. Love love love this machine.

throat space
Apr 3, 2016
Janet Bailey
Eagle co
question?? how big is the throat?

Mrs.
Mar 14, 2016
Sandra Stutzman
Niles Mi US
I love this machine! Great for beginners and experts. Smooth sewing, quiet, the material just slides through. So glad I reviewed this machine and purchased it. Ordering was simple and the product arrived on time.

Adore It!
Feb 10, 2016
Shelby Skumanich
Fort Collins CO US
When 2 twenty year old computerized sewing machines gave up the ghost on me within six months, I decided I had it with over complicated sewing machines. I don't much else on my sewing machines other than piece and bind quilts and I wanted something that did one thing well: a straight stitch. This machine has vastly exceeded my expectations. Remarkably simple to use and maintain, beautiful stitch quality and quiet to run.

JUKI TL2010Q
Jan 12, 2016
Nancy Thomas
Cedar Falls Io US
I do a lot of quilting and the JUKI TL2010Q is the best straight stitch machine on the market. It sews like a dream and is a trouble free mechanical design.

Best Machine!
Dec 20, 2015
Cathy Price
Mitchell IN US
I purchased this machine to decrease visits to the sewing machine repair shop in our area (35 miles) and wanted to be able to oil it myself. I own a Bernina 550 QE; Elna Quilters Dream; Babylock and this Juki is the best machine I have owned. Sews like a dream...quiet...quilts beautifully. Could not ask for more! When I call with questions...I am treated well and great company to work with.

The juki 2010. Awesome machine
Dec 19, 2015
Patricia Martin
Erin TN US
Awesome product! A powerhouse!! Highly recommend for quilting. Good for small projects to! Recommend sewing machine plus they will help you decide what the right machine is that you need for your hobby. Very professional. Look forward to doing more business with them .

Best EVER
Nov 13, 2015
Cyndy Marquez
Miami Fl US
I bought this machine about 3-4 years ago from Sewing Machines Plus. I use it every day and love it as much now as when new. It needs to be oiled daily and the only wear I have noticed (I'm a serious quilter) is on the bobbin cases which I replace regularlarly. I also have the gracie frame with the stitch control and this machines just sews and sews forever. Tension is always good. Love IT!

Very happy with my second Juki
Oct 26, 2015
Beth Nelson
Mobile Al US
I already own the Juki98Q and have it on a Grace quilting frame. It is the perfect machine for me and I can do the meandering stitch quite well. This time, I wanted to do more free motion and quilting with an even feed attachment, so I researched it and went for the Juki2010. Sewing Machine Plus had the best price with free shipping so I went for it. Arrived quickly and I made a unique quilting table with strong foam boards for it by following a UTube demonstration. Try it, it really is a fantastic table for less than $100. Since I am already familiar with my Juki, I love this one more because it has more throat space, the speed control and the extra tension disc. However, I couldn't get the automatic thread to work and ended up threading it the wrong way. Don't do this-very frustrating. Again, watched a video on UTube and the threader worked like a charm. Been quilting ever since. This machine is well built and does a great job at quilting with the even feed attachment - just sews so smoothly. I highly recommend this machine -I don't think you will be disappointed.

juki & gracie king fram
Oct 1, 2015
norma shaffer
AKRON oh
so far just finally got it together, had problems getting everything, rail bent and had to replace, so i am just now getting started with the actual quilting. looking forward to finishing my first quilt soon

I LOVE my JUKI
Jun 1, 2015
Cyndi Spurlin
Pearcy Ar US
I am very new to free motion quilting - working on my 2nd quilt. I quilted the first on a Singer Confidence sewing machine. It was OK, but really had problems with tension and controlling my stitches. I bought my Juki before I started quilting on my 2nd one and I LOVE IT! The speed control has really helped me get my stitches more consistent and I have had no tension issues at all. Ordering my Juki from Sewing Machines Plus was a breeze too. I ordered on a Monday and had it on my doorstep on Thursday.

Awesome machine.
Apr 24, 2015
greg lloyd
mexia te US
I really love my Juki 2010 what a great buy. The frame I received with this package is heavy duty and cannot wait to get my quilt put on it this week.

Perfection
Apr 4, 2015
Naomi Trickett
Monroe Wa US
I absolutely love this machine. It is like the Mercedes of straight stitch sewing machines. My favorite features are the thread cutter and the speed at which you can sew. I purchased this long arm to use with my HandiQuilter table top model but think it may be my new go to sewing machine for every day tasks. Beautiful!

Love this machine!
Dec 12, 2014
Hilda Hall
Dobson NC US
I just got my machine about a month ago. It was so easy to get started sewing. I have worked with it off and on for a while and I finally have gotten the "touch" to the free motion quilting. The extended arm works great as well as everything else. If you are questioning yourself about this machine, don't. Go ahead and buy. The service representatives that I spoke with were very helpful and nice. This was another selling factor. I was actually treated as a person!! Great company to work with. Everything I was told was true.

Very impressed!
Aug 30, 2014
Tricia
Ca US
Wow, I am very impressed with this company and my Juki. I ordered my machine just before 2pm on Wednesday afternoon and received my machine before 2pm on Friday! My Juki came already to start sewing on. It was boxed up like new and super easy to set up. I haven't played with it a whole lot yet, but it's sturdy looks brad new and it came with everything mentioned plus a cover. Great prices too! I love that they sell everything. I will definitely purchase from this company again.

Great sewing machine
Nov 11, 2013
Xiaoping yuan
Fort collins Co US
I love this sewing machine. I bought this one early this year and started working on the quilt tops I finished several years ago. I have a Bernina but the throat is too small to work on queen or king size quilts. This machine is a working horse and the tention is so easy to control and adjust. I hope one day I can afford a long arm. The sewing machines plus is a great company who offers the best deal.

Beautiful.
Feb 20, 2013
Wendy
Phoenix AZ US
I just got the sewing machine this morning and it's a work of art. I do a lot of art quilts and the built in thread cutter is a major plus (my Bernina doesn't have that feature). The opening where you place your sewing project is quite a bit larger than on my Bernina and the extension table is the largest I've ever seen. It's just a solid piece of machinery. I'd highly recommend this machine for beginners too because it's so easy to use and has the auto threader. Juki has a great reputation for quality and now I see why; this is my first Juki. I'm a definite fan of this company now and ordered a Juki serger.

Juki TL2010 Q
Sep 1, 2012
Mary Sondag
Laguna Hills CA US
I originally ordered TL 98Q but it was obsolete and website not up to date - but he applied the $50 gift cert to this newer model so it was comparable in price. So, I had read the wonderful reviews of the TL98Q and it is all true. I was working on a quilt and was struggling with my old Kenmore (love it for regular sewing though!) because I needed a bigger throat size. I could not afford anything fabulous and so decided to take a chance based on reviews I've read. I had a bit of trouble with the needle threader but was able to fix it myself - the hook was not aligned and going into the needle (probably because I was not doing it right to begin with and bent the hook. Great you tube video on how to use needle threader for this machine - I recommend versus the written instructions) I'm thinking of putting up a you tube on what to do if hook is not aligned, it was super easy. The bottom part of the needle threader slips off and then you can just wiggle the hook with a pin until it looks centered. Now it works perfectly every time. Anyway, I love love love this machine. The knee lever that allows you to lift up the presser foot temporarily and move your quilt over a few inches is a real time saver and allows you to keep both hands on the quilt so it doesn't slip as you lift the presser foot. The automatic thread cutter on the pedal is also awesome. Love the speed control, needle raiser, etc. etc. etc. It is ONLY straight stitch but that doesn't matter to me. Another review says this size handles a king size quilt with ease - I'm only doing a double but I can see where it would be doable - plenty of room for maneuvering the quilt - throat is longer and higher. I got so much quilting done this morning, which is a good thing, because the girl I was making this quilt for last summer for her wedding is now pregnant. In my defense I moved out of my home of 23 years to follow my hubby's job, but still, I was starting to think I would never finish. I think it will be done this weekend - it is just flying along now. Other reviews I read: a real workhorse, you won't be disappointed. I agree completely. I'm totally re-psyched about quilting now and will get going on all my projects that have sat uncompleted because I didn't have the right tool. And I didn't pay $8000 either! Finally, this baby arrived in two days and was free shipping. Good luck finding a better price. I would def order again from this company.

Juki TL-2010Q
Jul 8, 2011
Elizabeth Belluomini
Fresno CA US
Having only used one other sewing machine brand for 60 years, I purchased a Juki Brand. I am very happy with this portable machine. There are so many wonderful automatic features. I like the ease of the transition from standard sewing machines to the Juki TL-2010Q. Great machine!
Rating:
Global Rating: 4.95 stars from 19 reviews
View All Reviews