FREE Shipping on orders $49 and up.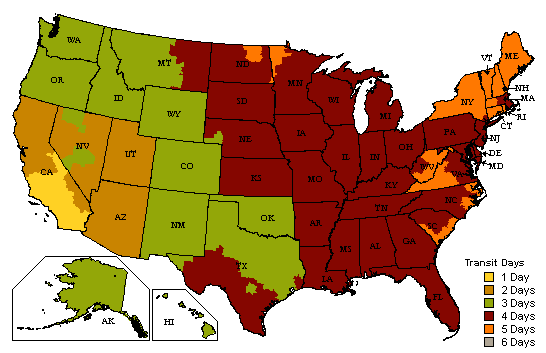 Most orders are processed and shipped same day. Orders placed on Friday after 3pm, Saturday, or Sunday are processed on Monday. Processing and shipping does not take place on weekends or holidays.
Within the continental United States (the contiguous 48 states), Shipping is FREE to customers on orders over $49. Orders being shipped to Hawaii, Alaska, Canada, APO's, FPO's and DPO's are not eligible for free shipping. Also, the free shipping policy does not apply to large or heavy items that require special shipping methods such as assembled industrial sewing machines and some sewing cabinets.
Call 800-401-8151

To Speak With An Expert Sewing Consultant
We'll help you find the perfect product and provide lifetime support for any purchase. E-mail us here.
Janome
SKU: smp-6275277700
Janome New Home Memory Craft 7700QCP Sewing and Quilting Machine | JNHMC7700QCP with FREE BONUS


Call 800-401-8151 For Details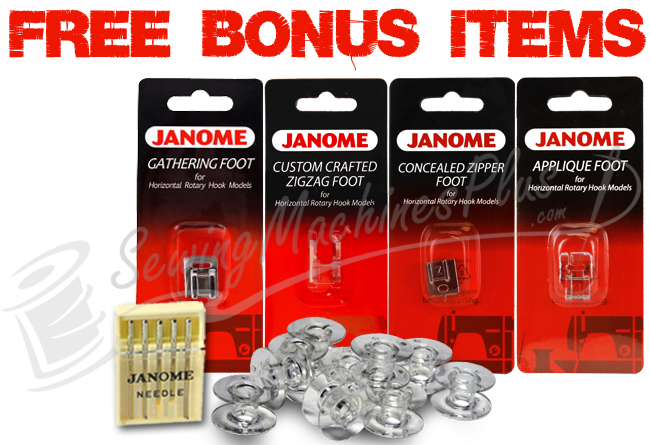 Enjoy these FREE BONUS items found in our Value Package. These accessories will give you everything you need to take your Sewing and Quilting to the next level!
FREE BONUS Value Package Includes
FREE Janome Gathering Foot
FREE Janome Custom Crafted Zig Zag Foot
FREE Janome Concealed Zipper Sewing Foot
FREE Janome Applique Sewing Foot
FREE Janome 10 Pack of Bobbins
FREE Janome Universal Assortment of Needles 5 Pack
Accessories may be substituted if we run out of stock. Packaging might vary.
---
Janome New Home Memory Craft 7700 QCP Computerized Sewing & Quilting Machine
The Janome New Home 7700 QCP is replacing the Janome Horizon 7700 QCP.
The JNH MC7700QCP is built on the most popular Janome Memory Craft model ever for quilting and sewing. Janome has taken everything that sewists love about the Janome 6600P, added the features they've always wished it had (and thrown in a few more for good measure), and created what will become the most coveted machine in the sewing world!
When looking at the Janome New Home Memory Craft 7700QCP, Janome excellence is obvious from the outside - Superior Engineering provides innovative technological advantages. But this exterior quality is reinforced with amazing integrity on the inside. A cast metal frame provides trustworthy support - ensuring your Janome will stand any test. This die cast metal frame is unique in the sewing industry, and sets Janome products above our competition. It is the basis for the superior stability and quality of Janome products.
The Janome New Home MC7700 QCP has some eye-opening features!
It boasts a free arm.
11 inches of work space (the 6600P has 9 inches).
An automatic plate converter for straight stitch sewing.
Accufeed.
250 stitches.
A high visibility LCD touchscreen.
Sewing speeds of 1,000 stitches per minute.
Five ultra-bright LED lamps.
Superior Plus Feed System.
It's the machine you've been waiting for. This is truly the ultimate sewing and quilting machine.
Key Features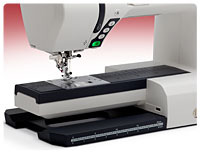 Foot Long Free Arm.
A big arm for big projects. This is the longest free arm on a Janome machine.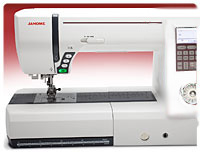 11-inch x 4.7-inch Work Area.
You have more space for big quilts, slipcovers and window treatments.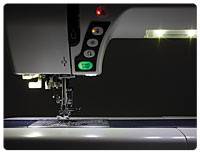 Shadow-Free Sewing.
You have to be able to see what you're doing. Good lighting reduces eyestrain so you can sew for hours and not feel tired. The 7700 has 5 ultra bright LED lamps in three locations across the machine.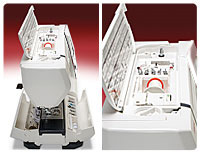 Double Accessory Bins Plus Upper Storage.
Lots of places to store all those standard accessories.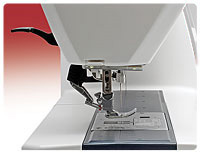 AcuFeed System.
The AcuFeed system feeds the top fabric layer in perfect sync with the bottom layer. It is effective on everything from thick quilt sandwiches to fine heirloom fabrics.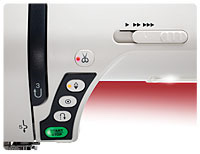 Sew Up To 1,000 Stitches Per Minute.
The 7700QCP is fast, sewing a straight stitch up to 1,000 stitches per minute. Yet each seam is made with beautiful accuracy. Whatever speed you choose, you feel in complete control. For intricate work, there's also a slow start/stop function.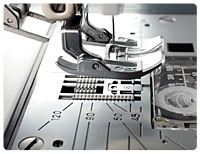 Superior Plus Feed System.
Say goodbye to puckering, shifting and slipping. SFS+ is a Janome engineering exclusive. It combines a patented advance cam mechanism with unique 7-piece feed dogs that stay parallel as they move up and down to maintain constant contact with the fabric. This 'flat feed' method has always been standard on the highest level Memory Craft machines. The tradition continues with its inclusion on the JNH MC7700.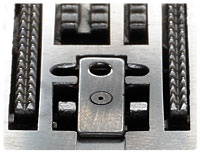 Automatic Plate Converter (APC).
Activated on three main straight stitch options to create a single round needle hole. Makes straight stitching more precise than ever.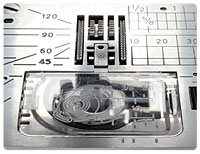 Innovative, Patented Needle Plate Markings.
More of everything: angles, needle drops, cornering guides and seam lines. Do complex measuring right under the needle.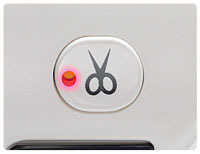 Automatic Programmable Thread Cutter.
Trims tails to less than half an inch and pulls needle thread to the back.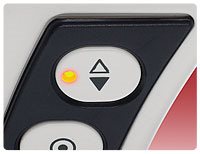 Memorized Needle Up / Down.
Save time as you go from seam to seam.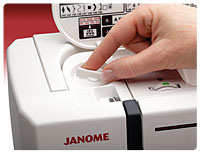 Extra Foot Pressure.
It's important for the presser foot to have enough force to keep the fabric from slipping. The 7700 gives you seven levels of professional-grade pressure from which to choose.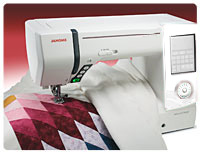 Rigid, Die-Cast Aluminum Body.
The 7700 is as solid as a rock, even when sewing at high speeds.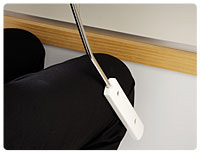 Adjustable Knee Lifter Is Standard.
Sometimes you need both hands on the fabric when you raise the presser foot. The Knee Lifter lets you raise the presser foot with your knee. The handle adjusts to your most comfortable position.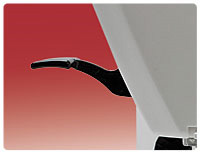 Extra High Presser Foot Lifter.
Easily accommodates layers of fabric.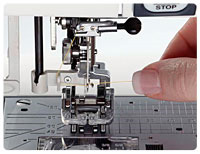 Built-in Needle Threader.
Thread your needle with the push of a button.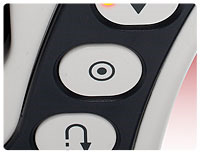 Lockstitch Key For Perfect Finishing.
Auto thread tie-off can be programmed into stitch combinations.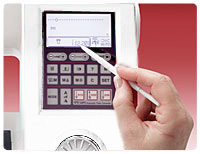 High Visibility LCD Touchscreen With Stylus.
Use your finger to navigate or touch the screen with the stylus.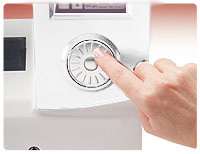 Tactile Jog Dial.
Spin forwards or backwards through your stitch choices. It's as fun as it is functional.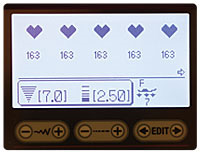 250 Stitches To Play With.
You can choose from 250 stitches, including 11 buttonholes and three monogram fonts. The hundreds of stitches are arranged in 11 groups for easy reference. Typical groups are Heirloom, Quilt, Appliqué, Pictograph, and Play. You'll also find candlewicking, hand-look quilting, and new ribbon border stitches.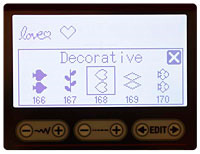 Save Your Stitches In Twenty Memory Banks.
You can combine stitches on your machine to create original designs all your own -- up to 50 characters long. You can even program a lockstitch at the beginning and end. Twenty memory banks provide plenty of room to save them. Retrieve your stitches with ease at the touch of a button.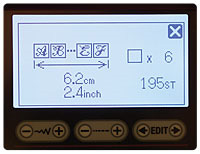 Pattern Stitch Length Calculation.
Size decorative stitch combinations to perfectly fit a given space.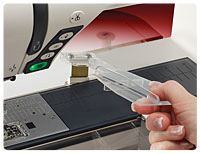 Exact Seams Without Measuring.
Simply set the machine's manual Cloth Guide (Optional) to your seam width and save a lot of measuring and marking. It attaches to a track on the back of the bed. It is set using the convenient ruler/scale markings that go all the way up the arm. The Cloth Guide can even be used with the extra wide table (an Optional accessory).
Additional Features
250 Stitches and 20 memory banks.
11-inch x 4-inch work area with an extra long free arm.
Navigate via LCD screen or tactile jog dial.
Acufeed System moves layers in perfect sync.
Automatic Plate Converter (APC).
Quilt Piecing System is an amazing synergy of precision.
Full length measuring markings on arm plus needle plate angles, cornering guides and needle drops.
Included Accessories
1/4 inch seam foot O.
Automatic buttonhole foot R.
Blind hem foot G.
Border guide foot.
Button sewing foot T.
Convertible free motion quilting foot QB-H.
Cording foot H.
Dual feed foot AD.
Open toe satin stitch foot F2.
Overcasting foot C.
Overedge foot M.
Rolled hem foot D.
Satin stitch foot F.
Zipper foot E.
Zig zag foot A.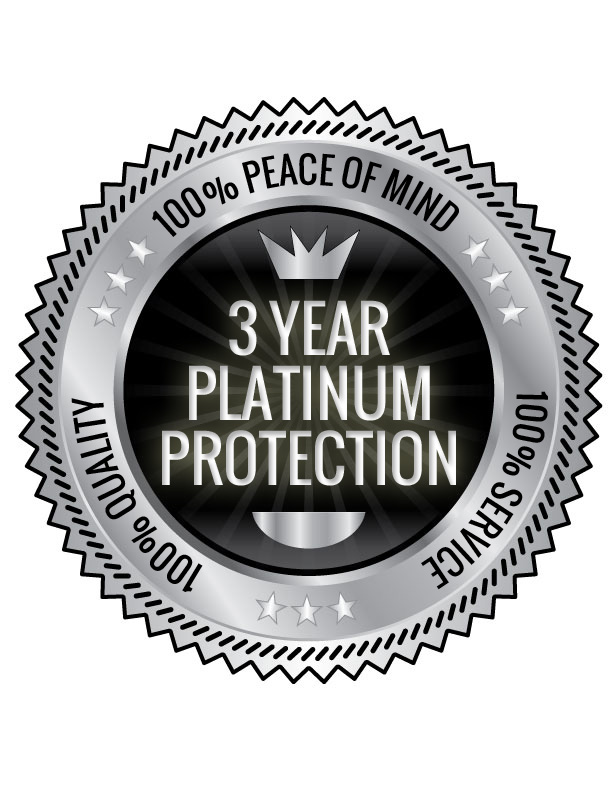 3 Year Platinum Protection Warranty
Add on a 3 Year Platinum Protection Warranty During Checkout For 100% Peace Of Mind!
SewingMachinesPlus.com is proud to offer its Platinum Protection Plan, for sewing, embroidery, longarm quilting and overlock machines sold in the U.S.A.
NO REPAIR BILLS
COVERED PARTS AND LABOR
1 YEAR FREE SHIPPING
NO DEDUCTIBLE
COVERS NORMAL USAGE
PEACE OF MIND
Your purchase is not complete until you add the security of a SewingMachinesPlus.com Platinum Protection Plan. You depend on your Sewing machine to work hard for you. When a problem arises and a repair is required, you need it fixed as fast as possible. But then you�re faced with a costly repair bill. Are you and your budget prepared? Especially when you have no way of knowing when or how often the machine may need service?
Now you can relax. With our SewingMachinesPlus.com Platinum Protection Plan, out-of-pocket expenses are completely eliminated for your sewing machine repairs. The plan guarantees to pay all covered parts and labor beyond the original warranty. It�s peace of mind protection you can count on. Don�t put it off! Protect your investment and pocketbook with affordable coverage.
Warranty Summary
This warranty covers parts and labor for 3 years.
Used under normal home sewing conditions.
Consumable items not covered; (needles, bobbins, bobbin cases, springs, and belts)
The warranty does not cover improper use, abuse, commercial or industrial use of machines.
The warranty does not cover flood, fire or other acts of nature.
Call SewingMachinesPlus.com if you have any questions. This is one of the best platinum protection warranties available for your sewing machine!
Need more supplies? Find them below!

Just add them to your bag below.
REVIEWS

Global Rating: 5.00 from 12 reviews
Add your review of this product
Theresa
Sep 10, 2016
Theresa Wood
Norwalk CT US
I have had my MC 7700CPQ machine for 5 months now and am so glad I bought it. I own two Janome embroidery machines, MC350 and MC9700, as well as a Janome Threadbanger heavy duty craft machine. I just love the Janome brand and find them so easy to work with. My new MC7700 CPQ with its 11" throat makes quilting so much easier to do. I love the many variety of stitches available on the machine and the ability to make my own name labels for my quilts and keep it in a memory to be pulled up to use again.

Janome Memory Craft 7700 QCP
Mar 30, 2016
Sharon Shadbolt
Tahuya Wa US
As always a great product. This machine is very good at making a project easier to do. I love all the bells and whistles that make it always fun to try something new.

Awesome Machine!!!!
Mar 9, 2016
Sharlene Vincent
Groves Te US
I love this machine it is awesome, sews like a dream and free motions beautifully all I can say is I wish I would not have waited so long to purchase one it is the best thing I ever did for my sewing adventures!!!

Janome
Oct 7, 2015
Juanita Johnson
Houston te US
Love it! So many options to work with. Just can't stop!

Great Machine!!
Oct 7, 2015
Robin Graham
Rohnert Park Ca US
I got this's machine last summer, had a Juki 98TL that I did my machine quilting on, sold it with a Grace frame, but due to a shoulder injury could no longer stand for long periods to machine quilt. This machine does it all and beautifully I might add. Have machine quilted with no problems, I have used the built in walking foot to embroider some fancy stitches on my crazy quilt project, but mostly it is used to machine quilting because that's what it does best for me!! It can go thru many thicknesses and not have a problem. The throat space is ample to get quilts through that are rolled up, and you can program it to remember what stitch length and width you use for a variety of projects. Would definitely recommend this machine. You won't ever need another one after using this one!!

Janome
Oct 7, 2015
Elizabeth Metheney
Lebanon Mo US
I've had this machine for a few years and really enjoy piecing on it and all of the decorative stitches. I've found it to be a little picky when free motion quilting about what kind of thread to use-- does best on aurifil. I've had to have it in the shop once with an issue with the bobbin holder but was an easy fix. I truly like this machine and def recommend

Dream machine
Oct 7, 2015
Carol Hydeman
Tucson Ar US
I've wanted this machine for quite awhile. Upon notification that Janome prices would be going up, it was easy to make the purchase. Everything about online purchasing from sewingmachinesplus.com is fabulous. I felt that way 5+ years ago when I purchased a Juki and it is still true. The customer service, free and fast shipping, and quality of this brand are all outstanding. I've sewn on many machines, new and vintage, and this one is the sweetest by far. I'm having superb results, as well as great fun learning the many features of my Janome. Don't hesitate to purchase a great machine from an outstanding dealer.

Janome 7700
Mar 30, 2015
Theresa Wyldes
Harvard Il US
Love this machine! So easy to use great thread saver to. Wish I would of bought this machine earlier!

Super Sewing Machine
Mar 21, 2015
Kimberly Schimmel
Greensboro No US
11 inches of work space makes a real difference to me, as I do bridal sewing and can really use more space to maneuver bulky tulle and long skirt panels. The accufeed feature and fast sewing speeds also help with the multiple layers and miles of seams in a wedding gown. Although I don't quilt, this machine seems like it would be great for that purpose as well. LED lighting of the work area is wonderful for aging eyes or for preventing strain in younger eyes. The knee lift for the presser foot is another feature I came to appreciate while using an industrial machine. Having one on a home machine is wonderful, as I can keep both hands on my work while lifting the presser foot for pivots at corners. With 250 stitches, I can't ever imagine using them all--but I will certainly try! The capability of combining stitches and saving the combinations in memory is another feature I will have to play around with. I can take my sewing to a whole new level with this machine.

MY NEW MEMORY CRAFT 7700
Dec 23, 2013
BONNIE G BRAGG
OAK HILL WV US
I RECEIVED MY NEW MACHINE ABOUT 3 WEEKS AGO. I HAVE USED IT EVERYDAY. READING, LEARNING ABOUT ALL THE STITCHES. IT SEWS LIKE A DREAM! VERY QUIET. MY HUSBAND BOUGHT IT FOR ME FOR CHRISTMAS 2013. I HAVE A JENOME (KENMORE) THAT I HAD BEEN USING FOR 5 YEARS. I RECENTLY STARTED QUILTING AND I WANTED MORE FROM MY MACHINE, I DID SOME RESEARCH, AND THIS MACHINE WAS ON SALE, SO WE JUMPED AT THE CHANCE TO UPDATE! I JUST LOVE IT!

Here's to new horizons in sewing!
Oct 25, 2013
Sarah
Well, Janome has succeeded once again by listening to what their customers wanted, improving on those thoughts, and now we have the Horizon 7700. When I got my Janome 6500 when they first came out, I fell in love with it. I had had other top-of-the-line machines from other top companies, but I just hadn't loved them the way I did the 6500--it was my perfect machine. Or so I thought; then I tried the 6600 when it came out, and realized it was even better! Once again, I couldn't imagine how a machine could get better, except maybe to have even more harp space. And now we have it, the Horizon 7700! Recently, I gave the 7700 sewing machine a quick test drive, and (as I always do) tried to make it sew poorly by using poor technique when free-motion quilting. I couldn't get it to sew badly! The automatic tension worked like a dream, and Oh! the extra harp space and light! Plus, there are some cool new features like the automatic straight-stitch throat plate and some really fun decorative stitches. I was a bit leery of the touchscreen because I prefer knobs and buttons, but the touchscreen was intuitive and easy to use on the first try even for someone like me! I am really looking forward to years of sewing on the Horizon 7700--a sewing machine that is a great value for the price. I'm in love all over again...here's to new horizons in sewing!

Janome New Home MC 7700QCP
Aug 3, 2013
Andrea Miller
Normal IL US
I love this machine! I own several high end machines, but the box feed system is exceptional on the MC 7700QCP. Using the dual feed system built in this machine is wonderful for the quilting and sewing on bindings that I do. The price is excellent for all the many features and quiet and smooth operation of this machine. I highly recommend this machine. You definitely won't be disappointed for the price as compared to other brands with the same features.
Rating:
Global Rating:5.00 stars from12 reviews
View All Reviews