Janome Memory Craft 11000 Embroidery and Sewing Machine
The heights of your creativity and imagination deserve the tools to set them free. The Memory Craft 11000 unites precision sewing, on-board embroidery editing, and endless creative possibilities in a single, superior sewing machine. Professional-Style embroidery has never been so easy!
Whether your primary use is embroidery, quilting, garment sewing, or crafting, you'll find every feature that you need to take your creativity to new heights.
General Features
Moveable i-height full-color touchscreen.

640 x 480 screen resolution.
65,536 colors.

On-board help movies.
Extra wide work area. More than 9 inches to the right of the needle.
Independent bobbin winder.
Programmable thread cutter.
Computer controlled automatic tension.
Automatic thread tension control.
Automatic drop feed mechanism.
Sensors.

Upper thread.
Bobbin thread.
Presser foot.

7 piece feed dog with auto drop.
Stitch editing.

Memory.
Cancellation.
Turn-over.
Elongate.

Built-in memory.
Easy access accessory compartment in top lid.
One-piece sewing light.
Automatic needle threader.
Start/Stop button.
Eight white LED lamps.
Multi-language designation.
Sewing Features
307 Decorative and Utility stitches, plus 13 one-step buttonholes.
Regular sewing speed: 860 spm with variable speed control.
Twin needle guard.
Start / Stop sewing button.
Instant switch over.

Embroidery to regular sewing.
Regular sewing to embroidery.
Embroidery Features
122 built-in embroidery designs.
10 Monogram fonts with European letters.
Three built-in alphabets.
Two and three letter monogramming.
Robotic Precision.
Superior data transfer. Import and export designs via direct PC connection, ATA PC card, USB memory device, optional USB CD drive, or wireless StitchLink.
PcFolder tool.
Maximum embroidery size: 8 inches x 11 inches.
Embroidery speed 60-800 spm.
Change colors to favorite thread (Janome, Robison-Anton, Madeira, Mettler).
Embroidery area tracing.
Easy drag & drop for editing placement.
Key Features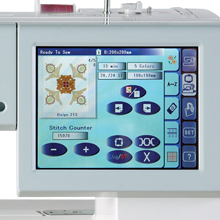 Moveable i-height screen.
It's the biggest, most colorful screen ever made by Janome. It's also the only one that moves. With the push of a button, you can move the screen up or down to find your best height and see every stitch in true color.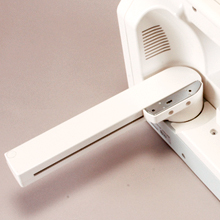 Robotic Precision.
The Rolling Linear Motion Guide moves the embroidery hoop with an accuracy never before seen in the home embroidery market. Janome used the same technology found in industrial desktop robots in the design for the MC 11000.
Extra Wide Work Area.
With the screen in the up position you get more than 9 inches (234mm) of working space to the right of the needle. This is the largest arm and bed space of any home embroidery machine.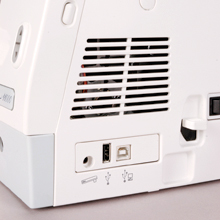 Superior Data Transfer.
Import and export designs using many methods.
• Direct PC connection.
• ATA PC Card.
• USB memory device.
• Otional USB CD drive (read only).
• Optional wireless StitchLink.
The PcFolder Tool accesses designs on your computer as if they were just in another folder on your Memory Craft 11000.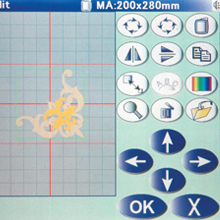 Powerful On-Board Editing.
Bring in designs from multiple sources. Cut, copy, paste, flip, rotate, rescale, zoom in and see your layout in 3D. Everything is in bright, true colors. The giant i-height screen makes it simple to drag and drop.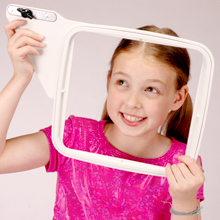 Largest Square Embroidery Hoop.
Square is the best shape for embroidery, and the Memory Craft 11000 has the largest Square Hoop on the market at 8 inches x 8 inches (200 x 200 mm). There's also a Standard hoop at 5 inches x 4 inches (126 x 110 mm), plus two optional hoops: Macro 8 inches x 11 inches (200 x 280 mm) and Free Arm 2 inches x 2 inches (50 x 50 mm).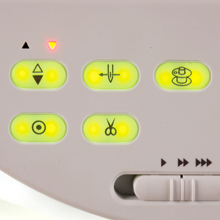 Time Saving Features
The Memory Craft 11000 is loaded with features to make your sewing faster and easier. Features like the programmable thread cutter, independent bobbin winding, automatic needle threader and a knee lift.
Standard Accessories
1/4 inch Seam Foot O.

Sews a 1/4" seam allowance quickly and accurately. Great for piecing quilts and topstitching.

Blind Stitch Foot.

Overcast the raw edge and blind hem, all in one easy step.

Bobbins (plastic).

Button Sewing Foot.

Holds buttons, snaps, hooks and eyes in place while sewing.

Cording Foot H.

Slots in this foot will hold one to three lengths of cord in place. Stitches form over the cords.

Embroidery Bobbin Thread.

Generous 800 meter spool of smooth feeding bobbin thread. Recommended for Janome computerized embroidery machines.

Embroidery Foot P.

For Professional-Style Embroidery.

Hemmer Foot 2mm D.

The Hemmer Foot creates straight, professional rolled hems on lightweight fabrics up to 2mm. The channel guide holds the rolled fabric and allows for a straighter hem.

Lint Brush.

Use it to brush away lint.

Overlock Foot C.

Use with an overcast stitch to wrap thread around the edge of your fabric to prevent raveling.

Satin Stitch Foot F.

For dense zig-zag stitching. Bottom of foot is beveled for smooth delivery of thread when sewing decorative or satin stitches.

Sliding Buttonhole Foot R.

Perfect buttonhole will be sewn automatically to match button. Also used for "Quick Darn" on Memory Craft Machines.

USB Cable.

For direct PC-Link to computers with an available USB port. Send your unique embroidery designs to your machine in seconds.

Zipper Foot E.

For use when sewing in zippers.
Button shank plate.
CD-ROM.
Embroidery hoop "SQ" (8 inches x 8 inches).
Embroidery hoop "ST" (5 inches x 4 inches).
Feet.

Darning foot.
Walking foot.

Felt.
Foot control.
Hand book CD.
Icon reference Chart.
Instruction DVD.
Knee lifter.
Optional items catalog.
Quilter guide (small).
Quilting bar for walking foot.
Red tip needle set.
Scissors.
Screwdriver (large).
Screwdriver (small).
Seam ripper.
Set of needles.
Spool holder (large).
Spool holder (small).
Spool pin.
Spool supporter.
Stabilizers.
Touch pen.
Specifications
One step instant switch to / from embroidery mode.
7.5 inch moveable i-Height screen.
Storage.

ATA PC Card.
USB Memory Key.
Direct PC Link.
MC11000 CD-ROM.
PC Cards.

Multi-Folders (embroidery).

Built-in Memory: 1 folder.
ATA PC Card/ USB Memory Key: Unlimited up to 1 gig.

Multi-Folders (conventional).

Built-in Memory: 1 Folder.
ATA PC Card/ USB Memory Key: Unlimited up to 1 gig.

Eco mode: 1-30 min. + Off.
Knee lifter.
.JEF+ Embroidery format.
Outer Memory Device.

ATA PC Card.
USB Memory Key.
Direct PC Link.
MC11000 CD-ROM.
PC Cards.

8 inch x 11 inch Maximum embroidery field.
400-800 SPM Embroidery sewing speed.
10 Monogramming fonts.
Built-in designs.

Macro: 6.
Free Arm: 31.
Square: 34.
Standard: 51.

2 & 3 Letter monogramming emblems.
Giga hoop embroidery: Macro hoop.
Free arm embroidery.
Favorite thread selection.
Embroidery area tracing.
Standard hoops.

Standard 5 inches x 4 inches.
Square 8 inches x 8 inches.

Number of programmed languages: 10.
Built-in memory (embroidery).
Drag and drop for design position adjustment.
Arc layout.
80% - 120% Re-sizing (design).
Copy / Paste.
Design combination.
Zoom function.
Flip (vertical / horizontal).
1 - 45 degrees clockwise and counter-clockwise rotation.
Memory indicator.
Embroider time indicator (improved).
Embroidery stitch counter every 10 stitches.
Maximum sewing speed: 1000 spm.
Stitch package: 307 Stitches.
3 Lettering stitches.
13 Buttonholes.
Built-in memory (ordinary sewing).
Twin needle guard.
Computer controlled thread tension control.
Sensors.

Upper thread sensor.
Bobbin thread sensor.
Presser foot sensor.
"P" foot sensor.

Bottom storage compartment.
Automatic drop feed mechanism.
8 White LED lamps.
Hard cover case.
FREE Digitizing Software
Scan your photos or images into the computer. You can also load them from a CD or the Internet. Use the Wilcom Truesizer digitizer to turn it into an embroidery design!
Limited Warranty
Mechanical: 25 years.
Electronic: 5 years.
Labor: 1 year.
Need more supplies? Just check the boxes and click "Add to Cart" to pick up everything at once!