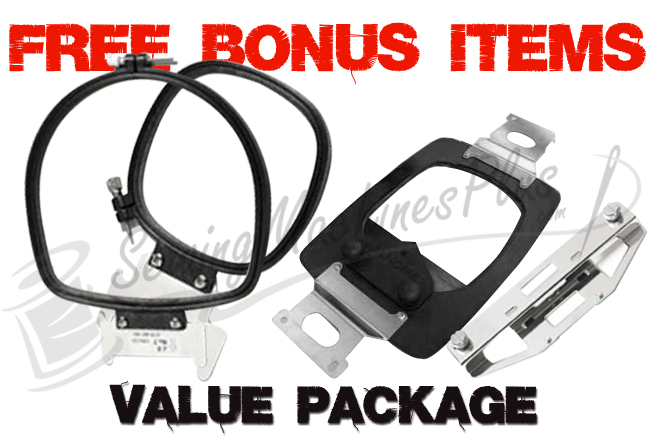 Enjoy these FREE BONUS items found in our Value Package. These accessories will give you everything you need to take your Sewing and Quilting to the next level!
FREE BONUS Value Package Includes
FREE MB4 Hat Hoop (100mm x 60mm)
FREE Lettering Hoop Holder Unit
FREE No.7 Lettering Hoop J8 (25 x 121)
FREE No. 9 Lettering Hoop J6 (66 x 66)
Accessories may be substituted if we run out of stock. Packaging might vary.
---
Janome MB-4 Four Needle Embroidery Machine
The Janome MB-4 is the "World's First" home-use four-needle embroidery machine! Everything you love about Janome embroidery with four times the capacity! And so easy! Just set up your embroidery and move on to other projects while the MB-4 gets it done.
The MB-4 works with most embroidery formats, including those used by industry professionals. It can use six industry-standard Tajima hoops, as well as the four available Janome hoops to further expand your creative opportunities.
Features
Backlit LCD screen.
Auto thread cutter.
USB memory key compatible
ATA PC card port and USB port (Host) on RCS; USB port on MB-4
Compatible with Janome software
Embroidery speed up to 800spm
Built-in features:

Built-in Designs: 50
Fonts: 10
Monogramming: 2 & 3 letter
Expanded built-in memory

Change colors to favorite thread: Janome, Robison-Anton, Madeira, Mettler
Drag & Drop editing for easy placement
Embroidery design resize 80% - 120% by 1%
Rotate in 1 and 90 degree increments (clockwise / counter clockwise)
Flip vertically and horizontally
Standard hoops:

M1: 9.46" x 7.88" (240mm x 200mm)
M2: 5" x 4.3" (126mm x 110mm)
M3: 50mm x 50mm

Embroidery area tracing
My SET screen controls for contrast, in/cm, designation and other customization
Zoom in and out
Multi-language selection
Stitch-out time indicator
Stitch Counter
Upper thread and presser foot sensors
Manual thread tension control
Ball bearing precision
Key Features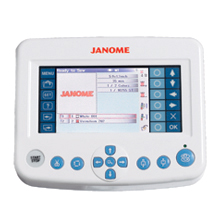 Remote Computer Screen (RCS).
The Remote Computer Screen (RCS) gives you total set-up and editing control with up to 65,536 colors. One RCS can power many machines, saving the cost of additional controllers.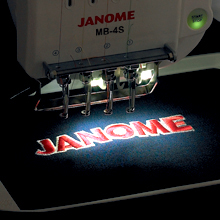 LED Light.
The LED Light offers precise lighting for outstanding results.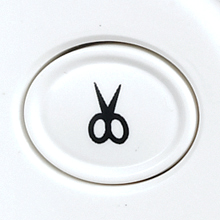 Automatic Thread Cutter.
The MB-4 automatically cuts jump threads - even between letters - saving you time and hassle.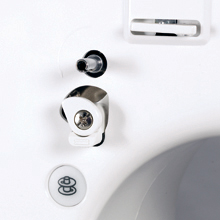 Dedicated Bobbin Winding Motor.
This feature - not found on professional machines - winds new bobbins even while the machine is stitching a design.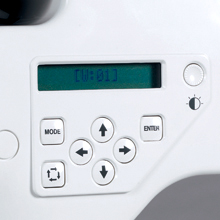 On Board Control,
The MB-4 includes an on-board sub-control device. You can use it without the controller! The MB-4 also includes 3 MB of memory which can store up to 1,500,000 stitches or up to 100 designs.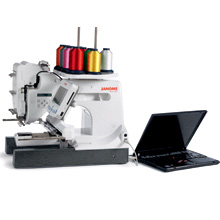 Link Directly to PC.
The on-board USB slave port connects directly to your PC with Digitizer MB software, sold separately.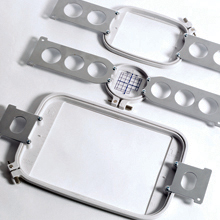 Embroidery Hoops
Three included MB-4 hoops snap in and out with ease. They provide the embroidery areas most often used in the industry. The MB-4 is also fully compatible with industry-standard Tajima hoops.
Standard Accessories
Bobbins.
Needle (DB x K5Q1-NY).
Needle Threader.
Felt Ring (large).
Felt Ring (small).
Hoop M1 (240 x 200).
Hoop M2 (126 x 110).
Hoop M3 (50 x 50).
Hoop Supporter.
Spool Caps.
Spool Net.
Spool Pin.
Spool Rest.
Spool Stand.
Lint Brush.
Thread Guide Bar.
Thread Guide Pole.
Tweezers.
Seam Ripper.
Scissors.
Offset Screwdriver.
Screwdriver (large).
Screwdriver (small).
Setscrew.
Accessory Box.
Oiler.
Power Supply Cable.
Instruction Book.
Instructional CD-ROM.
Specifications
Single head 4-needle embroidery machine.
Upper thread breakage sensor.
Built-in auto thread cutter (needle & bobbin threads).
Thread cutter for bobbin winding.
Needles.

Number of needles: 4.
Type of needles: DBxK5Q1NY #11.

Speed.

Maximum speed: 800 spm.
Low range speed: Up to 400 spm.
Bobbin winding speed: 2,000 rpm.

DB rotary hook (full rotary).
Machine control: By Remote Computer Screen (option) or Sub-Control Panel.
Sub-Control Panel: LCD with backlight (H12 x W63mm).
Lay-in thread tension (manual adjustment).
Independent bobbin winding (with independent start button).
Upper thread holder spring on the face plate.
Direct PC-Link.
Embroidery format compatibility: jef+/jef (Janome) & DST (Tajima).
Control keys.

Mode key (*2).
OK key.
4 Jog-keys.
Forward / Reverse stitch keys.
Manual thread cutting key.
Start/Stop key (on Remote Computer Screen and Sub-Control Panel).

Resumption setting / My Set (with Remote Computer Screen).
3 Hoops.
White LED x 2 sewing lamp.
Spool stand (incl. 1 for bobbin thread & 4 additional spool).
Cylinder shape of bed.
Skeleton (clam shell) body construction.
DC motor.
Machine size: W365 x H640/(440*) x D520 mm.
Bed width: W299 x H130 mm.
Machine weight: 20.5 kg.
Packing size: W450 x H620 x D660 mm (*1).
Gross weight (incl. packing): 29 kgs (*1).
<
Limited Warranty
Janome America, Inc. Limited 1 Year Warranty.


Global Rating: 5.00 from 1 reviews
Add your review of this product
Owner
Aug 27, 2013
Luciano Galleguillos
Spreckels CA US
This machine is fast, accurate, easy to use... I had a Singer three in one, but I had too many jams while embroidering. This machine do not stretch your fabrics, and everything you need to start is online (you tube)
Rating:
Global Rating: 5.00 stars from 1 reviews
View All Reviews

Overall Store Rating
(
8.97
/10) 3425 reviews
Rating:
10
/10 - Date: 05/22/2016
Although there was a small glitch with the handi quilter tracking information being sent, the reps at sewing machines plus we're very quick to find out the information and respond back. I am very s...
marthajanebarfield, real customer review
Rating:
10
/10 - Date: 05/22/2016
This is my second sewing machine purchase from Sewing Machines Plus. I find their service and pricing to be excellent. Reliability in both product and seller is important to me.
unity_777, real customer review
Rating:
10
/10 - Date: 05/22/2016
I had ordered a sewing machine for my daughter, " Brothers 6800 ", had no problem with any part of buying to shipment, since it went to a different address, and state. My daughter is so happy with...
b52motha, real customer review
Rating:
10
/10 - Date: 05/22/2016
Received my new vacuum cleaner in no time. I love my new Miele! Thanks Sewing Machines Plus!
barriecogburn, real customer review
Rating:
10
/10 - Date: 05/21/2016
Sewing Machine Plus' website is very user-friendly with very competitive prices. I love to just "window-shop" on their website. The customer support staff are knowledgeable, helpful, and friendly....
ljean32958, real customer review
Rating:
10
/10 - Date: 05/21/2016
I received my package quickly and the price was the best on the Internet.
whateverjody, real customer review
Rating:
10
/10 - Date: 05/20/2016
I'm very happy with my 23 inch Bluefig travel bag. The Baby Lock Crescendo fits easily with room to spare for supplies. I especially like the inside strap to secure the machine and the twin full le...
bfeady, real customer review