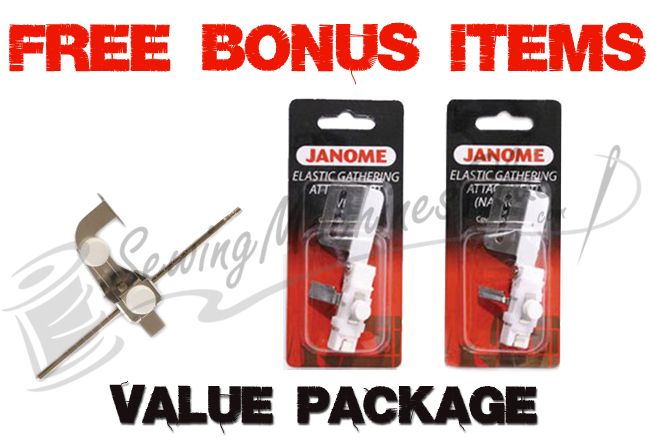 Enjoy these FREE BONUS items found in our Value Package. These accessories will give you what you need to start right away and keep you working!
FREE BONUS Value Package Includes
FREE Janome Adjustable Seam Guide
FREE Janome Wide Elastic Gathering Attachment
FREE Janome Narrow Elastic Gathering Attachment
---
Accessories may be substituted if we run out of stock. Packaging might vary.
---
Janome 1000CPX Cover Pro
When professionals in the fashion industry finish a garment, they donít just hem it on a sewing machine. They use a cover hem stitch. Now you can achieve the same professional finish with the CoverPro™ 1000CPX from Janome. It gives you the perfection of an industrial model with the ease-of-use of a home sewing machine. And, youíll never have to worry about converting from regular serging to a cover or chain stitch again!
The 1000CPX is a three-needle, four-thread model capable of producing:
Wide 6mm triple-needle cover stitch
Wide 6mm double-needle cover stitch
Narrow 3mm double-needle cover stitch
It has the features and power necessary to finish a huge range of sewing jobs and is the perfect companion machine to your Janome serger.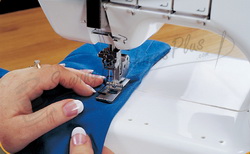 Extra Large Bed Space with Easy Access
The largest sewing space available anywhere: 4" x 5.5" (100mm x 143mm). Such generous space means you can actually make a cover stitch in the middle of a garment.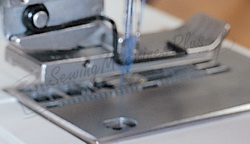 Vertical Needle Drop
The same familiar vertical needle action of a sewing machine allows improved stitching. Extra space around the mechanism makes switching out needles fast and easy. The presser foot lifter is also easier to reach than on a serger.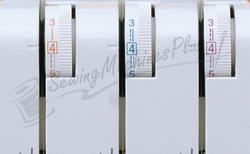 Greater Variable Stitch Length and Differential Feed
The CoverPro™1000CPX leads the competition in stitch length control (1mm- 4mm) and differential feed ratio (0.5-2.25).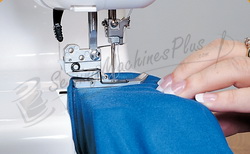 Free Arm Configuration
Finish sleeves, cuffs, waistbands and other hard-to-reach seams faster and with better handling.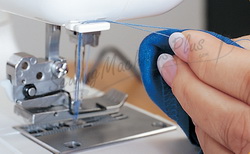 One Hand Thread Cutter
Just like a sewing machine, you can clip your thread tails in one easy motion.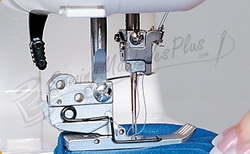 Superior Needle System
Uses the Schmetz ELX705 needle system. Like industrial needles, this special needle has a long groove front and back. It's more reliable than the HAX1SP needle used in most competitive models.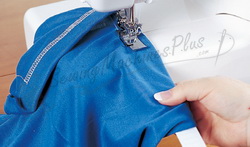 Perfect for Activewear
Fitness, dance, skate, and gymnastics outfits are perfect projects for a CoverPro™1000CPX. Apply elastic within a casing with a beautifully professional finish Ė all in one pass. Save money and boost the creativity of activewear creations.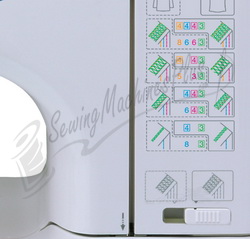 Quick Reference Chart
Located on the front of the machine for easy access, this full color reference guide helps you adjust for a soft or tighter stitch without consulting the manual. The chart clearly displays available stitches, and shows the tension settings for both soft and tighter seams. A color-coded threading chart located in the looper area means guess-free and super quick threading.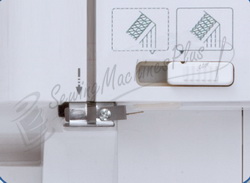 Seam Tightening System™ (STS)
Janomeís exclusive Seam Tightening System™ employs a spring instead of the looper thread tension dial to reduce slack in the looper thread. This allows for a tight, flat, and sturdy stitch on thick fabrics, and a looser stitch on fabrics that require more flexibility.
Features
Seam Tightening System™ (STS)
Convertible free arm
Chain Stitch
3mm double needle cover stitch
6mm double needle cover stitch
6mm triple needle cover stitch
Extra large bed space: 4" x 5.5"
Vertical needle drop
Tension release device
Foot pressure adjustment
Differential Feed Ratio 0.5 to 2.25
Greater variable stitch length and differential feed
One hand thread cutter
Superior needle system
Included Accessories
Set of needles: 5 X #80/12 (Organ EL X 705)
Set of needles: 5 X #90/14 (Organ EL X 705)
Screwdriver (Large)
Screwdriver (Small)
Tweezers
Nets
Spool holder caps
Lint brush
Needle threader
Attachment screws (for fixing optional accessories)
Accessory box
Specifications
Number of Needles: 1, 2, or 3
Bed Type: Free arm/ flat bed convertible
Skeleton type body constructions
Folding carrying handle
Size: W414 x H335 x D243mm
Arm Space to the right of the Needle: 143x100mm
Weight: 8.6kg
Maximum Speed: 1,000 spm
Quick Reference Sticker on front of machine
Manual (built-in) thread tension
Thread tension device that interlocks with presser foot
Foot pressure adjustment with guide lines
Stitch Types: 1 needle, 2 thread chain stitch
2 needle, 3 thread cover stitch
3 needle, 4 thread triple cover stitch
Stitch width (2 needles): 6mm (standard), 3mm (narrow)
Stitch width (3 needles): 6mm (3mm + 3mm)
Stitch length: 1 - 4mm
Differential feed ration: 0.5 - 2.2.5
Seam Tightening System™

No rating yet... Be the first to rate this product!

Overall Store Rating
(
8.93
/10) 2092 reviews
Rating:
10
/10 - Date: 07/28/2015
Good value. Great customer service. Order was followed up with phone calls and emails. Much appreciated.
jpitha41, real customer review
Rating:
10
/10 - Date: 07/27/2015
Items were received promptly and the order was accurate. Thanks.
vxbarnes, real customer review
Rating:
10
/10 - Date: 07/26/2015
Excellent service, great prices, large inventory.
jan_byrne0, real customer review
Rating:
10
/10 - Date: 07/26/2015
Very pleased with the service I goy.
francismccullar, real customer review
Rating:
10
/10 - Date: 07/26/2015
Great communication with seller. Was a little disappointed one item I ordered was out of stock and being discontinued by the manufacturer, but the seller quickly communicated this via email and ref...
ecseteacher, real customer review
Rating:
10
/10 - Date: 07/25/2015
I grew up with a Bernina Record (late60's?) so this one so far seems just fine.
Snowdivil, real customer review
Rating:
10
/10 - Date: 07/25/2015
The experience with Sew Simple was gratifying. The staff was helpful with my questions and even made several calls to me to see if I had any questions or that everything was to my satisfaction. I...
nshawsville, real customer review