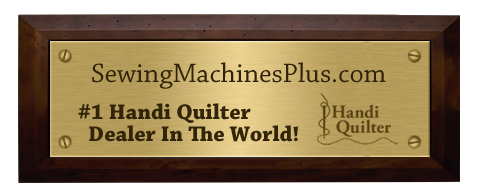 Handi Quilter Sweet Sixteen Long Arm Quilting Machine with NEW TruStitch Stitch Regulator
Introducing the most technologically advanced way to sit-down free motion quilt with stitch-regulation. Handi Quilter's HQ Sweet Sixteen is simply the best way for quilters to tackle projects with a sit-down machine. With the introduction of TruStitch, quilters are now able to create quilt designs with beautifully even stitches.
If you love to free-motion machine quilt but struggle to fit your project in the small throat space of a domestic sewing machine, you'll love the HQ Sweet Sixteen®. Sixteen inches of throat space gives you room to quilt even a king-size quilt. The smooth surface of the included table enables your project to glide under the needle. The powerful motor quilts with ease and stitches up to 1500 stitches-per-minute. Choose your three favorite speed settings, on the easy-to-use color touch screen and let the machine remember them.
Bonus Items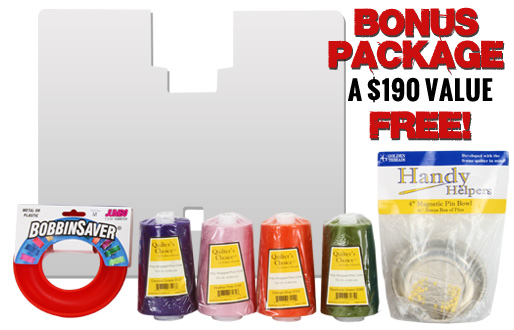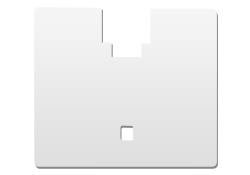 Bonus Item!

HQ Sweet Sixteen Table Overlay
This white plastic overlay attaches to the HQ Sweet Sixteen tabletop to create a continuous surface for use with the TruStitchTM stitch regulator. It includes double-stick tape for permanent installation on the table.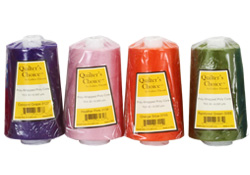 Bonus Item!

4 Spools Quilter's Choice Thread
4 spools of Quilter's Choice thread. Each spool contains 6000 yds. Colors are chosen at random.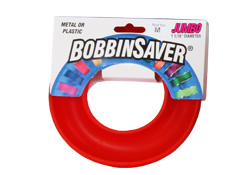 Bonus Item!

Jumbo Bobbin Saver - Red
Holds bobbins that are 1-1/16" diameter.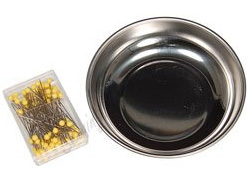 Bonus Item!

Handy Helpers 4in. Magnetic Pin Bowl with Pins
4" magnetic bowl that safely holds pins, scissors, and other metal notions. Securely attaches to metal quilting frames. Comes with a box of 80 pins.
Product Features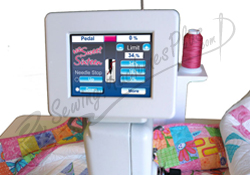 Color Touch Screen
Provides easy access to needle-up and -down and other functions.
Max Speed of 1,500 SPM
Choose from 10 to 1,500 stitcher-per-minute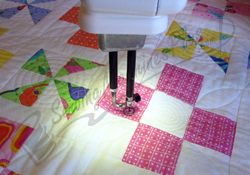 LED Area Lighting
Innovative Light Ring brightens the quilting area with 28 LEDs.
New Enhanced Features
Interchangeable Handi Feet
Quarter-inch ruler foot comes installed; open-toe foot included
Low-bobbin estimator and alarm
Estimates how much thread is on a full bobbin. Sounds an alarm when the bobbin thread is close to running out. Stores bobbin preset values for three different types of thread.
Four basting-stitch options
Basting stitches can be set to every half second, three-quarters of a second, one second, and two seconds.
Quilting alarm and timer
Set an alarm for how long you want to spend quilting. Set a timer to track how much time you spend on a quilt.
Set Language
Screens can be displayed in English, French, Spanish, or German.
Quilt Projects of All Sizes while Seated
Full 16 inches of throat space
Provides more than three times the quilting space of domestic sewing machines
More than 8 inches vertical space
Speeds up to 1500 precision stitches-per-minute
High-speed rotary hook with large capacity M-class bobbin
Useful half-stitch for basting or walking stitch, controlled with touch screen or foot pedal
Smooth 30" x 36" table surface assures even quilting
Additional 18" table extension available for both sides of the table
Hopping foot prevents fabric movement during a full-stitch cycle
Works with HQ rulers for perfect stitch-in-the-ditch and curved quilting lines
Easy-To-Use System Designed by a Quilter, for Quilters®
Easy setup and take-down
Accommodates any thread: cotton, polyester, rayon, metallics, holographic, etc.; allows for bobbin work with larger threads
Change needles easily with thumb screw
Responsive foot pedal
Innovative light ring illuminates the quilting area with 28 LEDS
Can be upgraded to a stand-up machine if desired
Adjustable color-touch screen
Customizable speed control
Save your preferred speed settings. Save one speed setting for slow, controlled quilting; one for free-motion; and another for fast all-over designs
Stitch counters: lifetime and resettable trip meter
Hardware, software and serial number information
Diagnostics
Volume control
Built-in calculator
More Features and Options
Handles any thread: cotton, polyester, rayon, metallics, holographic, etc. Use larger threads for bobbin work.
Stitch counters.

Lifetime count.
Resettable trip meter.

Set your top speed using the intuitive adjustable color-touch screen. Save your preferred speed settings with 3 customizable pre-sets. You can save one speed setting for slow, controlled quilting, one for free-motion and yet another for fast all-over designs.
Change needles easily with Thumb Screw Needle Screw.
Use Half-Stitch for basting or walking stitch.
Responsive foot pedal with half-stitch control.
Innovative Light Ring brightens the quilting area with 28 LEDS.
Use Handi Quilter Rulers for perfect stitch-in-the-ditch and curved quilting lines.
Adjustable Color-Touch Screen includes:

Customizable speed control with 3 customizable settings.
Stitch counters: Lifetime and resettable Trip Meter.
Volume control.
Calculator.
Serial number display.
Hardware and software info.
Diagnostics.

Easy setup and take-down.
Can be updated to a stand-up machine if desired.
ETL Safety Approval: US, Canada, Australia and Europe.
Handi Quilter technology and innovation; same mechanical system as the HQ18 Avanté.
Hundreds of trained Handi Quilter Representatives throughout the world.
Handi Quilter customer service and warranty.
What you'll find in the box
HQ Sweet Sixteen 16" Longarm Quilting Machine
Included Table - Height Adjustable 26"- 42"
4 extra bobbins, 20 needles, sample thread pack
Getting Started DVD
Machine User Manual and instructions
Sweet Sixteen Specifications
Dimensions.

15 Inches wide.
21 Inches high.
31 Inches long.

Weight.

53 lbs.

Handi Quilter Warranty.

2 Years mechanical.
2 Years electrical / electronic.
---
Check out the ALL NEW TruStitch Full Visibility Stitch Regulator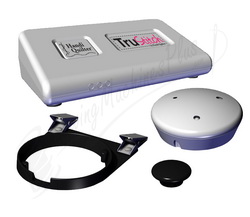 Designed for use with the HQ Sweet Sixteen sit-down longarm quilting machine.
Innovative new stitch-regulation system that measures your movements for choreographed stitch-regulation.
Perfect for all free-motion quilters from beginning to advanced.
Easy to learn how to use and operate the system.
Achieve consistently even stitch lengths, regardless of stitching speed.
Full visibility of quilting area leads to easier quilting and greater flexibility with quilting designs.
TruStitch Components
Coaster
Attaches firmly to the edge of the quilt, allowing more exibility for quilting small projects or quilt borders.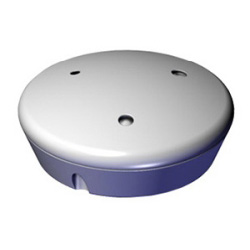 Controller
Advanced sensor that moves in harmony with the quilt to control stitch length.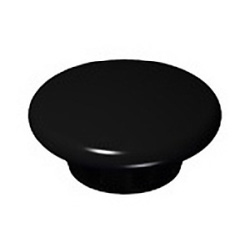 Magnet
Optional-use tool for keeping the controller positioned on the quilt, freeing up your hands for certain techniques and methods.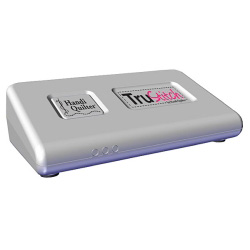 Receiver
The receiver translates the signals from the controller to the machine to regulate stitch length.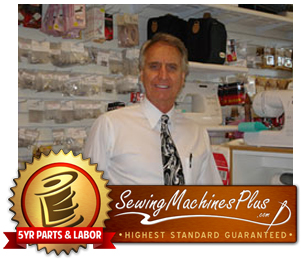 • 5 years FREE Parts & Labor.
• During the FIRST year we will have your machine picked up, repaired or replaced and deliver it back at NO CHARGE. (Just save your box).
• We have 4 experienced mechanics to support you if any problem arises.
I Ron Martin, owner, have 40 years in the sewing machine business & I give my personal assurance.
---
Downloads
Handi Quilter Sweet Sixteen Sale Sheet.


Global Rating: 5.00 from 5 reviews
Add your review of this product
Happy
Mar 11, 2015
Dawn Belveal
Littleton Co US
It was very easy to set up. Have been using it as soon as it arrived. Only issues I've had have been user error.

So happy.
Mar 3, 2015
Twila Morris
Meeker Co US
I received my machine and couldn't ne happier with it. Very small learning curve and I am good to go. Have made some small items already and set to tackle a big one.

Love my machine!
Apr 16, 2014
Sandra Trail
Harriman Te US
Have only had it less than a week and have already quilted 2 quilts. So easy and loads of fun to operate! Gary in sales was exceptional, he really went the extra mile to make sure I was happy. Would recommend this machine and this store to anyone looking for quality machines and superior customer service! Will buy again for sure.

I can't thank you folks enough!!!
Apr 16, 2014
Kathleen Janik
Addison Il
The machine is BEAUTIFUL! Works fine and I feel like a kid on Christmas morning! ! It came with everything I could possibly need to get started....and NO ONE could beat the price and financing you gave me...you've made an old lady VERY happy! I'm sure I have lots of fun ahead with this wonderful machine!

Love my HQ16
Nov 23, 2012
Glenda Matthey
Concord CA
I've had mine for almost a year now. Very few UFOs. Machine is smooth, easy to operate, and mostly, just plain FUN! King size quilts are no problem at all. Glenda from Concord, CA.

Overall Store Rating
(
9.11
/10) 1995 reviews
Rating:
10
/10 - Date: 07/01/2015
outstanding customer servuce
nancyeberle, real customer review
Rating:
10
/10 - Date: 07/01/2015
Got the foot and it hasn't broken yet like the last one.
laceydavis1, real customer review
Rating:
10
/10 - Date: 07/01/2015
I have bought several machine with your company. Very satisfied with your service and your customer service reps. Thanks
jbostock673, real customer review
Rating:
10
/10 - Date: 07/01/2015
I'm very satisfied with Sewing Machine Plus. I received my order sooner than expected!
miryambecco, real customer review
Rating:
10
/10 - Date: 07/01/2015
I will be ordering from them again.
yettiemae, real customer review
Rating:
10
/10 - Date: 06/30/2015
Quick, easy transaction! Fast delivery!
sperry618, real customer review
Rating:
10
/10 - Date: 06/30/2015
Easy and got what I wanted...at least I hope so. Have not been able to use the ordered product yet. But service good.
kmason1712, real customer review