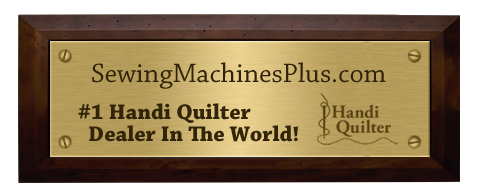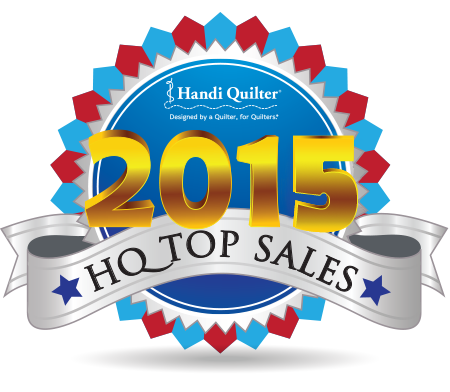 Handi Quilter HQ Sixteen Long Arm Quilting Machine Bundle
ZERO INTEREST CHARGE
Get the special no-interest financing offer NOW! Offer good on all Handi Quilter packages. Give us a call for more information!
Introducing the heavy duty Handi Quilter HQ Sixteen for your next quilting project! This bundle includes the Handi Quilter Studio frame!
Handi Quilter is the leading manufacturer of quilting machines, supplies and systems. Their long arm quilting machines are the highest quality available. Cut down on hand quilting time and make large pieces with ease and efficiency. You can start and finish many projects in a short time with the simple and easy to use features. The affordable Handi Quilter HQ Sixteen is hand crafted in the USA.
Features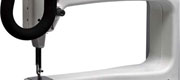 Larger quilting space.
Full 16 inch throat depth provides 13 inches of quilting space and 8 inches of vertical space. That's up to three times more space than a regular sewing machine!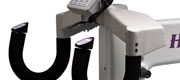 Glides easily for creative control.
The Handi Quilter Sixteen is lightweight. It glides across the frame with more freedom and less stress. Back and front handles provide easy maneuvering. The result is a higher quality quilt!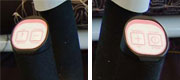 Stitch with Confidence with Stitch Control Features.
Handle mounted push buttons place options at your fingertips. Change the stitching speed, start and stop the machine or place the needle up and down.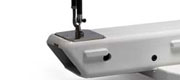 Built in Stitch Regulator.
The built in stitch regulator controls stitch speed with any selected stitch length. It provides consistent stitch quality from 4 to 15 stitches per inch.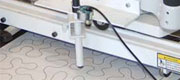 Laser Light.
An integrated adjustable laser light tracks design patterns on groove boards.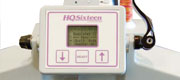 Stay Informed with LCD Display.
Set and easily read stitch control features with the LCD display on both sides of the machine. Setting include lighting options, memory setting, stitch counters, stitch length and more.
Package Contents
Handi Quilter Sixteen Quilting Machine.
Front and Rear Handles.
Laser Stylus.
External Bobbin Winder.
HQ Studio Frame (details below!).
---

This HQ Sixteen Package Includes The 10' HQ Studio Frame
Made of high-quality steel, the 10' HQ Studio Frame is a robust, professional-grade table and frame system for your home studio. The HQ Studio Frame: is the largest and most robust of all Handi Quilter table and frame systems.
Special Features: Designed To Make Quilting Easier.
10 foot free-standing frame.

Robust design limits vibration.

Patented larger-diameter pole roller system.

High-quality steel provides solid base for quilting.

Self-leveling feet adjust to floor surfaces.
Adjustable legs for easy height adjustment.

Patented pole adjustment with snap-pin inserts.

Built-in hand wheel for easy in rolling.

Rollers with built-in bearings.

Can be used with any HQ machine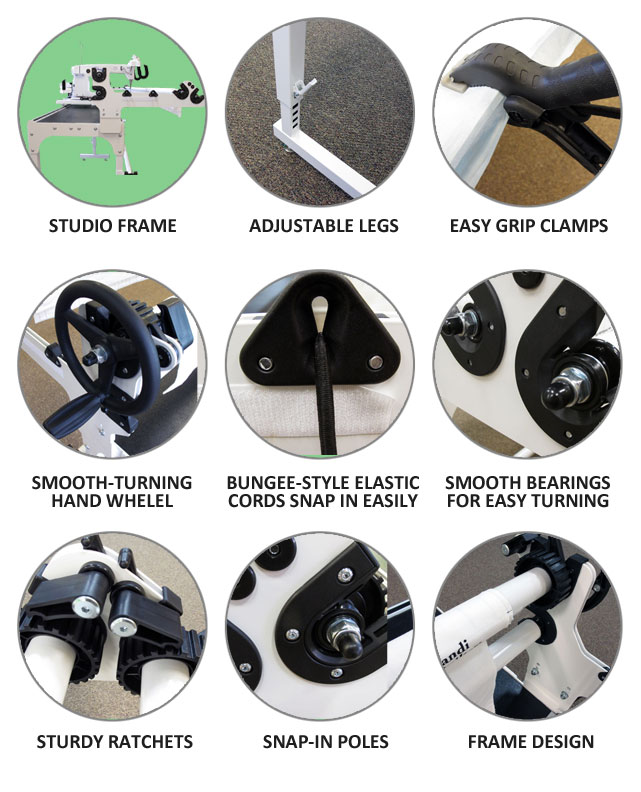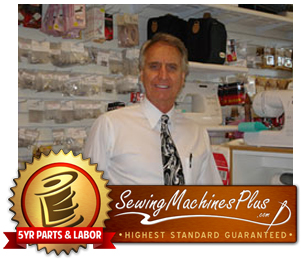 • 5 years FREE Parts & Labor.
• During the FIRST year we will have your machine picked up, repaired or replaced and deliver it back at NO CHARGE. (Just save your box).
• We have 4 experienced mechanics to support you if any problem arises.
I Ron Martin, owner, have 40 years in the sewing machine business & I give my personal assurance.
---
Downloads
Handi Quilter Studio Frame Sales Sheet.


Global Rating: 5.00 from 1 reviews
Add your review of this product
HQ Sixteen Quilting Machine
Jun 18, 2010
Pat Babendure
Eagle Id US
This is a fantastic sewing machine and I love every feature it has to offer. I've owned this machine for about 3 months now and have completed five quilts. (I quilt for recreation only.) It was very easy to assemble and start up. I did not have time to attend one of the factory classes, but found the video included extremely helpful in learning how to use and maintain the machine. The stitch regulation feature is awesome and makes it easy for new users to come up to speed very quickly. I'd recommend this machine for anyone who wants to receive, set up and start quilting in very short order.
Rating:
Global Rating: 5.00 stars from 1 reviews
View All Reviews

Overall Store Rating
(
8.95
/10) 3422 reviews
Rating:
10
/10 - Date: 05/22/2016
Received my new vacuum cleaner in no time. I love my new Miele! Thanks Sewing Machines Plus!
barriecogburn, real customer review
Rating:
10
/10 - Date: 05/21/2016
Sewing Machine Plus' website is very user-friendly with very competitive prices. I love to just "window-shop" on their website. The customer support staff are knowledgeable, helpful, and friendly....
ljean32958, real customer review
Rating:
10
/10 - Date: 05/21/2016
I received my package quickly and the price was the best on the Internet.
whateverjody, real customer review
Rating:
10
/10 - Date: 05/20/2016
I'm very happy with my 23 inch Bluefig travel bag. The Baby Lock Crescendo fits easily with room to spare for supplies. I especially like the inside strap to secure the machine and the twin full le...
bfeady, real customer review
Rating:
10
/10 - Date: 05/20/2016
I received my supplies from Sewing Machines Plus so fast that it was torture waiting for the sewing machine from Singer so I could use it and the supplies. I ordered another software disk and got...
lkpbbr, real customer review
Rating:
10
/10 - Date: 05/20/2016
Items ordered were received sooner than expected! Also had a great customer service rep who helped delete a duplicate online order. Overall, my first experience with this company was excellent!!
claudia_diaz77, real customer review
Rating:
10
/10 - Date: 05/19/2016
I was desparate to get the HV Edge Foot B. It arrived in two days and I could get on with making the quilt for my grandson.
rickpatric, real customer review