The FREE Bonus Package Includes:

4 Packs Size 16 Needles ($20.00)
1 Golden Threads Pin Bowl/Pins ($11.00)
1 HQ Mini Ruler ($16.99)
1 HQ Versa Tool ($24.99)
1 Ruler Base ($89.99)
1 Mini Scissors ($6.00)
1 HQ Zinger ($5.99)
8 Bobbins ($20.00)
---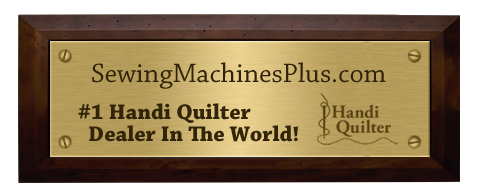 HQ Fusion Package - 24" Long Arm Quilter with HQ Pro-Stitcher and 12' HQ Gallery Frame
Bring home a quilting machine With high end technology and precision function: the Handi Quilter Fusion! Enjoy this Package Deal: an excellent quilting machine WITH HQ Gallery frame! FUNCTION MEETS VISION!

Handi Quilter Fusion
The Fusion is the newest addition to the Handi Quilter long arm family. It combines integrated technology and engineering with all of the functions quilters demand. Made and assembled in the USA. The Fusion precision stitch-regulated system is the highest quality product, backed by the Handi Quilter warranty and a network of local representatives.
Designed by a Quilter, for Quilters™, the Fusion enables you to achieve your quilting vision. Sometimes a quilter's vision needs room to expand. The HQ Fusion offers personal lighting options, precision stitching and a full 20 inches of quilting space so you can quilt even the biggest ideas.
SewingMachinePlus.com Customer Personal Review
"The Fusion is very easy to use and is very low maintenance. I spend a lot of time using pantographs with the built in handles and laser on the back . I am not that good yet with free motion but the laser on my pantos is giving me more confidence. My husband and I put the frame together. It took exactly one bottle of wine and 3 hours of quality time. What convinced my husband is last year I spent $4400 sending out my quilts. In 2 years I will have my machine paid for. Simple math."
Shirley G, PA.
Apr 22, 2010.
Key Features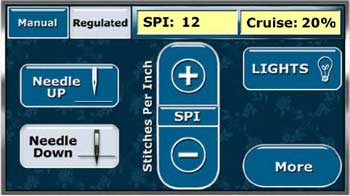 Color LCD Touch Screen.
A color LCD touch screen display provides fingertip control of stitch settings, stitch regulation, needle position and lots more! Screens are located on the front and rear handles. Additional touch screen features include an on-screen calculator, a video player (from files on an SD memory card), and an audio player (from an SD memory card). Diagnostic features check the motor and needle sensors, X and Y motion, and the keypad. On-screen information makes it easy to know if a function passes or fails a diagnostic test. Clean the display with a damp soft rag -- no chemicals or cleaning solutions needed!
Features
20 inches of open quilting space. Quilt from crib to king with ease.
Thread-break sensor.
Integrated, adjustable laser light.
Built-in adjustable LED lighting functions with menu control.

Intensity: Dim to Bright.
Color: UV / Cool to Neutral to Warm.

Fingertip controls allow you to switch quickly from manual mode to stitch regulation mode.
Stitch regulation with precision control provides consistent stitch quality from 4 stitches per inch up to 18 stitches per inch.
Speeds up to 2,200 precision stitches per-minute.
Tilt-action, color touch-screens.

Full- and half-stitch settings.
Needle position control.
Stitch counters: Project and Lifetime.
Video and audio playback options.
Set your preferred settings.
Download upgrades.
Built in diagnostics.

Built-in connection point for HQ Micro Handles.
12 foot HQ Gallery Frame System. Load and quilt with no additional adjustment needed.
One-piece precision-glide aluminum track.
Handi Quilter technology.
Handi Quilter customer service.
Made in the USA.
Included Accessories
Five bobbins.
Bobbin case.
Needle (135 x 5) size 16.
Needle (135 x 5) size 18.
Thread mast.
Oiler.
Power cord.
Hex wrench.
Instructional DVD.
Instruction manual.
Handi Quilter Fusion Quilting Machine.
Specifications
Stitch Regulation.

Yes.

Sewing Speed.

Manual Mode: 110 to 2,200 spm.
Regulated Mode: 0 to Full Speed.

Automatic Needle Positioning.

Up and Down.
Full Stitch, Half Stitch.

Needle System.

135x7 Standard 134 R Long Scarf.

Needle Sizes.

14/90 - 19/120.

Audio Playback Files.

MP3, WMA and WAV formats.

Video Playback Files.

MPEG-1, MP4, WMV, AVI, ASF and 3GP formats.
Rated Voltage and Power.

90 - 264 VAC, 47 - 63 Hz.
400 Watts.

Bobbin Type.

Class M.

Throat Size.

24 Inches.

Dimensions.

16 Inches wide.
22 Inches high.
40 Inches long.

Weight.

70 Lbs.

Warranty.

5 years mechanical.
5 years electronic/electrical.
10 years casting.
Downloads
Handi Quilter 24 Fusion Brochure
Handi Quilter 24 Fusion User Manual
---

Handi Quilter Pro-Stitcher Computerized Quilting System for 24 Fusion
Harness digital power with your Handi Quilter Fusion long arm quilting machine. Imagine creating a custom quilt design, loading it easily to your HQ Fusion and then watching it come to life. With new Handi Quilter computerized quilting, anything is possible.
The Pro Stitcher has a beautiful 10.1 inch color touch screen. Controls are simple to use, making computerized quilting elegantly powerful. You'll get precise, hassle-free stitching without bulky, cumbersome cables or an additional computer.
Use the included USB flash drive to load existing digital quilt patterns. Alternately, you can use the included design software package to create your own patterns. It's simple to set up and can mount to both existing and new Handi Quilter Fusion stitch regulated machines. If you'd rather do it yourself, you can switch from computerized quilting to free motion quilting with a flick of the quick release switch.
The Pro Stitcher is an integrated computer system that will quilt the most complex pantograph or block pattern in just a few simple steps. A computer is only needed for downloading and creating designs. All the quilting action happens on the Pro-Stitcher screen. Help menus are always at your fingertips.
Exclusive design software by Cabin Logic for designing your own patterns is included.
Features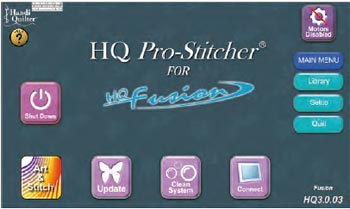 Record your own free motion design or pantograph design!
Easy to download your favorite patterns from a USB port.
Quick set up; be quilting in no time!
Precisely position a design on the quilt.
Watch your pattern path before quilting.
Back up function if your thread breaks.
Set the number of tie off stitches.
Set the quilting speed and stitches per inch.
View and manipulate designs on the screen.
Rotate an existing design.
Resize to a specific area.
Repeat your designs both horizontally and vertically.
Simple-to-use, integrated graphic settings with quilt-friendly menus.
Ability to read most available digital quilt patterns.
Silent integrated motor control systems with fluid motion control.
Made and built with integrated HQ Technology.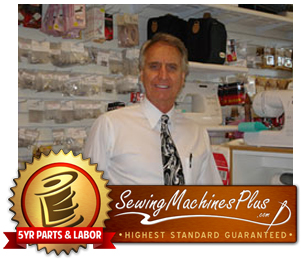 • 5 years FREE Parts & Labor.
• During the FIRST year we will have your machine picked up, repaired or replaced and deliver it back at NO CHARGE. (Just save your box).
• We have 4 experienced mechanics to support you if any problem arises.
I Ron Martin, owner, have 40 years in the sewing machine business & I give my personal assurance.
Additional Pro Stitcher Products
Also Available.

Pro Stitcher for Handi Quilter Sixteen.
Pro Stitcher for Handi Quilter 18 Avante.
Instructional DVDs.

HQ Pro-Stitcher® Basics: Edge-to-Edge & Cropping.
HQ Pro-Stitcher® Basics: Placing Borders and L-Shaped Corners.
HQ Pro-Stitcher® Basics: Repeating Designs / Borders & Edge-to-Edge.
HQ Pro-Stitcher® Basics: Tips for Successful Quilting.
Downloads
Handi Quilter Pro-Stitcher User Manual