The Grace Z44 is the top-of-the-line hand-quilting frame. It is the most adjustable quilting frame anywhere! The Z44 comes equipped with all of the necessary extensions to set up the frame as a King 109", Queen 95", Twin 73", and Crib 59". You virtually receive four frames for the price of one, making it the most cost effective system on the market. (Optional lamp not included.)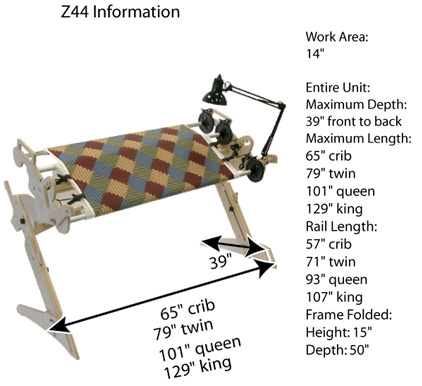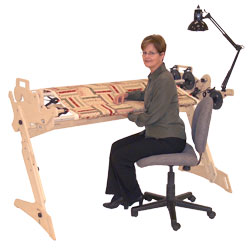 Each layer of fabric is held on its own rail where you have absolute control over it. All layers come together in the front of the frame where they are comfortably quilted. The raised middle rail keeps all layers firmly together with no sagging, shifting separating, and no basting!
The Z44 frame is also compact-- only 35 inches from front to back giving you a 14 inch tiltable work area. Two sets of braces underneath the frame provide stability without compromising any leg space.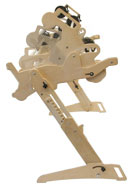 Completely Adjustable
Now there is a quilting system that can accommodate any seating height. The new ratcheting height adjustment allows you to effortlessly raise or lower the frame to several different heights - no tools required. You can even quilt standing up! The Z44 has a ratchet tilt design that allows the work area to tilt to six different positions, from horizontal to nearly vertical. You no longer have to sit in the same position when you quilt. The unique "Z" design puts the pivot point in the front, so no matter what angle you have it, you will never lose your leg space. All adjustments can be done in seconds, with no tools required.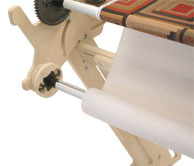 Fourth Rail Comes Standard
The Z44 is the first and only frame that comes standard with four rails. The Fourth Rail holds the batting independent from the other fabric layers. This makes it much easier to manage, especially when the batting is thick or delicate.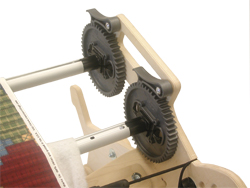 Smooth Rolling Ratchet Wheels
Extra-large 50-tooth ratchet wheels provide the finest tension control of any frame ever. The stops have a double-lock design to eliminate the chance of the tension slipping.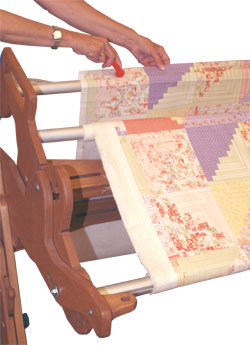 Includes New Fabri-Fast Rails
This is a no-baste, four-rail system. These custom designed rails come with the new Fabri-Fast system for fast and easy fabric installation. Simply push your fabric and tubing into the Fabri-Fast slot with the Fabri-fast tool included. Fabric goes in and stays in, straight and clean.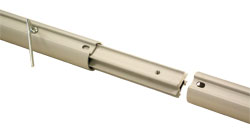 Rail Extensions Included
Rail extension are equipped with inside connectors making the diameter of the rails uniform the entire length, from crib to king size. Fabric rolls on smoothly, without any variance, bumps, or bunches.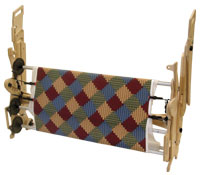 Folds up for easy storage
The Z44 can be folded partially or completely, without any tools, while the fabric remains in place. When completely folded the frame is about 17" flat and is free-standing.