Grace Pinnacle Frame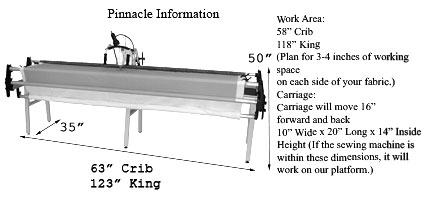 The Grace Pinnacle Frame is designed for an optimal quilting experience. It has completely new, innovative components, improved performance and simple assembly. Included rail extensions expand to King size (120 inches) or Crib Size (60 inches).
Smooth Tracking.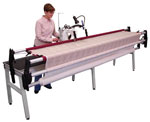 Tracking is smooth and seamless. Proper tracking is ensured because there is no metal-on-metal contact. The Pinnacle rests on two specially designed sturdy plates that track perfectly on ball-bearing rollers. The ride is incredibly smooth with no wobbling. These plates allow up to 16 inches of forward and reverse travel in the work area. The only limit to your reach is your machine. The carriage can handle any machine up to 18 inch throat space. The frame provides enhanced stability and locks your machine in place with four base clamps.
Easy Grip Handles.

Easy-grip handles allow quilting from both sides of the frame.
Smooth Cushioned Ride.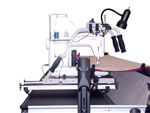 Grace provides the following for the smoothest, quietest track system you can find.
Precision bearing wheels.
Wobble-free platforms.
Seamless plastic tracks that install perfectly straight. No seams or bumps!
Easy Side Tension.

Included with the Pinnacle are four side-tension clamps (two for each side). Simply apply the clamp, then pull and secure the bungee cord in the side slot. It's fast and easy!
Fabri-Fast Rails Included.

This is a no-baste, four-rail system. The custom designed rails have the new Fabri-Fast system for quick and easy fabric installation. Simply push your fabric and tubing into the Fabri-Fast slot with the included tool. The fabric goes in and stays in, straight and clean.
Sturdy Design.

The Pinnacle's sturdy design includes table tops ideal for pantographs. Aluminum track supports add to the frame's robust construction and professional appearance.
Maximum Stability.

The frame has an angled leg design to maximize stability. Customized components include rigid steel and aluminum supports, reinforced thermoplastic rail uprights and matte-finished table surfaces.
Professional Rail System.


The easy-in, easy-out rails install with ease. They roll using a high-precision ratcheting system. Advance and reverse your quilt with the simple flip of a switch.