Grace Pinnacle Frame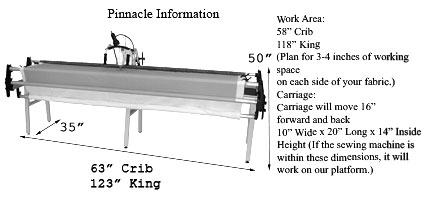 The Grace Pinnacle Frame is designed for an optimal quilting experience. It has completely new, innovative components, improved performance and simple assembly. Included rail extensions expand to King size (120 inches) or Crib Size (60 inches).
Smooth Tracking.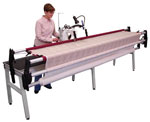 Tracking is smooth and seamless. Proper tracking is ensured because there is no metal-on-metal contact. The Pinnacle rests on two specially designed sturdy plates that track perfectly on ball-bearing rollers. The ride is incredibly smooth with no wobbling. These plates allow up to 16 inches of forward and reverse travel in the work area. The only limit to your reach is your machine. The carriage can handle any machine up to 18 inch throat space. The frame provides enhanced stability and locks your machine in place with four base clamps.
Easy Grip Handles.

Easy-grip handles allow quilting from both sides of the frame.
Smooth Cushioned Ride.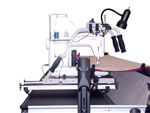 Grace provides the following for the smoothest, quietest track system you can find.
Precision bearing wheels.
Wobble-free platforms.
Seamless plastic tracks that install perfectly straight. No seams or bumps!
Easy Side Tension.

Included with the Pinnacle are four side-tension clamps (two for each side). Simply apply the clamp, then pull and secure the bungee cord in the side slot. It's fast and easy!
Fabri-Fast Rails Included.

This is a no-baste, four-rail system. The custom designed rails have the new Fabri-Fast system for quick and easy fabric installation. Simply push your fabric and tubing into the Fabri-Fast slot with the included tool. The fabric goes in and stays in, straight and clean.
Sturdy Design.

The Pinnacle's sturdy design includes table tops ideal for pantographs. Aluminum track supports add to the frame's robust construction and professional appearance.
Maximum Stability.

The frame has an angled leg design to maximize stability. Customized components include rigid steel and aluminum supports, reinforced thermoplastic rail uprights and matte-finished table surfaces.
Professional Rail System.


The easy-in, easy-out rails install with ease. They roll using a high-precision ratcheting system. Advance and reverse your quilt with the simple flip of a switch.


Global Rating: 4.50 from 2 reviews
Add your review of this product
Enjoying my frame
Apr 2, 2011
Mildred Porterfield
El Dorado Ar US
This is the only frame I have ever worked on. It was delivered promptly. One of the end pieces was broken when it came out of the box, but it was replaced. I also purchased the stitch regulator. The first one didn't work, but Grace sent me a replacement for it. It was pretty easy to put it together. I did it by myself. The hardest part was putting the leader cloths on. That took some banged up knuckles and broken fingernails. I wish Grace would re-engineer their tool for putting the tubing in the slot so that it would stay in place. The frame holds the quilt tight. I'm using a Juki 98Q to quilt (separate review). Some day I hope to get a machine with a longer arm. The info on this frame says it will take one with an 18 inch arm.

I LOVE MY NEW FRAME!!!!
Jun 6, 2009
Kristin
WA
Iím so happy I called Sewing Machines Plus to order my Pinnacle quilting frame. Make sure you ask for Cory Martin he gave me such a great deal and excellent service. I ordered my frame on Sunday and received it Wednesday.
Rating:
Global Rating: 4.50 stars from 2 reviews
View All Reviews

Overall Store Rating
(
9.06
/10) 3367 reviews
Rating:
10
/10 - Date: 05/04/2016
Thanks for having feet for my slanted Singer 301A.
lvanderb, real customer review
Rating:
10
/10 - Date: 05/04/2016
Say what they stand by and follow up with customers to insure satisfaction. Plesent to work with to resolve issues and have great products at competitive prices.
tazsproull, real customer review
Rating:
10
/10 - Date: 05/04/2016
Rapid shipping, packed good. Just what I wanted. Love it, love it love it.
cpledger-66074, real customer review
Rating:
10
/10 - Date: 05/04/2016
ordered two products; confirmed, delivered quickly and products are wonderful. Thanks Sewing Machines Plus......
tracy_l_hastings, real customer review
Rating:
10
/10 - Date: 05/04/2016
One item was missing from my order. I called & they sent it out immediately. The customer service department was very efficient and easy to deal with. I will definitely purchase from them again.
lightningbugpa, real customer review
Rating:
10
/10 - Date: 05/04/2016
I'm glad that tracking was available as my mail service screwed up, but when my order did finally arrive, it was exactly what I had wanted and ordered
gansehaut, real customer review
Rating:
10
/10 - Date: 05/04/2016
I was pleased with the sales person, she knows how to complete a deal. She was able to educate me the types of machines. By the time the call ended, I had upgraded on her recommendations.
queenrrt, real customer review