Call 800-401-8151

To Speak With An Expert Sewing Consultant
We'll help you find the perfect product and provide lifetime support for any purchase. E-mail us here.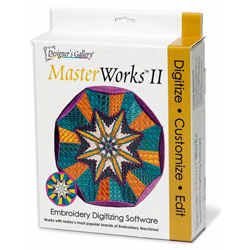 (More images coming later.)
Designer's Gallery
SKU: tacony-EDG-MW2
Masterworks II Premium Digitizing Software by Designers Gallery EDG-MW2
This item can only be purchased locally at our retail location.
No more cookie cutter designs! Finding more cookie cutter designs than the incredible designs you had in mind? With MasterWorks II digitizing software you can easily transform all your line-art and images into embroidery designs. Plus, select a fill stitch, add shapes, combine text and artwork, preview stitching sequence and more, all without ever changing screens. Discover digitizing power that lets you create perfect embroidery every time.
For digitizing designs, no program is more powerful - or easy to use - than MasterWorks II.
Features:
Easy to use digitizing features:

Choose from 500 unique fills
Bring in artwork from many formats and turn them into embroidery designs (.ai, .wmf, .emf, .wmf, .jpg, .tif, .pcx, .pct, .tga)
Apply unique fills to modify existing embroidery designs

Choose from 500 standard, fancy, wave, gradient or motif fills
Create an original fill pattern o Easily add wave, gradient, color-blended or embossed fill effects with spiral, contour, auto-columns or radial columns for design depth
Apply appliqué, cross-stitch, or stippled areas with the click of a button. Scan and place fabric for an exact preview of appliqué designs

11 built-in buttonhole designs for more project options o Sized for easy placement around buttonholes
View changes immediately with instant stitch application

Not Your Standard Editing Features:

Artwork editing features include:

Adding and deleting points
Smooth points using Bezier tools
Add or delete holes

Power Copy duplicates artwork anywhere on the workspace
Circular Power Copy places artwork in a circular shape
Split line divides images into several pieces to add color or different stitch effects
Merge stitch files onto one workspace
Customize or add underlay to designs and lettering for design stability

Top of the Line Lettering Options:

Choose from 130 built-in fonts to personalize designs
Easliy create lettering from your TrueType® Fonts from your PC
Use one of 14 text to path lettering

Customize the line shape for unique lettering paths

Apply fancy fills to fonts to create lettering with texture
Spell check your text

Ease of Viewing your Designs and Working on One Screen

Quickly find all of your tools and options without opening and closing multiple programs
Easily access editing or digitizing tools on the toolbars
Navigator Window shows the area of the design
The convenient browser displays the designs and stitch information
Multiple designs can be edited at the same time
Sequence view and stitch properties are on-screen for easy adjustments
Scan and place fabric inside of an appliqué design for an exact preview
Sewing simulator previews how a design will be sewn
Mix and match favorite thread bands to create a personalized color palette
Quickly locate your favorite thread colors through color and name searches

Four Timesaving Wizards:

Auto-Artwork Wizard - Converts raster images into artwork
Auto-Digitizing Wizard - Quickly converts images (vector and raster) into embroidery designs
Cross-Stitch Wizard - Guides artwork into unique cross-stitch designs
Photo-Stitch Wizard - Effortlessly turn photos into 4-color or monochrome embroidery effects
600 Free Artwork Images:
Start digitizing right away with a large library of artwork
600 .ai artwork files included FREE
Royalty free to sew worry free
Conveniently categorized
Designs can be read from a CD or installed onto your computer
The Perfect Recipe for Every Project:
Find the perfect "recipe" of fabric, pull compensation, density and underlay
Create your own recipe for any design
Instantly look up recipes with icon on top toolbar
USB dongle for easy use on several computers
System Requirements:
Windows 2000 or Later Version
IBM Compatible PC, Pentium (2GHz PC)
512 MB of RAM
1 GB Hard Drive Space
SVGA Display Monitor (1024 x 768), 16-bit color or better
CD-ROM Drive
Mouse
USB port for dongle
Windows 7 Home 32bit
Windows 7 Premium 32bit
Windows 7 Home 64bit
Windows 7 Premium 64bit
Compatible File Formats - .dst, .exp, .hus, .jef, .pes, .sew, .shv, .vip, .xxx, .pcs