Consew 199RBL-30 single-needle, walking-foot machine Stitch Type-1A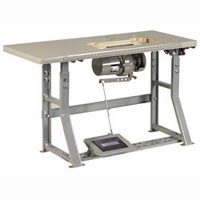 This Package includes a Fully Assembled Table and a Clutch Motor.
The motor can be upgraded to an adjustable-speed servo motor for only $79. Simply choose the servo motor upgrade option from the drop down menu during checkout.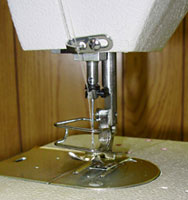 Consew 199RBL-30 is a single-needle, drop-feed, walking foot zig-zag lockstitch machine with a horizontal axis transverse rotary hook, reverse feed, combination zig-zag and straight stitch function, large bobbin and 30in long arm.

199R-series Stitches
-1A - 2-step / 1-stitch zig-zag (CURRENTLY VIEWING THIS PRODUCT)
-2A - 3-step / 2-stitch zig-zag
-3A - 4-step / 3-stitch zig-zag
Features
large bobbin and horizontal axis transverse rotary hook
Wide Zig-Zag - Locking Zig-Zag width regulator
Straight stitcher when zig-zag is set to 0mm
Upper feed mechanism helps avoid slippage when sewing
Reverse stitching
Maximum width of zig-zag : 3/8" (9.5 mm)
Long arm with 30" free space between needle and arm
Specifications
Max Speed (S.P.M.) - 2000, straight stitch or zigzag (Speed depends on thread, material and operation.)
Clearance Under Foot - 25/64" (10 mm)
Needle Bar Stroke - 1 11/32" (34 mm)
Max Stitch Length - 5 s.p.i. (5 mm)
Needle - 135 X 17
Bobbin Metal - 2120304-312
Bobbin Pre-wound - M
Hook - B79
Work Space - 30" (765 mm)
Bed Size - 7" x 33 1/4" (178 x 848 mm)
Zig-Zag Max Width - 3/8" (9.5 mm)
Applications:
Stitch -1A:
- Used for a wide range of products and operations such as edge sewing, patch sewing, attaching and abutting work, applique work and binding on such materials as leather, vinyl, canvas, cloth, lace and similar materials
Stitch -2A:
- For sewing elastic and other stretch materials, as well as for ornamental stitching
- For stitching such products as boat and truck covers, tents, awnings, sails, parachutes, tarpaulins, canvas bags also many items of military and naval equipment
- Used on such materials as canvas, nylon, vinyl, leather, synthetics and similar materials
- Especially desirable where reinforced stitch is necessary
- Also available with special fittings for rope tacking operations (Please call us to order!)
- Used for rope tacking, making loops in rope and attaching small and medium size ropes to such products as truck covers, tents, sails, hammocks, parachutes, grain bags and many items of military and naval equipment
Stitch -3A:
- Performs similar operations as stitch -2A with the added advantage of making an additional stitch for extra reinforcement
Motor Options
With so many options available for motors when we talk about replacing or buying a motor for our industrial sewing machine, there is one important point to keep always in mind "The Speed". Regardless of brand or price, motors come in two different configurations:
1. Fixed-Speed Clutch Motor
2. Adjustable-Speed Servo Motor
Clutch motors operate at a fixed speed, typically between 1725 - 3450 rpm, depending on the type of machine. Servo Motors on the other hand are speed adjustable. The two major advantages of the Servo Motor are that you can control the speed of the motor and that the motor is completely silent when the pedal is not engaged.
Some other advantages of the Servo Motor include:
They consume up to 90% less energy than clutch motors
1/3 lighter than clutch motors
Reverse motor rotation with the flick of a switch
Nothing to wear or adjust
Adjusted speed remains the same no matter how hard the pedal is pressed
Most of our customers find that the sewing machine is much easier to control with a Servo motor because of the speed control. This is especially helpful for beginner sewers but also for projects that simply don't require high speed stitching.
This machine package includes a fixed-speed clutch motor. Upgrade to an adjustable-speed servo motor for only $79. Simply choose the servo motor upgrade option from the drop down menu during checkout.
If you need help deciding what option is best for you, give us a call at 800-401-8151, and have one of our experts walk you through the decision.