The FREE Bonus Package Includes:

4 Packs Size 16 Needles ($20.00)
1 Golden Threads Pin Bowl/Pins ($11.00)
1 HQ Mini Ruler ($16.99)
1 HQ Versa Tool ($24.99)
1 Ruler Base ($89.99)
1 Mini Scissors ($6.00)
1 HQ Zinger ($5.99)
8 Bobbins ($20.00)
---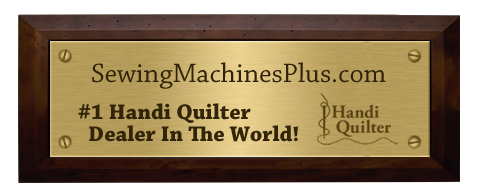 This HQ18 Avante Package Includes The 12' HQ Studio Frame
Click here to view the same package w/ the 10' Studio Frame
Purchase an affordable easy-to-use computerized quilting machine: the Handi Quilter 18 Avante! Experience the silky smooth movement as the Avante glides across the project. The 18-inch throat provides 15 inches of space, perfect for quilts ranging from crib size to king size.
Two stitch counters keep track of your activity: the lifetime stitch counter and the resettable trip counter that can be project-specific. Color touch screens on the front and back of the machine provide fingertip control. Set the needle stop position, switch from stitch regulation to manual stitching and save machine settings for next time. Handi Quilter's exclusive Walking Stitch locks the machine into a perfect horizontal line.
Bright LED lights make precision stitching easy. The built-in laser light stylus provides exacting stitch positioning. The Avante is hand-crafted in the USA and is backed with Handi Quilter's customer service and warranty.
Step up to a Handi Quilter Avante today!
Handi Quilter Video
HQ18 Avante Features
Smooth quilting with two kinds of stitch-regulation. The HQ18 Avante is Handi Quilters new 18 mid-arm quilting machine.
Color touch-screens front and back.
Color touch-screen controls allow switching quickly from manual mode to stitch-regulation mode.
Included LED lights are menu-controlled.
18 inch throat to accommodate your bigger projects.
15 inches of open quilting space. Quilt from crib to king with ease.
Needle stop position control.
Stitch counters.
2 kinds of stitch regulation.

Cruise Control: Stop and start on handle bar. Same as the HQ16.
Precision: Stitches only when you move carriage.

2 kinds of stitch regulation with precision control provides consistent stitch quality from 4 stitches-per-inch up to 18 stitches-per-inch. Also manual stitching.
Speeds up to 1,800 precision stitches-per-minute.
"Exclusive HQ Walking Stitch" is a feature on the digital screen. It locks machine into a perfect horizontal line.
Set your preferred settings.
Built-in diagnostics.
Adjustable sound levels.
Integrated, adjustable laser light.
Handi Quilter Micro Handle compatible (optional accessory).
2 table/frame/track combinations available.
Precision-glide aluminum track available on HQ Studio Frame.
Handi Quilter technology and innovation.
Handi Quilter customer service and warranty.
Hand-crafted in the USA.
Handi Quilter 18 Inch Avante Downloads
Handi Quilter 18 Avante Sales Sheet.
Handi Quilter Studio Frame Sales Sheet.
Handi Quilter 18 Avante User Manual.
---

This HQ18 Avante Package Includes The 12' HQ Studio Frame
Click here to view the same package w/ the 10' Studio Frame
Made of high-quality steel, the 10' HQ Studio Frame is a robust, professional-grade table and frame system for your home studio. The HQ Studio Frame: is the largest and most robust of all Handi Quilter table and frame systems.
Special Features: Designed To Make Quilting Easier.
12 foot free-standing frame.

Robust design limits vibration.

Patented larger-diameter pole roller system.

High-quality steel provides solid base for quilting.

Self-leveling feet adjust to floor surfaces.
Adjustable legs for easy height adjustment.

Patented pole adjustment with snap-pin inserts.

Built-in hand wheel for easy in rolling.

Rollers with built-in bearings.

Can be used with any HQ machine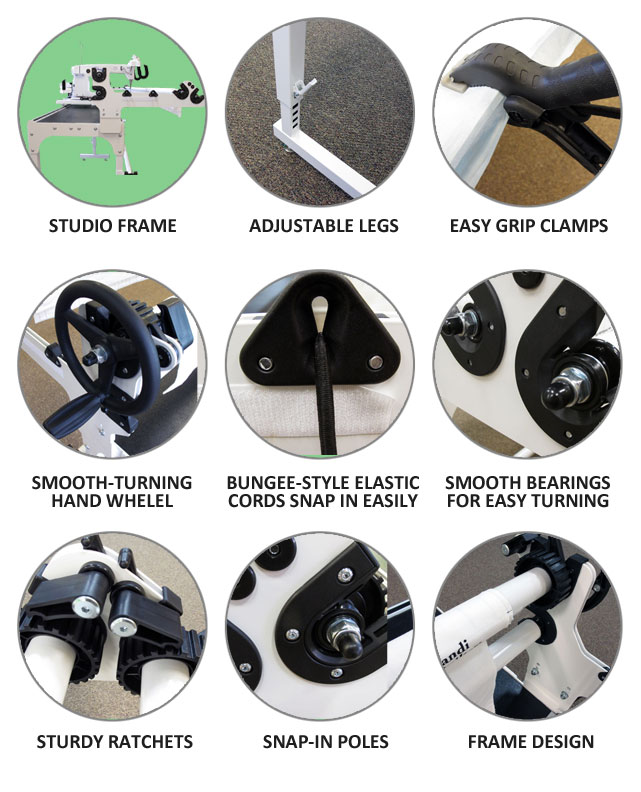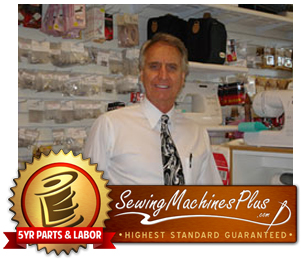 • 5 years FREE Parts & Labor.
• During the FIRST year we will have your machine picked up, repaired or replaced and deliver it back at NO CHARGE. (Just save your box).
• We have 4 experienced mechanics to support you if any problem arises.
I Ron Martin, owner, have 40 years in the sewing machine business & I give my personal assurance.
Ready to Quilt
Precision Glide Track
Color Touch Screen
Understanding & Using the Menu Settings
Using Your Favorite Thread
Basic Maintenance