Arrow 98901 Auntie Em Retro-look Sewing Cabinet - white finish
The Auntie Em cabinet harkens back to days gone by with her vintage look, but offers a modern convenience with an airlift. Her airlift will move your machine up and down like an elevator into 3 sewing positions: freearm, flatbed and storage of the machine. Her cute gingham curtain (NOT included) will conceal the sewing machine in the storage position. Her four drawers offer plenty of storage for your sewing essentials and her two fold out leaves will provide a large work surface for all your projects. She will also come with a universal insert to fit most sewing machines, creating a flush sewing surface. A custom insert can be ordered separately to accommodate a specific machine. Auntie Em has a crisp white laminate that will match all decors. She will arrive in 2 boxes; you will need a hammer, power screw driver and an adjustable wrench to assemble her.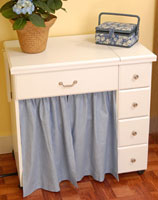 Features:
Sew in any position. The EZ-Lift air mechanism lets you sew flatbed or free-arm at any height. Also provides easy, effortless storage with a simple push.
Cabinet accommodates machines up to 18 7/8" wide x 12 9/16" deep x 13 1/8" tall.
Flatbed sewing machines fit into the unique universal insert to create a flush surface. Universal insert will accommodate sewing machines no larger than 17" wide x 7 1/4" deep. (A machine-specific insert can be purchased separately.)
Four drawers provide plenty of storage for sewing essentials.
False drawer front creates a decorative furniture look.
Fold-out leaves provide additional work surface; supported by sturdy snag-free hinges and leaf supports.
Locking casters for excellent portability and stability.
Durable cabinet design; composite wood construction/wood grain laminates.
Crisp white laminate complements any decor.
Assembly's a snap! Requires a standard screwdriver, adjustable wrench and hammer/mallet. Includes easy-to-follow instructions, plus a friendly toll-free help number.
Optional machine-specific inserts are ordered separately and will arrive after you receive your cabinet - can take up to 3 weeks to manufacture.
Curious if your sewing machine will fit in the cabinet? Double-check your machine's measurements with the ones listed here. Measurements cannot exceed 18 7/8" wide, 12 9/16" front-to-back and 13 1/8" tall.
Or click here for a list of machines that won't fit in this cabinet.
Cabinet dimensions:
Open - 46" wide x 19 5/8" deep x 30 1/2" high
Closed - 23" wide x 19 5/8" deep x 31 1/2" high
Sewing machines that WILL NOT fit in our Auntie Cabinets:
Baby Lock: Elisimo BLSO, Elegante BLG, Ellageo BLL, New Estante BLN,BLSR, BLSY Symphony, BLQK Sashiko.
Brother: Quattro 6000D, Innovis QC1000, NV1500D, NV2500D, NV4000D, Duetta 4500D.
Janome: MC300E, MC6600P, 6500P, Horizon 7700.
Bernina: Series 8 - 820 & 830.
PFAFF:Creative Vision, Creative Sensation.

No rating yet... Be the first to rate this product!

Overall Store Rating
(
8.95
/10) 2090 reviews
Rating:
10
/10 - Date: 07/27/2015
Items were received promptly and the order was accurate. Thanks.
vxbarnes, real customer review
Rating:
10
/10 - Date: 07/26/2015
Excellent service, great prices, large inventory.
jan_byrne0, real customer review
Rating:
10
/10 - Date: 07/26/2015
Very pleased with the service I goy.
francismccullar, real customer review
Rating:
10
/10 - Date: 07/26/2015
Great communication with seller. Was a little disappointed one item I ordered was out of stock and being discontinued by the manufacturer, but the seller quickly communicated this via email and ref...
ecseteacher, real customer review
Rating:
10
/10 - Date: 07/25/2015
I grew up with a Bernina Record (late60's?) so this one so far seems just fine.
Snowdivil, real customer review
Rating:
10
/10 - Date: 07/25/2015
The experience with Sew Simple was gratifying. The staff was helpful with my questions and even made several calls to me to see if I had any questions or that everything was to my satisfaction. I...
nshawsville, real customer review
Rating:
10
/10 - Date: 07/25/2015
I have been so happy with Sewing Machines Plus. They always have what I need and I get it within a week.
lmklier, real customer review