26" UPGRADED Long Arm Quilting Machine Floor Model w/ PX Frame by Tin Lizzie
This 26" Long Arm Quilting Machine has been upgraded to include the latest available long arm hardware and features. The New extra-large ultra-bright LED lighting will illuminate your quilt and workspace like never before. The "Rams Horn" ergonomic handlebars, and the rear LCD Handlebars, will add ease and comfort to your quilting. With a host of new features including an LCD Screen with Easy Touch keys, UV Blacklight lighting for white on white quilting, locking cable connectors, and more, the Upgraded 26" Long Arm Quilting Machine by Tin Lizzie will take your quilting to the next level!

The Ansley 26 is for those who want a larger quilting area. A 26-inch opening allows stitching of 20-inch blocks without rolling the quilt! Plus you have all the same features and benefits of the Tin Lizzie 18LS.
Upgraded 26 by Tin Lizzie Features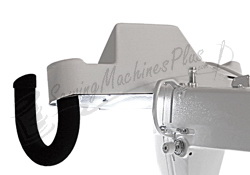 New LED Lighting
Adjustable brightness WHITE Light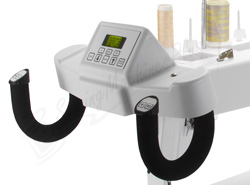 Ergonomic Controls
New "Ram's Horn" Ergonomic handlebar with controls easily reachable.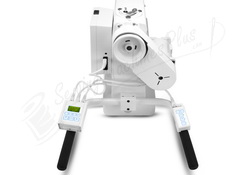 Convenient Rear Handles
REAR LCD Handlebar for pantographing from the rear of the machine.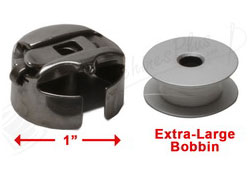 Large Bobbin Capacity
Quilt longer between bobbin changes. The extra large bobbin makes this possible.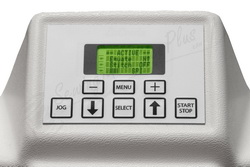 LCD Screen with Easy Touch keys
The screen and controls are built in to the head of the machine making it quick and easy to make your selections.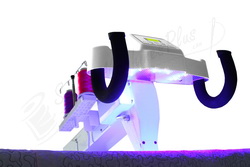 New UV LED Lighting
New UV LED Lighting: Adjustable brightness BLACKLIGHT lights for quilting "White on White".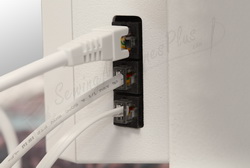 Locking Cable Connectors
Cables easily snap into place and lock.
Lizzie Stitch.
The Ansley 26 features soft-touch button controls on each handle. When you select the famous Lizzie Stitch, your machine coordinates with your movements. As you move the machine it sews. When you stop it stops with you. With precise stitch regulation and stitching as small as 21 stitches per inch, you have the finest ability for micro stippling.
Auto Needle Position.
You can set the machine stop with the needle up or down. This minimizes bending or breaking needles and allows for free movement of machine.
Built-In Bobbin Winder With Large Bobbin.
The Ansley 26 has a built-in bobbin winder. It winds while you quilt so your next bobbin is always full and ready. It also features the largest available bobbin: M-size.
Flexible Lamp.
Light where you need it! This flexible lamp bends close for micro stippling and adjusts to the back for pantographs.
Oil Reservoir.
Little maintenance is needed. The oil is self-contained. No need to worry about oil on your quilts and no oiling the hook with every bobbin change.
Ansley 26: Additional Information
Optional Adjustable Laser Light.
One-Button Operation.
Adjustable Walk Hopping Foot.
Variable Speed Control.
Two-Station Needle Positioner w/Single Stitch.
Throat Space: 26-inch.
Actual Quilting Area: 23 inches.
Velcro Attaching Cloth Leaders.
Flexible Light Fixture.
Specially Designed Vertical Wheel.
Gear Driven Shaft Power Transfer.
Cast Aluminum Molded Sewing Head.
Lizzie Stitch Regulator.
Double-Capacity "M" Style Bobbin.
Dual Thread Capability.
Built-in Bobbin Winder.
Hook Position Finger.
Automatic Hook Lubrication.
Centralized Lubrication System.
3 Heavy-Duty top shaft bearings and bushings.
Oil Impregnated Bushings.
Bungee Clamps.
Operator's Manual and Instructional DVD.
Machine Weight: 52 lbs.
PX Quilting Frame

The PX frame is adjustable in height and stretches out to 10 feet or 12 feet. The Rails extend to accomodate both 18" and 26" machines
Features and Benefits:
Height adjustable legs
Accurate quick-release ratchets to help to precisely tension fabric
Pivoting top fabric rail to allow access to batting
Adustable dual-bearing wheels on front and back tracks increases the stability and accuracy
Easy turn wheels for adjustment
PX Frame Instructions
PX Frame Instructions

No rating yet... Be the first to rate this product!

Overall Store Rating
(
8.90
/10) 2402 reviews
Rating:
10
/10 - Date: 10/07/2015
all my products were shipped fast and order was correct. No problems what so ever
lvjustintime, real customer review
Rating:
10
/10 - Date: 10/07/2015
Customer service was excellent.
kwhisher, real customer review
Rating:
10
/10 - Date: 10/07/2015
Great to deal with. Everything was as described. Will do business in the future.
craftyk, real customer review
Rating:
10
/10 - Date: 10/06/2015
I have ordered from them a number of times and have never had a problem and if you have a question they are always glad to help
aw45, real customer review
Rating:
10
/10 - Date: 10/06/2015
Everyone I talked with were so helpful! Thanks so much & I can hardly wait to get going with my new Juki Serger!
gwalker-78873, real customer review
Rating:
10
/10 - Date: 10/05/2015
Easy to order and nice to have product shipped to my house free. Staff was pleasant and helpful when I called with questions. I like the quilting frame!
beebshouse, real customer review
Rating:
10
/10 - Date: 10/05/2015
This is the second machine I have ordered from sewing machines plus and their customer service is amazing! I was shocked by how fast my order was delivered! I was so anxious to get my new machine s...
starlakay83, real customer review