Expert Sewing Consultants Here For You!
We'll help you find the perfect product and provide lifetime support for any purchase.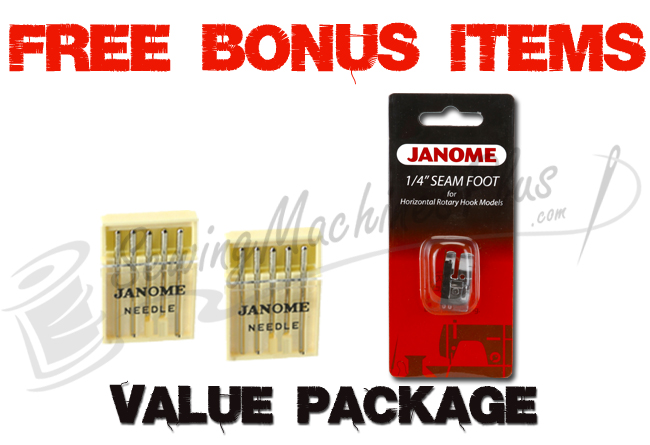 Enjoy these FREE BONUS items found in our Value Package. These accessories will give you what you need to start right away and keep you working!
FREE BONUS Value Package Includes
FREE Janome 1/4" Seam Foot
FREE Janome Size 12 Needles (2 packs)
---
Accessories may be substituted if we run out of stock. Packaging might vary.
---
Janome DC1050 Computerized Sewing Machine
Value priced Janome DC1050 has 50 stitches and 3 one-step buttonholes, a one-hand needle threader and slide-on presser feet. It has a free arm and offers drop feed for free-motion sewing.
The extension table can be purchased separately. It is not included with the machine.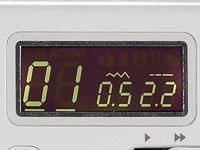 Backlit LCD Screen.
The LCD screen provides fast navigation and easy stitch width and length settings.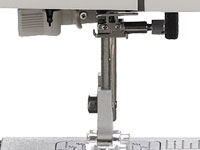 One Hand Needle Threader.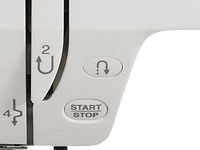 Lower Controls. Easy Reverse Stitch Button.
Start/Stop Button.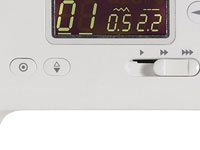 Upper Controls.
Locking Stitch button.
Needle up/down.
Speed Control Slider.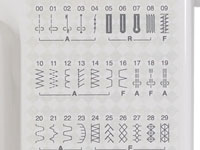 Stitch Key.
50 stitches are available, including 3 buttonholes.
Features
LCD screen with quick selection buttons.
Manual tension control.
One-hand needle threader.
Slide-on presser feet.
Free arm.
Drop Feed dog.
7-piece feed dog.
50 stitches.
7mm maximum stitch width.
5mm maximum stitch length.
3 one-step buttonholes.
Extra high presser foot lift.
Auto-declutch bobbin winder.
Jam-proof horizontal full rotary bobbin.
Needle up/down button.
Speed control slider.
Locking stitch button.
Easy Reverse button.
Optional Extension Table 11" x 16"
Standard Accessories
Bobbin
Spool pin felt
Needle set
Additional spool pin
Satin stitch foot F
Zipper foot E
Automatic buttonhole foot R
Seam ripper (Buttonhole opener)
Screwdriver key
Lint brush
Small spool holder
Large spool holder
Spool stand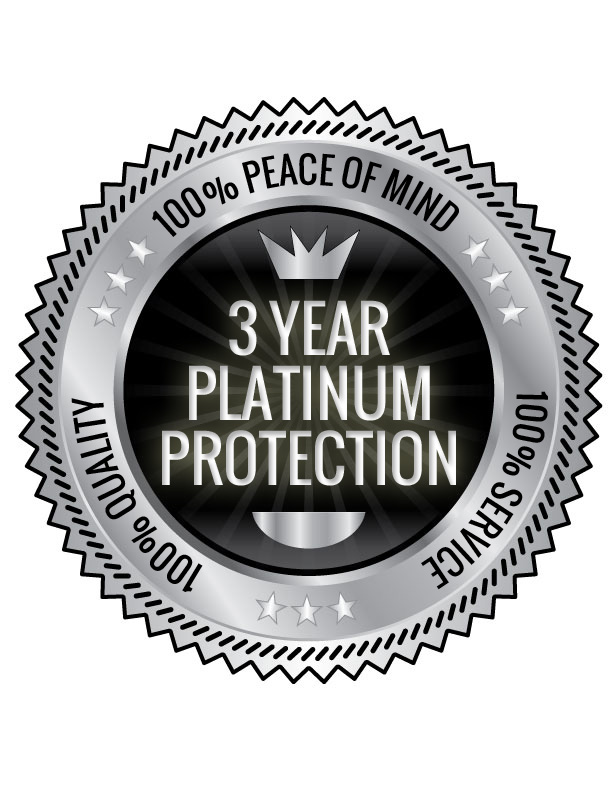 3 Year Platinum Protection Warranty
Add on a 3 Year Platinum Protection Warranty During Checkout For 100% Peace Of Mind!
SewingMachinesPlus.com is proud to offer its Platinum Protection Plan, for sewing, embroidery, longarm quilting and overlock machines sold in the U.S.A.
NO REPAIR BILLS
COVERED PARTS AND LABOR
1 YEAR FREE SHIPPING
NO DEDUCTIBLE
COVERS NORMAL USAGE
PEACE OF MIND
Your purchase is not complete until you add the security of a SewingMachinesPlus.com Platinum Protection Plan. You depend on your Sewing machine to work hard for you. When a problem arises and a repair is required, you need it fixed as fast as possible. But then you�re faced with a costly repair bill. Are you and your budget prepared? Especially when you have no way of knowing when or how often the machine may need service?
Now you can relax. With our SewingMachinesPlus.com Platinum Protection Plan, out-of-pocket expenses are completely eliminated for your sewing machine repairs. The plan guarantees to pay all covered parts and labor beyond the original warranty. It�s peace of mind protection you can count on. Don�t put it off! Protect your investment and pocketbook with affordable coverage.
Warranty Summary
This warranty covers parts and labor for 3 years.
Used under normal home sewing conditions.
Consumable items not covered; (needles, bobbins, bobbin cases, springs, and belts)
The warranty does not cover improper use, abuse, commercial or industrial use of machines.
The warranty does not cover flood, fire or other acts of nature.
Call SewingMachinesPlus.com if you have any questions. This is one of the best platinum protection warranties available for your sewing machine!
Need more supplies? Find them below!

Just add them to your bag below.
REVIEWS

Global Rating: 5.00 from 6 reviews
Add your review of this product
Love Janome
Mar 9, 2015
Barbara Bogert
LITTLE RIVER SC US
This is my 4th Janome. This one is perfect for class or travel, lightweight and yet strong. It replaces a Janome Gem that I absolutely wore out sewing several hours every day. Smooth sewing, as always. Good, useful accessories. This is another Janome perfect compliment to my MC6000, my main at home machine.

Love this machine!
Aug 13, 2012
Kayla C.
Springfield Ve US
Bought this as my first "good" sewing machine, a much needed upgrade from my Singer Simple. I wanted something computerized, but not too fancy or expensive. Friends told me I needed to get a Janome, but the prices were unrealistic for me, until I found this Jem of a Janome! I just got it in the mail today and I'm in LOVE, so smooth, so lightweight, and so many stitch options. Its so whisper quiet that I may just stay up late into the night working on projects. Thanks SMP.com! A customer that will come back for accessories without ever looking elsewear first.

Great Machine, Great Value
Dec 11, 2011
Elizabeth F.
Sunderland MA US
I bought this little 12 lb machine just to carry to quilt classes. Given the price, I didn't expect much, but it is packed with super features like speed control, automatic stop & go operation at the push of a button, and a nice selection of decorative stitches. It's relatively quiet, has smooth, even operation and is highly portable. It would be a great beginner machine for a new sewer. Wouldn't recommend it for heavy duty operation, but it's perfect for quilt piecing. I also bought the smaller extension table which fits perfectly and gives it a great work surface. Not much included in the way of feet, but the feet from my other Janome can be used. Also appreciated the great customer service when I called the 800 store number to ask questions prior to purchase. They were very friendly and helpful.

my Janome DC1050
Nov 27, 2011
Susan Wherry
Hanover IN US
I love this machine. it is so quiet I can sew while we watch tv. It is my first computerized sewing machine so I'm learning how to use it. So far I have pieced a quilt without any problems like I had with my old one. The price was the first thing that won me over and then how fast i recieved it was great. I told my sewing class I ordered it online and they were shocked that I didn't go to a retail store, then I told them the price and they were blown away. My next order will be an Embroidery Machine from this site I'm sure.

I love this machine
Nov 13, 2011
Jeannie R.
Brunswick GA US
I love this machine - the STOP/START feature is wonderful!, the threader is a delight, the up and down button is great, it sews like a dream and is half the weight of my 30 year old Sears Kenmore so it's not a hassle now to carry to class. Needless to say computerized sewing is the way to go. Also thank you SewingMachinesPlus for the quick delivery! One last thing - I love not paying tax and shipping/handling - what a Deal!

Janome DC1050
Nov 13, 2011
Ashley
San Francisco CA US
I knew I wanted a Janome when I started looking. I love to quilt but don't have a lot of time to dedicate to it these days. My last machine was a Brother and although it served me well, the decorative stitches stopped working when I had it cleaned. Since the DC 1050 was so new there were not many reviews out there. I narrowed it down to the DC 1050 and the DC 2011 (both were in the price range I wanted). The DC 2011 has the superior feed system (SFS) but the DC 1050 had the decorative stitches I wanted. From what I've read about the superior feed system is that all Janome machines have a sturdy feed feature even without the SFS. It was stitch number 20 and the start/stop button that won me over to the DC 1050. I got the machine just in time for a quilt retreat and it performed beautifully. It is quiet and sturdy....works like a dream! I am very happy that I chose this machine. It didn't come with a darning foot or a walking foot but the ones from my Brother are compatible. My next purchase will be the extended table!
Rating:
Global Rating:5.00 stars from6 reviews
View All Reviews