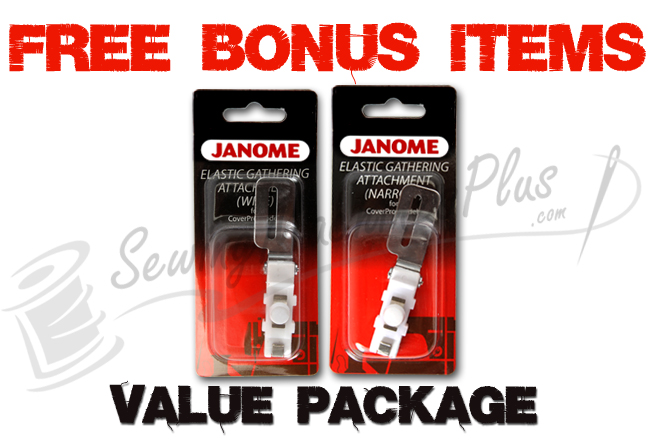 Enjoy these FREE BONUS items found in our Value Package. These accessories will give you what you need to start right away and keep you working!
FREE BONUS Value Package Includes
FREE Janome Elastic Gathering Attachment (Narrow)
FREE Janome Elastic Gathering Attachment (Wide)
---
Accessories may be substituted if we run out of stock. Packaging might vary.
---
Janome CoverPro 900CPX Cover Hem Machine
Your garments will have a professional looking finish with a cover stitch. Also known as a cover hem stitch, it was previously available only on sergers. It could usually be found only on the highest-end sergers. With the release of its CoverPro series, Janome has made this sophisticated finish available on a home model that has the power and control of an industrial specialty machine.
The CoverPro 900CPX is an economical model, offering a wide 5mm double-needle cover stitch and a chain stitch. Since it only does these two stitches, it's extremely fast. It zips along up to 1,000 stitches per minute. It's easy to set up and use, too.
Easy To Use, Versatile
It looks more like a regular sewing machine. You'll find familiar features that make it easier to use than a serger. Features such as a full-size sewing bed, free-arm sewing, vertical needle drop and a one-hand thread cutter.
The cover stitch is well suited to stretchy fabrics like knits. It also works well with the popular new blends of traditional woven fabrics that have a small amount of stretch fiber added for extra flexibility. The CoverPro series machines are ideal for constructing projects from fashion tops to competition ice skating costumes.
Cover Stitch
A cover stitch is a serger-type stitch made without the knives. No fabric is cut. Not only does it finish hems, necklines, collars and cuffs, but it provides decorative effects in the middle of the fabric. Cover stitches can be made with two or three needles. A double needle cover stitch will show two lines of straight stitching on the top of the fabric, with the two lines joined by a "looping" stitch on the bottom side. Because both sides of a cover stitch are finished, it looks great with decorative thread.
This distinctive machine is as powerful as it is useful. Its innovative design is based on the marriage of an industrial-style cover hem machine and a convenient home machine. The result is a high-speed, long arm, heavy-duty cover hem machine that looks and operates like a sewing machine.
It's the perfect companion machine for home decor, quilting and garment making.
Features
Seam Tightening System (STS).
Free Arm.
1 or 2 needle.
1 needle - 2 thread chain stitch.
2 needle - 3 thread cover stitch.
Speeds up to 1,000 spm.
Extra large bed space.
Vertical needle drop.
Foot pressure adjustment.
Differential feed ratio 0.5 to 2.25.
Stitch length 1 to 4mm.
Stitch width up to 5mm.
Quick Reference Sticker for stitch selection.
Soft cover included.
Details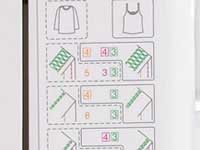 Quick Reference Chart.
Easy to access on the front of the machine, this full color guide helps you adjust for a soft or tighter stitch without using the manual. The chart clearly displays available stitches, and shows the tension settings.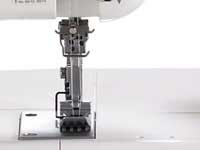 Free Arm Configuration.
Finish sleeves, cuffs, waistbands and other hard-to-reach seams faster and with better handling.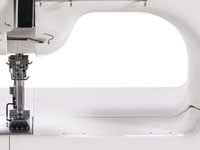 Extra Large Bed Space with Easy Access.
The largest sewing space available anywhere: 4 inches x 5.5 inches (100mm x 143mm). Such generous space means you can actually make a cover stitch in the middle of a garment.
Seam Tightening System (STS).
Janome's exclusive Seam Tightening System employs a spring instead of the thread tension dial to reduce in the looper thread. This allows for a tight, flat and sturdy stitch on thick fabrics, and a looser stitch on fabric that requires more flexibility.
The Easiest Threading System.
Upper needle threading is color coded, easy to see, and smooth. But it's the lower looper that will really make you smile. It's the easiest ever! Simply pull the thread through, push the looper closed, and you're ready to stitch.
Standard Accessories
Set of needles: 2 X #80/12, 3 X #90/14
Screwdriver (Large)
Screwdriver (Small)
Tweezers
Nets
Spool holder caps
Lint brush
Needle threader
Attachment screws (for fixing optional accessories)
Accessory box
Warranty
Warranty: 25 year limited, covering mechanical defects.
Complete warranty details.


Global Rating: 5.00 from 3 reviews
Add your review of this product
Janome CoverPro
Jan 29, 2016
Jeena Pussewela
Pine Hill Ne US
I love this machine. My friend have a 1000 series and 900 series works the same but 900 series does the same job. The best investment I ever made.

Janome
Apr 25, 2014
Rosalind
Brooklyn NY US
Love my Janome! Smooth as butter!

sewing Mom
Sep 25, 2013
MarDene Fernandez
Lehi UT US
This is the best sewing investment I have made! Does beautiful hems in knits. No pulling, bunching. Easy to thread. Still working on elastic application.
Rating:
Global Rating: 5.00 stars from 3 reviews
View All Reviews

Overall Store Rating
(
9.07
/10) 3335 reviews
Rating:
10
/10 - Date: 04/26/2016
Received my order rapidly. The extension table for my machine fit perfectly and came with very clear directions for the install. Love the service and the product.
sparkie_1, real customer review
Rating:
10
/10 - Date: 04/26/2016
I was very pleased with the professional service I received from the staff when I purchased my machine. The machine itself is wonderful and I am in love with it.
bigblackdogdesigns, real customer review
Rating:
10
/10 - Date: 04/25/2016
Exactly what I neede for the machine I have. Thanks!
ava_oldham, real customer review
Rating:
10
/10 - Date: 04/25/2016
I loved this little yellow vacuum so much I gave one as a gift right away.
julia26, real customer review
Rating:
10
/10 - Date: 04/24/2016
Everyone was great. I did have a little problem with my computer, working back and forth on some forms, but Nedra patiently helped me through all of it. My cabinet is now on its way to me, All I...
vivian1118, real customer review
Rating:
10
/10 - Date: 04/24/2016
Item purchased arrived in days!
kricket288, real customer review
Rating:
10
/10 - Date: 04/23/2016
I had an extended sewing table made for my new Husqvarna Viking Epic embroidery machine. The extended table is awesome...2 feet x 2 feet of flat space to sew on! It really makes my projects easi...
gdbarnes, real customer review