Call 800-401-8151

To Speak With An Expert Sewing Consultant
We'll help you find the perfect product and provide lifetime support for any purchase. E-mail us here.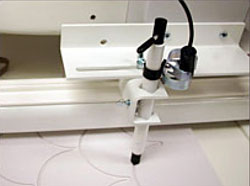 (More images coming later.)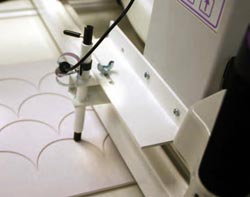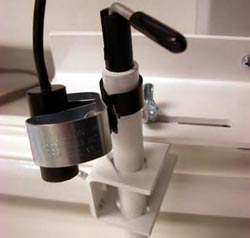 Handi Quilter Sixteen Groovy Board Stylus & Adapter
The Groovy Board Stylus & Adapter is designed to work with Handi Quilter's unique Groovy Boards. The stylus attaches to your Handi Quilter Sixteen long arm quilting machine, making it easy to follow the patterns.
Following a pattern is easy. Lay the Groovy Boards on the table so they align to the quilt top. Tape the boards to the table using blue painter's tape for stability. Make fine adjustments to the position of the stylus by loosening the wingnut. When adjustments are complete, tighten the wingnut and quilt away!
The adaptor plate will also hold a laser, if desired. Laser light can be used to follow pantographs.
A complete selection of Handi Quilter Groovy Boards is available from SewingMachinesPlus.com.
Other Stylus & Adaptor Plates
Also Available.

Groovy Board Stylus and Adapter for Handi Quilter 18 Avante & 24 Fusion.
REVIEWS

Global Rating: 5.00 from 1 reviews
Add your review of this product
HQ16 Groovy Board Stylus and Adapter
Feb 11, 2016
Sandy Leach
Anacoco Lo US
I really like the groovy board stylus and adapter. They were very easy to install and so much fun to use. You just drop the stylus tip into the groove on the groovy board and follow it using the back handle bars. My quilting has come out so pretty. I didn't know I could quilt like this. I plan to get more groovy boards very soon. I don't like that you have to disconnect the front display and handlebars in order to have control of the back handlebars. I would like to know if there is a way around this.
Rating:
Global Rating: 5.00 stars from 1 reviews
View All Reviews