Introducing the Gracie King Machine Quilt Frame
Product Introduction
The new Gracie King Quilt Frame comes in two sizes sold separately (queen or king [THIS PRODUCT]). Both sizes can be taken down to a crib size, and if you purchase the queen size (Little Gracie Queen), you can get an extension kit to turn it into the king size (Gracie King) [THIS PRODUCT] any time you want.
Product Features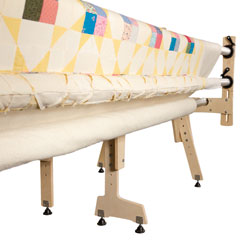 Fouth Rail - The Gracie King includes a fourth rail to help keep your batting off the floor (Not included with the Gracie Queen).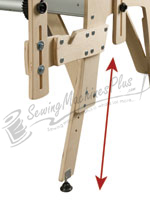 Height Adjustable Legs - The height of this frame adjusts from 32 inches to 52 inches, allowing you to work at your ideal level.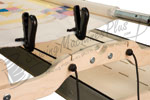 Gracie King Carriage - The frames high quality, lightweight carriage is made from aluminum.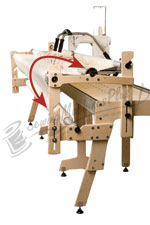 Flip Up Rail - The Gracie King's flip up rail allows you to easily adjust the batting under your top quilt layer.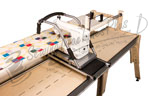 Bungee Clamps - The Gracie King Frame include a set of 4 Tension Locking Bungee Clamps.
Product Specifications
The Gracie King Frame can be setup in 3 different sizes: King, Queen or Crib.
Frame Dimensions (Assembled)
Width
King size: 135 inches by 40 inches
Queen size: 99 inches by 40 inches
Crib size: 63 inches by 40 inches
Height
Adjustable from 32 inches to 52 inches
Frame Quilt Capacity
King Size: 122 inches or smaller
Queen Size: 87 inches or smaller
Crib Size 51 inches or smaller
Frame Materials
Baltic Birch
Aluminum
Plastic
Rails (Comes in three sections)
King
Queen
Crib
Includes the 4th batting rail (not included with the Gracie Queen)
Frame Track
Plastic
Single wheel
Inverted "V" track
What is Included
Frame
Carriage
Bungee Clamps with tension locks
4th Pole (Batting Rail)
Height Adjustable Legs
Leg levelers
Fabri-Fast easy cloth leader installation system
Compatible Sewing Machines
Baby Lock Quilter's Professional (BLQP)
Brother PQ1500S
Janome 1600P, 1600P-DB, 1600P-DBX, 1600P-QC
Juki TL98Q, TL98QE, TL98E
Pfaff Hobby 1200 Grand Quilter
Viking Mega Quilter
Queen Quilter 18
Tin Lizzie 18LS, Ansley 26


Global Rating: 4.67 from 3 reviews
Add your review of this product
Yvonne
Mar 27, 2015
Yvonne Abbott
Wauchula FL US
Grace king frame is great. Takes time to put together,BUT has very well written instructions and is easy to understand and assemble.

Gracie king frame
Mar 22, 2015
larry felty
east liberty Oh US
really well constructed sturdy and very adjustable ! all tools were included except a Phillips screwdriver

Quilting frame
Oct 31, 2013
Grace Bryson
On CA
I like this frame It is sturdy and well made. Good quality wood. A lot of pieces though. And a lot of different hardware. It takes a lot longer then a few hours to put together though. My husband and I did it in about 8 hours and that was with both of us assembling it.

Overall Store Rating
(
9.01
/10) 2268 reviews
Rating:
10
/10 - Date: 09/02/2015
Always a great company to deal with. Great values and service.
cpilvinsky, real customer review
Rating:
10
/10 - Date: 09/02/2015
The sewing machine came sooner than expected which was good because it was for my daughter's birthday and she was delighted!
craftychafty, real customer review
Rating:
10
/10 - Date: 09/02/2015
Wow, customer service was excellent! I was so excited to receive my shipment in such a time fashion because most companies are somewhat long winded with their delivery service but not here. The pr...
telia100_vs, real customer review
Rating:
10
/10 - Date: 09/01/2015
The manual was great for my granddaughter as my daughter had lost the original one. Thanks so much.
rayne_garnsey, real customer review
Rating:
10
/10 - Date: 09/01/2015
I received the product on the day they said I would. The DVD and instruction booklets are helpful. The price was right.
wanamingogirl, real customer review
Rating:
10
/10 - Date: 09/01/2015
Bobbins arrived promptly, I like that they confirm machine type as part of the order
debbsquilts, real customer review
Rating:
10
/10 - Date: 09/01/2015
Everything was delivered on time and in perfect condition. Very pleased with the service and no problems at all.
dmac0713, real customer review