Call 800-401-8151

To Speak With An Expert Sewing Consultant
We'll help you find the perfect product and provide lifetime support for any purchase. E-mail us here.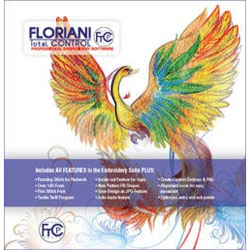 (More images coming later.)
Floriani Total Control Professional Embroidery Digitizing Software gives you amazing commercial production abilities in a ALL in ONE affordable package. provides the tools you need in ONE powerful, affordable platform. FTC-Professional
FTC-P: Floriani Total Control Professional gives you all the functions of Embroidery Suite PLUS amazing professional features included only in commercial grade software.
Includes All FEATURES in the Embroidery Suite PLUS:
• Running Stitch for Redwork
• Over 140 Fonts
• Run Stitch Font
• Tackle Twill Program
• Inside-out Feature for Caps
• New Pattern Fill Shapes
• Save Design as JPG Feature
• Auto baste feature
• Create Custom Emboss & Fills
• Alignment icons for easy placement
• Optimizes entry and exit points
All the features of Floriani's Embroidery Suite are included PLUS MUCH MORE!:

Digitizing Features
• Magic Wand Segmented Auto Digitizing
• Simple to use Auto Digitizing Wizard
• Create Custom Tackle Twill Designs
• Create Custom Appliquι Designs
• Create Custom Fill Patterns
• Create Cross Stitch Designs
• Create Custom Motif Patterns
• Insert Keyboard Lettering (140+ Fonts)
• Vector Artwork tool
• 10 New Fonts with closest point connect
• New Run Stitch Font
• Redwork Tool

View Features
• 3D views
• Stitch ends (each needle mark)
• Stitch view
• Outline view
• Design sequence
• Design Gallery to easily store production work
• Slow redraw-simulated stitch sequence
• Zoom using the Mouse Scroll Wheel
• Adjustable grid settings (lines or dots)
• Create/view guidelines
• Intelligent Ruler (gives recommendations)
• Image fading on imported artwork
• Customizable software layout
• Floating or docking toolbars
• Easily select or hide objects, thread colors or segments
Specialty Features
• Create custom thread charts
• Save2Sew design optimization based on fabric type
• Save design to JPG in 3D view
Minimum System Requirements
• Windows XP Home/Pro (SP1,2)
• P4 Processor
• 1GB Hard Drive Space
• 500MB RAM
• CD-ROM Drive
• 800 x 600 Display
• Mouse
• Internet Access
Editing Features
• Modify start and end points (.dst files included)
• Modify stitch direction/angles (.dst files included)
• Reduce angle lines (.dst files included)
• Reduce nodes/points (.dst files included)
• Modify object's shape with node editing
• Edit density, underlay, underlay settings, compensation & stitch lengths
• Add or delete individual stitches
• Edit stitch outlines
• Edit node/point type
• Unlimited redo/undo
• Optimize design sequence
• Optimize element entry & exit points
• Resize with stitch regenerating
• Resize, rotate & distort lettering
• Envelope lettering
• Convert between stitch types
• Create emboss lines for fill & satin stitches
• Alignment tools/functions
• Break apart text for additional editing capabilities
• Add sections to existing embroidery objects
• Auto-branching in manual digitizing
• Transform designs/objects
• Re-sequence object in Sequence Manager
• Edit individual stitch points
• Insert trim
• Insert color change
• Join design elements with branching